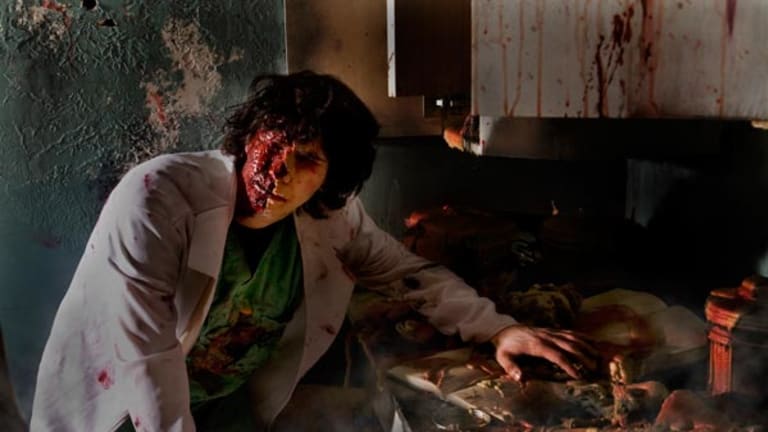 How Halloween Entrepreneurs Capitalize on Fear
The haunted attraction industry is approximately $300 million in size and growing, but entrepreneurs shouldn't assume they can easily make a profit.
The haunted attraction industry is approximately $300 million in size and growing, but entrepreneurs shouldn't assume they can easily make a profit.
NEW YORK (
) -- Halloween isn't just for kids anymore. The haunted attraction industry is approximately $300 million in size with an estimated 2,500 attractions worldwide, according to the
Haunted Attraction Association
.
If you include major amusement theme parks that operate a haunted event, that number rises to between $400-$500 million, says Larry Kirchner, editor-in-chief of
.
"If you add up ticket sales and the value of professional effects and vendors involved in the haunted attraction industry, it averages as an industry at $1 billion per year," Kirchner says.
Even though it's a small portion of the overall $8 billion Halloween industry, the numbers are impressive given that haunted theme parks and the wide variety of hayrides, corn mazes, haunted houses and the like only operate for less than two months out of the year.
5 Ways Black Friday Holiday Shopping Has Already Begun
Patrick Konopelski, president of the Haunted Attraction Association and owner of
in Reading, Pa., says at just 25 years old, the Halloween entertainment industry is still relatively young.
The industry has evolved from hayrides and outdoor walkthroughs to large scale animatronics, special effects, make-up and costumes. "All of that makes up our industry today," Konopelski says.
With 300 members, the Haunted Attraction Association's mission is to promote a network of haunted attractions including haunted houses, hayrides, historical sites and other supernatural experiences. The association also advises the industry on haunt safety standards to protect customers.
The haunted attraction industry got its beginnings in the non-profit sector. When it became apparent that consumers wanted more Halloween-themed entertainment and were willing to pay for it, "that's when the entrepreneurs stepped in," Konopelski says.
"People that had facilities, either farms or property that they could use for these events, they started making investments. As the industry evolved then we started seeing the vendors that made stuff and some vendors were already making it like skeleton companies," he says.
5 Best Holiday Beers Available Before Halloween
Konopelski actually owns a catering company but saw an opportunity two decades ago to use the outdoor space for a seasonal venture. "It just continued to grow," he says, referring to Shocktoberfest.
With more than 125 actors, directors, sound and computer staff, today Shocktoberfest includes a haunted hayride, a 5,000 square foot haunted house and a 50,000 square foot prison-themed haunted attraction.
"It
is
theater," Konopelski says. "We have gone from an experience of just scaring to an experience of entertaining. ... It really is interactive theater."
But with so many competing attractions today, entrepreneurs new to the scene may find it slow going if they're looking to make a profit.
In the Philadelphia market, for example, there's 13 major attractions, Konopelski says.
5 Tricks to Save on Halloween Treats and Costumes
"Today to try and compete with an ongoing operation you would have to start out with a $1 million operation minimum," Konopelski says. "Our industry is at a point where it's maturing. It takes investment. It takes real bank loans, investments
with amortization and you'll see your return might take five to 10 years. It is not a get rich quick scheme."
Konopelski adds that his operation requires year-round planning and preparation. Aspiring haunted attraction entrepreneurs that think they can skimp on the investment and preparation are likely to fail, he cautions.
"It's a lot more than people think it is," he says. Between "staffing, parking, security, this is live theater and live theater is very expensive. You can't do simple math and say 'These people are making a lot of money.' This is a business providing a unique service ."
For all the money and time needed to put on the seasonal productions, some may question whether it's worth it.
"It's worth the investment," say New York City's
co-owner Jim Faro. "We spend a lot of time and care. We've grown a lot since we started. The production value here is very high. We've even had some films shot in here because the sets look like real sets."
Blood Manor is in its eighth year entertaining New York City frightgoers. Faro says that roughly 25,000 visitors come through its doors during its short five-week season.
"Of course we make a profit, thank god, but the success of it really comes from our passion for it. We think that we're successful because we love what we're doing, so we'll go to great pains not only economically ... but even from our labor ... to make sure that a prop looks just right," Faro says. "We think that extra attention to detail shows and that's why people love it."
-- Written by Laurie Kulikowski in New York.
To contact Laurie Kulikowski, send an email to:
Laurie.Kulikowski@thestreet.com
.
>To submit a news tip, email:
.
RELATED STORIES:
>>Janska's Erickson Breaks Mold for Older Entrepreneurs
>>Wells Fargo: 'We're Bullish on Small Business Lending'
>>Why Aren't There More Hispanics in Franchising?
Follow
TheStreet
on
and become a fan on
Disclosure: TheStreet's editorial policy prohibits staff editors, reporters and analysts from holding positions in any individual stocks.