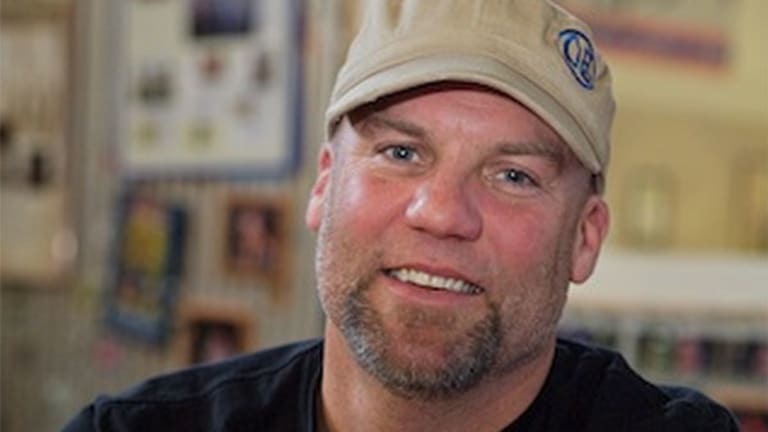 PORTLAND, Ore. (TheStreet) -- As someone who's spent much of his brewing career pouring big beers into relatively little cans, Oskar Blues founder Dale Katechis has made condensing his life's work.
Katechis founded Oskar Blues in 1997 in Lyons, Colo., and lent his name to its top-selling Dale's Pale Ale. After five years in the business, he started looking for a way to get a bigger return out of his brewing outfit and draw visitors to the small town of 1,400 in the Rocky Mountains where they could get a plate of jambalaya, a shrimp po' boy and a beer at his brewpub. His answer at the time was fairly novel: Put the beer in cans.
Katechis kicked off his packaging operation in 2002 with a one-at-a-time can filler and seamer bought during a trip to Canada, where he noticed that roughly 50% of the country's beer was sold in cans and included seasonal varieties in aluminum. Getting the beer in those cans wasn't difficult, but getting folks to drink out of those same cans was much tougher. From the moment Gottfried Kruger Brewing in Newark, N.J., introduced the beer can in 1935 to the day Oskar Blues pitched its first cans of craft beer in Colorado and at brewers conventions in 2002, Katechis says the common belief was that beer cans held nothing but pale yellow swill with a taste only further degraded by the metallic flavor. Katechis logged a lot of miles and cracked open a lot of beers trying to prove otherwise.
"It's what we wanted to do, and nobody would take us seriously enough unless we had time to just one-on-one engage them, educate them and let them know that if they honestly believe that beer was designed and made to taste bad in a can, taste our beer and tell us what you think," Katechis told us
. "What they're learning is that it wasn't cans giving cans the bad name -- it's the beer people were putting in cans giving it a bad name. The cans were getting a bad rap."
It turns out those cans make a pretty solid foundation for a craft beer business. The number of craft brewers canning their beers expanded from fewer than 50 as recently as 2008 to
, according to
. One of those canning breweries, Oskar Blues' Colorado neighbor
New Belgium
, had some of Katechis' staff in to take a look at their canning operation a couple of years back and gives Katechis a great deal of credit for their success in canning beers such as their Shift pale ale.
"We all owe Dale a debt of gratitude for being bold enough to consider this notion," New Belgium Chief Executive Kim Jordan
.
Those cans helped expand Oskar Blues' operations from a small facility into a 40,000-square-foot production facility in Longmont, Calif., a 50-acre farm, another brewpub and music venue called Oskar Blues Home Made Liquids and Solids (with a giant replica can out front and Tasty Weasel Tap Room with live music, Skee ball, small-batch brews and brewery tours) and a craft-casual burger joint called CHUBurger -- named after the brewery's Old Chub Scottish Ale. The Oskar Blues Grill & Brew brewpub and live music venue still calls Lyons home, but Oskar Blues' reach has expanded much farther within the past year.
Last May, Oskar Blues announced plans to build an East Coast Brewery in Brevard, N.C., just outside of Asheville. While fellow Colorado brewer New Belgium and pioneering California brewer
Sierra Nevada
announced similar plans last year, Oskar Blues was the only one to open its doors and start cranking out beers by year's end. The facility went on line in December and reached maximum brewing capacity by March. That's raised Oskar Blues' output from just 41,000 barrels in 2010 to more than 100,000 this year.
The East Coast is getting a taste of some of Oskar Blues' new products, such as beers in giant stovepipe cans that hold more than 19 ounces. Meanwhile, Oskar Blues is getting to know its new neighbors by signing on as Charlotte Motor Speedway's first craft beer partner and providing Dale's Pale Ale and Mama's Little Yella Pils during NASCAR's
Coca-Cola
(KO) - Get Coca-Cola Company Report
600 and
Bank of America
(BAC) - Get Bank of America Corp Report
500.
Considering all that's changed for Katechis and Oskar Blues recently, it seemed like an opportune time to reconnect with Katechis and check in on Oskar Blues' progress. We got Katechis to talk about how his can gimmick became an industry standard, what drew him from Colorado to Brevard and what's the next move for a brewery that has nearly tripled its output in the past three years:
What got you from Point A to Point B on your decision to open an East Coast brewery and what made you believe you had the demand to sustain it?
Katechis:
Early last year, around this time last year, we were at capacity at our plant in Longmont, looking for more and getting ready to add another 30,000 square feet here
in Colorado when the idea of opening a brewery on the East Coast came up.
At first glance, I wasn't interested at all because I felt that the travel would affect my quality of life in a way that wan't good for a guy with four young kids who already has a business to run. I kept brushing it off, but it kept picking its head up as I realized just from sketching it out on a piece of paper that we sell 40% of our beer on the East Coast. When we looked into the savings from not having to ship beer across the country, the project really looked like it was going to pay for itself in under three years. I went to the only place I was willing to travel to on a regular basis, which was Brevard, N.C., and I considered it for a spot. We found a spot and acted on it almost immediately.
At the beginning of May last year, it wasn't even a consideration, but by September we closed on our building. By December, we were shipping beer from a brewery that we'd built. It was kind of a crazy year, but so far it's working and we've got that brewery running at capacity.
What is capacity for that new brewery?
Katechis:
Right now, it's 4,000 barrels a month, so it's a 50,000-barrel brewery.
Considering that was more than your total production in 2010, that's huge. What does that do to your total capacity?
Katechis:
Total capacity now is 130,000 barrels. In the last three years, we've tripled revenues. It's been an interesting ride for sure, but still a heck of a lot of fun.
And you managed to beat New Belgium and Sierra Nevada to opening on the East Coast. How did you get such a quick turnaround?
Katechis:
I get that question a lot. We're unique in that we have one owner, me, and we're pretty nimble. We don't have a lot of debt and, financially, we were able to pull it off quickly and we've got a team of guys and gals that have a very hard-core case of "git 'er done" mentality.
We had four guys as we started talking about this that were willing to pack up and move and go spearhead the project almost immediately. Three of the four guys had small children and families, but they just jumped at the opportunity. They're the ones that get the credit for getting out there and just knocking it down.
So what is it about Brevard that has you guys all jumping to get out there? You seem to really love the place.
Katechis:
Yeah, I do. I've been traveling there and mountain biking for over 20 years and it's a place that I go to frequently because it's some of the most pristine mountain biking in the country.
I have a good friend who's grown up in Brevard and I've visited him over the years and it's a magical place. It's at the base of Pisgah National Forest. Brevard reminds me of the small town we started in, Lyons, and it felt like home.
Since then, my mom has even moved out to Brevard. She fell in love with it. It's just one of those places.
Do the similarities between those attributes of Brevard and the surrounding Asheville beer culture and that of Colorado make it an easy transition?
Katechis:
Yes. I think I'm not alone in this business among people who got into it to have some fun and tried to get away from the day-to-day grind and do something unique and fulfilling.
We get to make people happy every day by furnishing beer, and that's a pretty fulfilling job. And the cultures are very similar in each place.
When we spoke a few years back, you said that cans were your calling card: Your way of introducing your beer to people and distinguishing yourself. Was it odd going into a place where people were already familiar with who you were and what your brand was about?
Katechis:
Even though we were the first to enter the market in a can and it's been our backbone, obviously, we still work it as hard today as we did 10 years ago. I guess we still don't take it for granted that more people know about us now.
We still enjoy hitting the street, blocking and tackling and educating people on premium craft beer, especially in a can. We've still got a long way to go and we really haven't scratched the surface.
It seems like when your brewery does things like introduce 19-ounce stovepipe cans and draws connections between craft beer and sports, it's kind of mainstreaming the craft beer experience. What made you pursue the idea of giving people more can and more beer in a sitting?
Katechis:
I don't think we have a vision of becoming more mainstream. I think we have a vision of changing the mainstream.
It's not that we want to sell to the masses. We want to sell to a mass that gets it and understands what we're all about and what fulfills us. One of those channels is through convenience channels, because a lot of people come through those stores and that's where the larger package came from. That single-serving where you can go into the convenience store and grab a 19.2-ounce can opened the door for us to be able to talk to those people.
The more we get those out into more mainstream venues, the more we get people's ear. We're doing some interesting things now where we're getting into NASCAR racing and some things that we love because we feel like the consumer is changing and we want in to a lot of the historical venues where domestic beer has ruled. We want in to educate folks about good, local fresh craft beer makes sense on many levels.
The idea of your brewery getting into NASCAR seems natural just considering Oskar Blues' interest in racing in Colorado and all the great stock-car beer sponsorships over the years: Bill Elliott and Coors (TAP) - Get Molson Coors Brewing Company Class B (TAP) Report, Dale Earnhardt Jr. and Budweiser (BUD) - Get Anheuser-Busch InBev SA/NV Sponsored ADR Report. Is that opportunity there for Oskar Blues, too? Will there be an Oskar Blues NASCAR decal set?
Katechis:
Yeah, without a doubt. We just became an official sponsor of the Charlotte Motor Speedway, and we're the first craft beer to ever be served there.
We've kind of billed it as "there's a new Dale at Charlotte Motor Speedway" that's not Dale Jr. It's a new venue for us and we're really excited about it, because it opens the door to a whole new realm of people who drink light lager beer. We want to get into these venues and talk to them about Mama's Lil Yellow Pilsner and Dale's Pale Ale and increase the piece of the pie for not just us, but for craft beer as a whole.
That's got to be a bit of a learning process, though. It's a pretty smooth transition from light lager to pilsner to pale ale and upward through the chain, but how do you get someone who's been drinking light lager for a long time to take the first step away?
Katechis:
It's how we started our company. We were fortunate enough to open our brewpub in a town of 1,400 people, and we're talking about good old boys. We're talking about guys that, when we opened up, looked around and wondered what was going on.
We weren't beer snobs. We just opened up a local watering hole, so we had domestic beers in bottles. What we did, and what we do to this day, is when we serve someone a domestic beer, we pair it with a Mama's Lil Yellow Pilsner. Back in the day, when we weren't brewing a pilsner, we actually paired it with our brown ale, because you didn't have to have an acquired taste and it wasn't very hoppy and a little sweeter.
We educated people one can at a time. We talked to them about it being local, creating local jobs and only having four ingredients and that it was a craft. All of my Bud drinkers started drinking One-Nut Brown Ale and, to this day, that's what they're up there drinking. They just needed someone to help them across the line.
A lot of the things that these good old boys love and mainstream are something that's American, creates jobs, is fresh and local and supports the community. Once you get in front of them and explain all these things, they wonder why they're drinking a beer that has 25 ingredients, that's chock full of preservatives and that's owned by a foreign company.
-- Written by Jason Notte in Portland, Ore.
>To contact the writer of this article, click here:
Jason Notte
.
>To follow the writer on Twitter, go to
.
>To submit a news tip, send an email to:
.
RELATED STORIES:
>>How Tapping The Jewish Beer Market Begat A Plan
>>Sierra Nevada CEO Makes East Coast Beer Run
>>Craft Brew Founder Widmer Savors Results
Jason Notte is a reporter for TheStreet. His writing has appeared in The New York Times, The Huffington Post, Esquire.com, Time Out New York, the Boston Herald, the Boston Phoenix, the Metro newspaper and the Colorado Springs Independent. He previously served as the political and global affairs editor for Metro U.S., layout editor for Boston Now, assistant news editor for the Herald News of West Paterson, N.J., editor of Go Out! Magazine in Hoboken, N.J., and copy editor and lifestyle editor at the Jersey Journal in Jersey City, N.J.