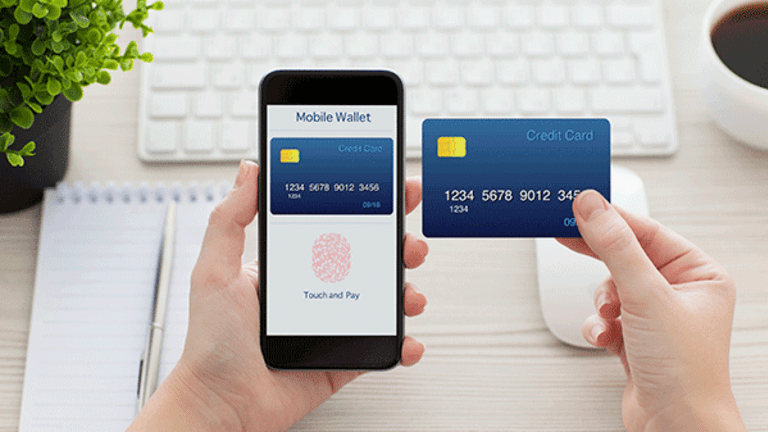 How Close Are We to Biometric Credit Cards? Closer Than You Think, Whether You Want Them or Not
Fingerprint-based credit cards have long been part of the "future" discussion of financial payments. But is that future right now?
With 47% of credit card users claiming some form of card fraud in the past five years, the urge among financial technology developers is to develop credit cards that promise to batten down the hatches against cyber-fraudsters.
That day may be coming sooner than you think.
"The need for a safer biometric credit card has never been clearer," says Chaya Hendrick, CEO at SmartMetric, a manufacturer of biometric, fingertip-based credit cards. "That's why we have spent over a decade in research and development to place a fingerprint reader inside a credit card. Biometric cards are a quantum leap in credit card security and arguably the biggest advance in card security since the invention of the credit card itself."
SmartMetric released its biometric payment card last April at the Smart Card Alliance Payments Forum in Orlando, Fla., and says it's currently "in talks with card issuing banks around the world."
According to the company, the technology relies on an internally-developed "super-thin" fully functional fingerprint reader that is embedded inside the credit card. "The biometric reader is used to turn on the card's surface chip following a fingerprint match and prior to being inserted into card readers or ATMs," the company says in an email to TheStreet. The card technology works with chip-based payment cards, which now number 4.8 billion in a global basis, according to SmartMetric.
The SmartMetric card isn't actually the first in line with a fingerprint card.
"In truth, the technology is already available," says Monica Eaton-Cardone, founder of Chargebacks911, in Clearwater, Fla. "MasterCard first partnered with a company named Zwipe to perform a test run of biometric cards in Europe back in 2014."
As far as a broad-based rollout, Eaton-Cardone says that's possible in the near future, but with a few caveats.
"I don't think it would be unreasonable to believe that credit card companies could start rolling out biometric cards by 2018 in some markets," she says. "However, that would be dictated by a few different factors, including cost-effectiveness, relevance and consumer demand. By the time biometric payment cards become cost-effective enough to distribute widely, the desire for them may not be there, depending on the state of mobile payment platforms."
She also doubts the effectiveness of fingerprint-based payment cards, noting the technology is not "foolproof."
"We're already seeing that several different methods for tricking fingerprint scanners have already been proposed, including 3D printing and conductive paper, the latter of which was recently used by police as part of an investigation," she says.
The sheer cost of fingerprint technology has held back market growth, as well.
"While the technology exists today to allow for fingerprint payment authentication, adoption of this technology will be not be widespread due to the costs associated with this type of payment method," states Ray Wizbowski, chief marketing officer at Entrust Datacard, a financial card issuance and digital transaction security firm. "Per card costs would be very high due to the technology necessary -- such as fingerprint capture component, high speed chip for micro processing -- to allow for this type of payment method to function appropriately."
Wizbowski agrees with Eaton-Cardone that biometric cards, despite promises of greater consumer protection, warrant data security concerns. "These types of payment methods will have little impact on privacy concerns as the fingerprint component uses templates of a fingerprint, not an actual image of a user's fingerprint," he says. "The larger concern could be the threat of unintended physical consequences, such as bodily harm to gain access to a user's fingerprint."
Patricia Hewitt, CEO at PG Research & Advisory Services LLC, a technology consulting firm, goes a step further, noting it will be "unlikely" that issuers adopt biometrics at the card level, with mobile payment platforms rising instead.
"For example, headshots on cards have been available for many years, but few issuers have wholesale adopted this form of security," Hewitt says. "The issuer expense of adding biometrics to card-based transactions will be the first barrier and then, there are the changes required at the point of sale to authenticate."
Hewitt also says it's possible that multi-application chips could be developed to support biometrics at the card level. "But why bother?", she asks. "In developed countries, digital and virtual payments will imbed these capabilities in their applications, anyway."
Apparently, there are a few schools of thought on the effectiveness, and even need, for biometric-based payment cards. But wherever you come down on the issue, fingerprint-based cards appear to be hitting the market, and soon, whether you want them or not.