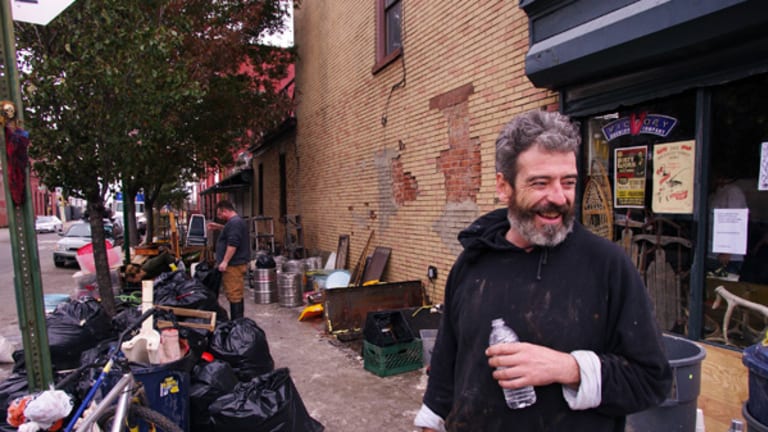 How Businesses Should File Hurricane Sandy Insurance Claims
Do it the right way and avoid becoming part of the statistic that says a quarter of all businesses closes after a disaster.
NEW YORK (
) -- It's been over two weeks since Hurricane Sandy pummeled her way ashore in New York and New Jersey. For small businesses in the path of destruction, days of closed business as well as large cleanup and restoration efforts mean lost sales and high additional expenses.
It's not surprising when experts say a quarter of all small businesses don't reopen after a disaster happens. But there are ways to mitigate losses by having a business continuity plan ready to go and appropriate insurance provisions already in place.
Michael LoGiudice, managing director of insurance and litigation support at
CBIZ's
Valuation Group
and a forensic accountant, has spent an extended time helping companies assess damages after Hurricane Katrina.
If you haven't filed a claim already, LoGiudice, who has expertise in the valuation of business-interruption insurance claims resulting from flood, wind or storm surge damage, says it's not too late to do so, but there are steps that small-business owners should take immediately if they plan to file a claim.
Two types of coverage important for all businesses include business-income (or business-interruption) coverage and extra-expense policies. The former covers the loss of income during restoration and repairs. The latter is for added expenses incurred to keep your business running.
Here's what you need to know about filing insurance claims.
1. Contact your insurance company
It might seem obvious, but before you start pumping out water, get in touch with your insurance company. "When the disaster strikes, the most critical thing is to put
your insurance company on notice that you've got a claim. It's important to do that right away. Either your broker or your agent will then notify you and retain the services of an adjuster," LoGiudice says.
The sooner you contact the insurance company, the sooner claims can begin to get processed. "Sometimes these claims take as long as nine months to a year to settle," he says.
2. Keep bills and expenses separate.
This includes any bills from demolition and repair work as well as expenses incurred as a result of temporarily changing your business model to keep customers. "Keep that separate because you might be able to claim for these costs," he says.
For example, during Hurricane Katrina, area hotels weren't able to open because they couldn't get clean linens. Some ended up loading semi-tractor trailers and trucking dirty linens 150 miles to get them cleaned and trucked back, LoGiudice says.
"That's a completely extraordinary expense that you would never do in normal course of business, but it's the type of thing that an extra expense pays you for," he says.
3. Don't try to guess damages.
An adjuster is tasked with giving the insurance company an estimate of how much the damage totals, but you may also want to hire your own expert to assess damages.
LoGiudice also suggests having vendor agreements in place within the business-continuity plan for things like demolition and restoration.
"The idea is that if you set it up in advance you're going to a get a better price, the demo company knows you on the books and it gives you peace of mind to know exactly who to call" in case of disaster, he says.
If a business doesn't have that measure in its contingency measures, insurance agencies do have catastrophe-response teams ready and their own vendor agreements in place for demo and restoration work.
Additionally, if you have already spoken with, say, a contractor and have an estimate, make sure to tell your insurance company. Don't try to guess at damages because it will lock you into a number that could potentially be far too low, LoGiudice cautions.
4. Get money. Seriously.
"When you have a loss, you're entitled to the actual cash value as soon as it is agreed upon and measured," he says. "Set up a schedule that makes sense to you and the insurance company for interim partial payments."
-- Written by Laurie Kulikowski in New York.
To contact Laurie Kulikowski, send an email to:
Laurie.Kulikowski@thestreet.com
.
>To submit a news tip, email:
.
RELATED STORIES:
>>BrightStar Care's Shelly Sun: From Frustrated Consumer to CEO
>>From Battlefield to the Business World -- Veterans Make It on Their On
>>Business Owners to Obama: This Is What You Need to Do NOW
Follow
TheStreet
on
and become a fan on
Disclosure: TheStreet's editorial policy prohibits staff editors, reporters and analysts from holding positions in any individual stocks.