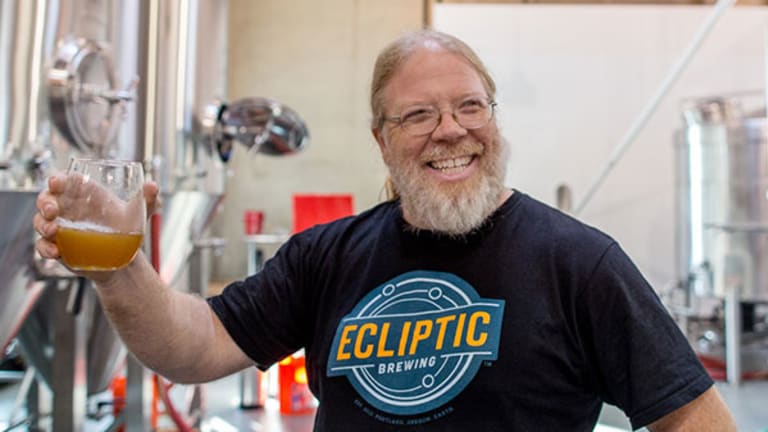 How Brewer John Harris Began His Second Act
John Harris is a near-mythical figure in the Oregon beer community, but in setting out on his own this year he's just another brewer with beers to make, a brewpub to run and bills to pay.
PORTLAND, Ore. (TheStreet) -- John Harris is a near-mythical figure in the Oregon beer community, but the reality is that he's just another brewer with beers to make, a brewpub to run and bills to pay.
Harris' brewing career dates back to 1986, when he was a brewer at the McMenamins chain of breweries and brewpubs in the Pacific Northwest. Two years later, he landed a brewing job at Bend, Ore.-based Deschutes Brewing creating the recipes for styles that have helped that Deschutes grow into the fifth-largest craft brewery in the U.S., according to the Brewers Association craft beer industry group, and the 12th-largest U.S. brewery overall. Every time someone drinks a Mirror Pond Pale Ale, Black Butte Porter, Obsidian Stout or Jubelale holiday beer, they're drinking a brew Harris built from scratch.
Harris spent the past 20 years as a brewmaster at Hood River, Ore.-based Full Sail Brewing, creating that brewery's Brewmaster Reserve line of experimental small-batch beers. From Full Sail's small facility in Portland, Harris worked within a small corner of the company creating outsized beers that took more chances -- and generally cost more to drink -- than Full Sail's higher-capacity, production-brewed mainstay and Session beers. Harris' line pushed Full Sail's creativity and helped it grow from 76,000 barrels of production in 2008 to 110,000 barrels last year.
This year, for the first time in his career, Harris is striking out on his own. After spending more than a year attracting investors and laying groundwork -- including a guerrilla marketing effort that made T-shirts for his newest venture ubiquitous at this year's Oregon Brewers Festival -- Harris opened his Ecliptic Brewing in a former industrial space in North Portland at the end of October. His current lineup of beers is by no means permanent, his restaurant menu is as vital to his brewery's future as the products in its tanks and his impressive resume does little to assuage the issues that face every new brewer -- including a wonky drainage system that caused Harris a brief headache the day we dropped in for a visit.
Even for someone as seasoned as Harris, a new stage in his career and a fresh start in an industry he's already made a considerable contribution to can be tricky. We sat down with Harris and talked about his plans for Ecliptic, his motivation for launching a startup brewery and how Portland helped his decision:
This seems like an incredible challenge to take on at any stage of someone's brewing career. What made you decide to take it on after working at Deschutes and Full Sail?
Harris: I was approaching the end of my 20th year at Full Sail in April 2012 and, as I led up to that, I started thinking about where I was and what I'd done. I had just marked my 25th or 26th year of brewing beer and was thinking about the kind of beers I really wanted to make and how I was wanting to get back into the brewery/restaurant setting and I thought to myself that if I was going to do this, now was the time.
At that point I was 48 going on 49 and I wondered, when I turned 50, how much energy I was going to have to undertake this. Sure enough, we open and I'm 50, because it took a year and a half.
As I've told other people, Full Sail was a great place to work and was a loyal company. I have shares in the company. It was a great space, but as I looked into the beers I wanted to make and where that brewery was going with its brands, they weren't lining up. Not in a bad way, but as a creative brewer who ran the Brewmaster Reserve line for many years creating new beers every year, that's what was very important -- creating new product. The way that was going was in a different direction and I knew I couldn't just be a production brewer. I had to be able to make beer.
It also wasn't just some random jump-off-the-cliff kind of moment. It was very well thought out. I got some initial backers and developed a business plan before I left the company. I realized that If I was going to go raise money, I couldn't be at Full Sail looking for money. It would be unfair to the company. With my wife's approval, I quit my job and my benefits and my paycheck and it was a year and a half until this opened.
So for a solid year and a half, you were out there hat-in-hand trying to sell this brewery to people. How difficult was that?
Harris: Before I could really start looking for a building, I knew I had to have a good portion of the financing together. The first couple of months, April and May 2012, I spent meeting with investors, laying some ground and looking around town for buildings. By the end of that point, I had enough where I could start negotiating on a lease while looking for investors. I already had half of the money committed on handshakes, but not in the bank account.
I started looking for a building in June 2012 and didn't sign a lease until April 2013. From the time I left my job to the time I signed a lease was just shy of a year of hunting and learning about how landlords want you or don't want you.
In a landlord's eyes, what's the downside of taking on a brewpub?
Harris: There's a lot of resistance to the amount of changes you're going to make to the space, from cutting in floor drains to installing plumbing.
One landlord who I was negotiating on two buildings with was really leery of the floor drains, the sewage, the plumbing and all the changes we had to do. We totally built all the retail space in this building, and this landlord could have just rented the restaurant space alone to somebody and rented the warehouse where the brewery is to someone else. So just trying to get these guys convinced that you aren't totally going to clean their building out is tough.
One building owner wanted a $50,000 security deposit and 10% of the gross. That's like "What are you, crazy?" Ten percent of the gross? Ten percent is the profit if everything goes right.
Also see: What the Craft Beer Industry Really Looks Like>>
I negotiated with about four different locations and another one just wasn't a great location, but we could have made it work because brewpubs are kind of a destination. Where we are on Mississippi Avenue isn't on a major thoroughfare or in a business district with lots of office buildings, but Mississippi is one of the hottest streets in town for nightlife.
You're also situated along a nice little trail with McMenemin's White Eagle, the Widmer Brothers brewery and gasthaus, Amnesia Brewing, Lompoc Brewing and the Hopworks Bike Bar. Did that help your decision?
Harris: There's a little NoPo thing going on here, for sure. I just added to it.
Trying find a landlord with the right lease, the right terms and the right conditions ... it takes a while.
With those breweries and dozens of others already calling Portland home, what made you think it was the right place for your own?
Harris: There was a process of thinking about what the market has and what the market doesn't have and why would I want to do this crazy thing and jump off this bridge. I really felt and still feel that we're satisfying a niche in Portland that nobody is right now: To really have a more food-focused environment. This place is all about the food.
It's about the beer, too, but like I told the chef, I want people to come in for the beer and come back for the food. To me, it's really important. No one is making sure that the food is at the same level as the beer ... in brewpubs it's an afterthought. People don't expect good food at a brewpub. I won't name other breweries in town, but there are some that don't focus on using quality ingredients and quality product.
We have an everyday menu and a seasonal menu that's going to change every six weeks when the chef can find whatever is new and fresh. Then we'll proactively brew beers to go with that menu.
That's still a fairly new concept among brewpubs, to pay more than lip service to the food they're making. Why is it so much more important to have a brewpub with standards beyond not underfrying a hamburger?
Harris: I learned a lesson long ago when we opened Deschutes Brewery. At the time, the Bend market for chef talent was nonexistent, so when the brewpub opened it opened with just a cook. We didn't have a kitchen manager and we didn't have the person who really knew food. So when it opened up, the owner Gary [Fish] already had a menu developed, but couldn't find a person to execute that menu.
It took a long time, to the point where the food was really iffy and while people came for the beer, they did not come back because the food was not really good. I learned a hard lesson then, and that was about 25 years ago. Today in this town, where food is king and we're one of the top food centers in America, nobody's connected the dots to the point where no brewery is considered among the Top 100 restaurants in town? What is up with that? Maybe reviewers won't even consider a brewpub a restaurant, but we're going to try to change that.
How comfortable are you with the restaurant side of the business?
Harris: When I worked at Deschutes, it was a restaurant attached and when I worked at Full Sail we were attached to a McCormick & Schmick's restaurant and I had daily interaction with them because they would feature our beer and were our neighbor.
So I've seen the restaurant business and seen enough to know that I didn't know how to run a restaurant, so I hired somebody. I found a guy, Brian Deckert, who ran the Doug Fir bar here in Portland for the last nine years. He knew how to run a high-volume operation and he wanted to work here, so I just said "That's yours."
So what is your plan on the beer end? Are you going to start bottling and canning, and will there be more widespread distribution?
Harris: The goal right now is to get a winter beer, get a few kegs of that, release it on the market, get it out there, get some exposure there and if things go well, we'll do some limited bottles of it, get it to specialty markets in town and sell it here, of course.
Also see: The Brilliance of the Holiday Beer Sampler>>
We're going to begin 2014 with a focus of so many kegs per month out on the market just to kind of keep the good word going about the brewery and get some good PR to let people know we're here. You'll see some bottle releases, but we'll just get an idea of what some of our core brands will be and see how they stick.
The idea is to grow the wholesale side from the get-go. We have the ability to make 75 barrels a week, and that adds up to almost 3,000 barrels a year. That's a lot of beer, so to go from here to there is pretty quick.
Does that end up being a lot of legwork? Do you find yourself on the ground a lot promoting your beers again?
Harris: Oh yeah. I'll be the forward face of the market initially, but we'll have a distributor distribute the beer because I don't have time to drive the kegs around town. It would be fun to do that, but that's not the way I want to go. I'll let someone else make the margin on the beer, but I won't have the headache of the trucks and drivers.
At Full Sail, part of my job was on the sales team providing sales support. At some points I managed states for the company, so I have a pretty good idea about the sales side of things, too. That allows me to interact with distributors, interact with the market and make the beer.
When you were at Full Sail, that brewery's numbers blew up over the past five years or so. Were there any lessons you took from that experience going into your own brewery?
Harris: I was there for 20 years and saw Full Sail grow to 80,000 barrels, shrink back to almost 50,000 barrels and then grow back over 100,000 barrels. I learned how to do it and how not to do it. I saw mistakes that were made and I saw home runs that were hit.
One of the most important things I learned was that the branding, the image, the logo and the marketplace has to be done just right. You can't just have your friend do that because he drew a cool character for you. When Full Sail changed their packaging about seven years or so now, it was almost like a light switch went off. Our sales that were plummeting and trending down in the first quarter of the year immediately turned around. That packaging meant that much. Then Full Sail launched Session and that really took off.
Looking at Full Sail, Deschutes and McMenemin's, one of the handful of similarities between them is a slate of beers that's really accessible to people who've never had craft beer before. Looking at your initial five beers, it seems similarly friendly. Did you come in thinking that accessible, gateway beers could help your brewery reach more customers?
Harris: You have to make an IPA. You don't really have a choice. You can either make it yourself or bring someone else's in and watch that sell.
I made a pale ale because although there's a nice hoppiness, it's a more approachable beer. The HefePils was a beer I'd been wanting to make for a while and nobody had really put those two -- Hefeweizen and Pilsner -- together before. The idea was to make an unfiltered pilsner, which I really enjoy. The idea was to have a really spicy, soft, easy-drinking, unfiltered version of a pilsner. It's doing pretty well, actually, and it's our lightest beer.
Other than that, I've been wanting to make this beer with grape juice for the last 27 years. I made one at McMenemin's years ago and it was really killer, but al the other breweries I worked at before fruit was not allowed. It's like a lighter-style pale cream ale with hops balancing out five gallons of riesling juice. You get a wine kind of flavor to the beer, but it's not a fruit beer. It's just added as an adjunct to bring the flavor up. That's the one beer that will go away because we can't make it again until next year.
Then we have the porter, which is just an entry-level, easy-to-drink dark ale. The idea was to have a lager and four ales, and we're working on the winter ale now.
When you've had a career as full as yours, do you still want to revisit some of the beers you've made in the past, or are you constantly challenged not to repeat yourself?
Harris: All of these beers are brand new. They may be influenced by some of the beers I've made in the past, but in my time at Full Sail, I never added it up, but there had to be at least 40 different beers I made in the Brewmaster line. Some of those were one-and-dones, some of those were done helping a brewer.
As far as my archive of beers goes, I have a pretty healthy archive. There are some ideas I know won't ever be done again, but every beer I make has been influenced by the beers I've made before. I'm not making Black Butte Porter here and I don't want to make Black Butte Porter.
A lot of brewers make their recipes, move onto another brewery and take their recipes with them. It's like, "Hey, it's time to move on to something new, something different." You're a creator and this whole is about creativity. I don't know why you'd want to stifle yourself and make beers you'd made in the past.
But that doesn't mean you can't be influenced by the past. The beer I made at McMenemin's in 1987 the one time: I don't know if a brewer ever went and picked that grapevine again, but we made a beer again with grape juice. So it's really about going forward with great ideas. There are people out there making crazy things every day, but people still want their basics, too. The key is to come up with a plan that caters to both sides.
-- Written by Jason Notte in Portland, Ore.
>To contact the writer of this article, click here: Jason Notte.
>To follow the writer on Twitter, go to http://twitter.com/notteham.
>To submit a news tip, send an email to: tips@thestreet.com.
RELATED STORIES:
>>10 Best Holiday Beer Buys Of 2013
>>What The Craft Beer Industry Really Looks Like
>>5 Small U.S. Brewers Run By Foreign Companies
Jason Notte is a reporter for TheStreet. His writing has appeared in The New York Times, The Huffington Post, Esquire.com, Time Out New York, the Boston Herald, the Boston Phoenix, the Metro newspaper and the Colorado Springs Independent. He previously served as the political and global affairs editor for Metro U.S., layout editor for Boston Now, assistant news editor for the Herald News of West Paterson, N.J., editor of Go Out! Magazine in Hoboken, N.J., and copy editor and lifestyle editor at the Jersey Journal in Jersey City, N.J.