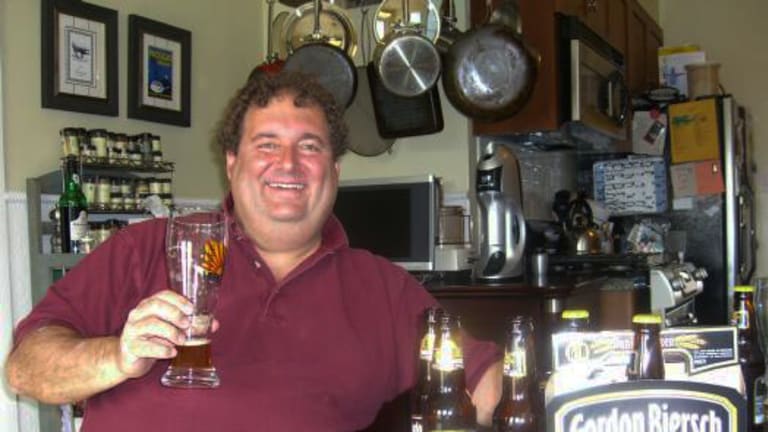 How Beer and Garlic Breath Built Gordon Biersch
Brewer Gordon Biersch has pubs around the globe, garlic fries that are a major league staple and beer that's held up for 25 years. It's a tough blueprint to follow.
PORTLAND, Ore. ( TheStreet) -- The owners of Gordon Biersch pioneered mixed martial arts in the United States. The brand's restaurants are as at home in Waikiki and Taiwan as they are in San Francisco. Its name is as closely associated with garlic fries as with German- and Czech style beers.
It's been a strange, interesting quarter-century for Gordon Biersch and founding brewer Dan Gordon.
Back in 1987, after attending The Technical University of Munich and studying German beer brewing, Gordon teamed with restaurateur Dean Biersch and began laying the groundwork for brewpub in Palo Alto, Calif. Gordon felt the brewery should focus on German styles brewed under the Reinheitsgebot German purity laws that restricted ingredients to water, hops, barley and yeast.
Why Big Brewers Fail at Small Beer Festivals
10 Beers to Try Before Summer 2014 Ends
The Future of Craft Beer Starts in Massachusetts
Also see: 10 Beers to Try Before Summer 2014 Ends>>
But beer was only part of the curriculum. While studying in Munich, Gordon had a professor who specialized in garlic and often asked him to translate his German to English when English-speaking professors came to visit. During one visit, that professor gave an American counterpart 10 different dishes featuring garlic, which gave Gordon the idea to douse fries with garlic as a late-night snack during final exams.
The combination of Gordon's beer and fries was a resounding success that resulted in dozens of Gordon Biersch locations across the country. In 1994, a Gordon Biersch location opened in the San Francisco Giants and 49ers' Candlestick Park and became a West Coast sports staple. Today, Gordon Biersch stands and their garlic fries are fixtures at the Giants' AT&T Park, the 49ers new Levi's Field, Dodger Stadium in Los Angeles, the Chargers' Qualcomm Stadium and the Padres' Petco Park in San Diego, the Sharks' SAP Center in San Jose, the Kings' Sleep Train Arena in Sacramento and the Arizona Diamondbacks' Chase Field in Phoenix.
All of that success came at a price, however. To fund the brewery's expansion Gordon and Biersch sold controlling interest in the operation to Las Vegas-based Stations Casino executive Lorenzo Fertitta for $11.2 million in 1995. Four years later, the Gordon Biersch restaurant chain was sold off and later merged into the CraftWorks Restaurants & Breweries operation that also owns the Old Chicago and Rock Bottom brewpub chains.
Fertitta would go on to buy Ultimate Fighting Championship in 2001 and buy up competing mixed martial arts promotions to make UFC the largest mixed martial arts company in the world. Gordon Biersch, meanwhile, would continue to produce its line of German- and Czech-style beers, but would also create in-house beer for Costco and Trader Joe's.
It was an unorthodox approach, but it helped Gordon Biersch survive and thrive. When Gordon began brewing Gordon Biersch's beers 25 years ago, Northern California's brewing community consisted primarily of Fritz Maytag's Anchor Brewing in San Francisco, Sierra Nevada in Chico, Mendocino Brewing in Ukiah and Buffalo Bill's in Hayward. Maytag has since sold Anchor, Sierra Nevada has expanded to North Carolina, Mendocino has been sold to India's United Beverages Group and Buffalo Bill's remains a primarily local affair.
Gordon Biersch thrives on the name recognition its restaurants have achieved and the basic German and Czech beer recipes that have come back into vogue among beer geeks as the beer pendulum swings away from fizzy light lagers and brutally bitter India Pale Ales toward a refined center. We spoke with Gordon about that rediscovered love of classic styles, how those styles have served him well over the years and how that mix of explosive growth, eccentric investors and signature fries became as important to Gordon Biersch as the beer itself:
First off, congratulations on 25 years. We've been talking to a bunch of brewers about their anniversaries this year, but Gordon Biersch has a better story than most. Can you tell us what beer in the Bay Area and the valley was like in the earliest days. Was it basically you, Dean and Fritz against the big guys?
Gordon: I don't think it ever was an us vs. them, but rather a lack of diversity that opened the door for everyone.
There was an amazing amount of excitement and anticipation when a brewery would open up. My favorite "beer moment" was a couple of weeks before we opened, Bill Owens brought beer writer Michael Jackson ever to visit and he tasted our beer and gave it accolades. It was our Dunkles, which we bottled for the first time 25 years later.
Keep on mind that I basically had read his coffee table beer book 100 times. [It] was what really had significant impact on my wanting to be a brewer. That and drinking a lot of Fritz's beer growing up.
Also see: Full Sail Buoys Craft Beer By Keeping It Simple>>
You brought back Dunkles as an anniversary beer at a time small brewers are swinging back to the traditional styles from more experimental beers. What made Gordon Biersch decide to stay the course with traditional styles, and how did changing beer tastes affect your business along the way?
Gordon: I want to always be authentic and true to style, which is highly influenced from my brewing education at Weihenstephan at the Technical University of Munich. My philosophy is to brew without regard to cost regarding malt and hops and never compromise on how we brew.
In Spinal Tap-ese our brewery goes to 11 and does things most brewers don't even know about. We produce our own lactic acid from wort and use it for pH balancing our mash and wort, always naturally carbonated and aging for six weeks.
Alphabet beer was tempting from a financial standpoint but we held firm in our beliefs of brewing the finesse styles that require a lot of brewing science and execution.
After studying in Germany, brewing German and Czech styles and building a successful business off of that foundation, what do you make of the recent shift back toward those styles and the newfound respect for just how difficult it is to make those styles well on a consistent basis?
Gordon: I am hoping all of the chatter of entrants in our category will make it hip to drink the styles we have been brewing for two and a half decades. We get a lot of recognition and respect from the professional beer critics, but some of the very vocal self-proclaimed beer experts tend to discount what we do.
The restaurants have been a completely separate entity for about 15 years, but were a key portion of your early business. The brewpub is a valuable tool for any brewer, but how helpful were garlic fries in selling Gordon Biersch's beer?
Gordon: According to my kids, garlic fries are my most important contribution to society. My favorite thought is of getting on a nice five-hour flight from D.C. to San Francisco sitting next to someone that just had them. The garlic fries did open doors for our beer at some amazing venues like AT&T Park, Dodger Stadium and a dozen others.
Did you ever think your food and your beer would be staples at Giants and Dodgers games, or that breweries such as Anchor would follow your lead and come out to the ballpark?
Gordon: The whole concession success was something that happened by accident when I tried to sell our beer into Candlestick park and the food and beverage director, Jerry Grefer, asked me if we were known for any of our menu items. The rest is history. I don't think Anchor has any food items in their repertoire so we really are the only major player with success in both categories.
Lorenzo Fertitta bought into your business back when Gordon Biersch was more established than his other project -- Ultimate Fighting Championship. How has his ownership helped Gordon Biersch, and are there any promotional ties between UFC and GB?
Gordon: The best tie with UFC for me was when Dana White, the CEO of UFC, took me in the gym and had me do a boxing workout. It was eye-opening, and we have been friends for a long time -- and we were the original beer inked in the ring.
As craft beer has grown and as the number of breweries in the Bay Area and valley have swelled, where do you see Gordon Biersch in that mix? Is it a local beer with a national brand or is it something else entirely?
Gordon: We consider ourselves multi-local and only distribute in regions where the brewery restaurants exist. I think our challenge is the same as every regional specialty craft brewer in that the vast influx of new breweries and their corresponding impact is unknown.
With the wave of brewers that came up at the same time as Gordon Biersch all well into their third or even fourth decades of brewing, there's been a lot of discussion about the legacy of the brewers behind them. How do you envision Gordon Biersch in the future, and will you still be a part of it, or do you have other projects in mind?
Gordon: I love being involved day to day in the brewing process and envision doing this for another 20 years.
Finally, with the U.S. at 3,000 breweries, how important is visibility similar to what Gordon Biersch achieved? If a brewery wants to make it to the next level and survive for decades, does it need to step out of its comfort zone a bit and go broader?
Gordon: Creativity is important, but the longest-lasting brands don't approach brewing with a flavor-of-the-month attitude. We plan on using our limited release program for launching very unique beer styles such as our Weizeneisbock, Zwickelbock and currently our Dunkles. We need to make sure beer drinkers are aware of their quality and uniqueness and spreading the gospel about them. We were one of two breweries in the world to produce and authentic Weizeneisbock, which was slightly under the radar despite amazing reviews and a medal at the Great American Beer Festival.
-- Written by Jason Notte in Portland, Ore.
>To contact the writer of this article, click here: Jason Notte.
>To follow the writer on Twitter, go to http://twitter.com/notteham.
>To submit a news tip, send an email to: tips@thestreet.com.
RELATED STORIES:
>>What A Diageo Sale Would Mean For U.S. Beer
>>Beer Mailbag: Woodchuck, New Belgium Send Off Summer
>>5 Most American Beer Brewers
Jason Notte is a reporter for TheStreet. His writing has appeared in The New York Times, The Huffington Post, Esquire.com, Time Out New York, the Boston Herald, the Boston Phoenix, the Metro newspaper and the Colorado Springs Independent. He previously served as the political and global affairs editor for Metro U.S., layout editor for Boston Now, assistant news editor for the Herald News of West Paterson, N.J., editor of Go Out! Magazine in Hoboken, N.J., and copy editor and lifestyle editor at the Jersey Journal in Jersey City, N.J.