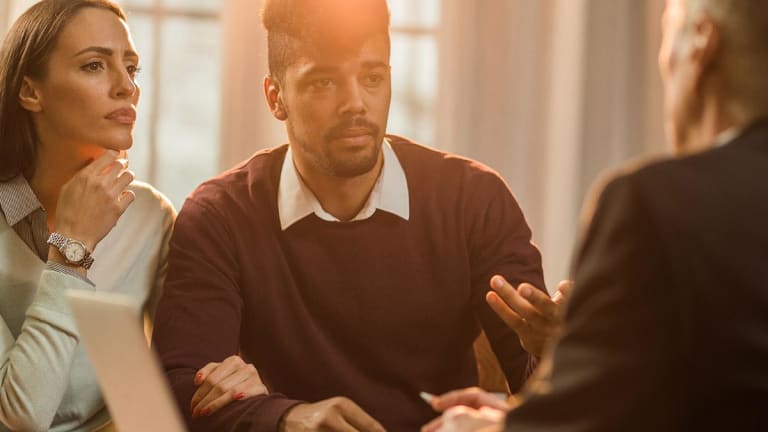 Publish date:
How Advisers Can Have the Fee/Commission Conversation with Clients
Adviser Mark Bordelove talks about how financial advisers can help their clients fully understand, at the start of the relationship, how compensation works best for everyone.
Adviser Mark Bordelove talks about how financial advisers can help their clients fully understand, at the start of the relationship, how compensation works best for everyone.
To fee or not to fee: That is the question.
I've never been a big reader of Shakespeare. I've never seen "Hamlet". I'm more of a sports or markets guy. But, taking one of Shakespeare's best-known phrases and putting my spin on it seemed apropos in this scenario. I think the fee vs. commission conversation is always worthy of discussion.
Some days I find myself banging my head against my desk when the question of my getting paid for services comes up. Our potential clients are made aware that they will pay for the value we bring should they choose to hire us. During our meetings, and especially during our initial appointments, we make billing a part of the presentation. We even go to the length of providing a chart of the different ways somebody can pay for our services. Would they prefer to pay a fee or a commission? We try and make it as transparent as possible.
I've had clients bring me fee information from other advisers requesting my interpretation. It's so confusing and misleading that even I cannot explain what they've been presented. In those instances, it has to be frustrating for the client because what they think they understand, they really don't.
Both my partner and I have been in the industry for more than 20 years and if we cannot understand the statement and fee structure, how is the client expected to? For instance, we had one case where another adviser presented the situation as a "net fee" when advisory fees were still deducted. It's misleading. If you pay 0.6% net, for example, you are still out-of-pocket for 1%. It sounds better, I admit, but I just shook my head. I admire the creativity of how it was presented, However, I would never present a fee in that manner. It's not right and goes against everything we preach to our clients.
In my opinion, one benefit of setting up a fee-based account is that it gives the advisers the ability to manage the assets in a more time-sensitive manner. Additionally, if changes are needed, advisers can make them because they can be objective; there is no suggestion of churning an account to generate commissions because the adviser is earning a flat fee. It's a benefit to the client because they can receive more immediate action on their account. It's also a benefit to the adviser to have the flexibility to be able to maneuver in the account as needed. When we present these points, and the benefits they allow, clients are sometimes more comfortable with the fee-based arrangement.
On the flip side, rather than complain about paying us, we've had people say: "I'm totally fine with the fee. I don't expect you to work for free!" or "You're a professional and I value your time and expertise. It's why I hired you." I've even had one client say, "That's it? I expected it to be higher." I laugh because we've even had clients say, "Can I pay you a percentage of what I make?" Now that would be interesting but we aren't a hedge fund. More importantly, that structure is just not allowed.
I've always felt that the billing part of an appointment helps to build trust. At the end of the day, we are in a commodity business. There are a ton of financial advisers as well as broker/dealers where advisers can hang their shingle; and, ultimately, we all have the same products to choose from, depending on what our broker/dealer allows. Therefore, we have to differentiate ourselves in some manner.
Trust, honesty, communication, and integrity are, to me, the very best ways of doing so. Get the fee discussion on the table early. Make sure you understand the individual's situation and whether or not a fee-based account makes sense. It might not. If that's the case, paying a commission might be the way to go. Simply present the pros and cons of both, and let the client make the decision based on their comfort level.
Recently I met with a potential client and this conversation occurred after presenting the payment options chart:
He said, "Wait, you make money from this relationship?"
"Yes," I responded. So of course, I then went on to ask how he was compensated for doing his job.
"Salary plus commission," he said.
I reiterated, just to make sure I understood correctly, "So, for the service or product you provide you get a small percentage?"
"Yes," was his answer.
And then I asked, "What is the percentage you receive?" (You see where this is going yet?)
His response, "It could be anywhere from 3 to 4%." Interesting. The plot thickens.
"What if," I replied, "you would be paying about 1% for the relationship you have with us?"
BOOM!
I then went on to explain some of the benefits that would come with the fee, such as: continuous portfolio review and maintenance, the possibility of quarterly review meetings should he so desire, and world-class customer service. We went over the commission/fee structure and it was explained to him that the fee would be based on the size of the account. Thankfully, this potential client quickly came to realize that everyone deserves to be paid for their time and value. He appreciated the open, honest discussion and eventually decided that, for him, the fee-based structure was best.
About the author: Mark Bordelove is president, CEO and co-founder of Bordelove Foster Wealth Management. The opinions voiced in this material are for general information only and are not intended to provide specific advice or recommendations for any individual. Mark Bordelove's securities and advisory services are offered through LPL Financial, a registered investment adviser, member FINRA/SIPC. Mark Bordelove and LPL Financial are not affiliated with Jim Cramer or TheStreet. This material was prepared by Mark Bordelove.