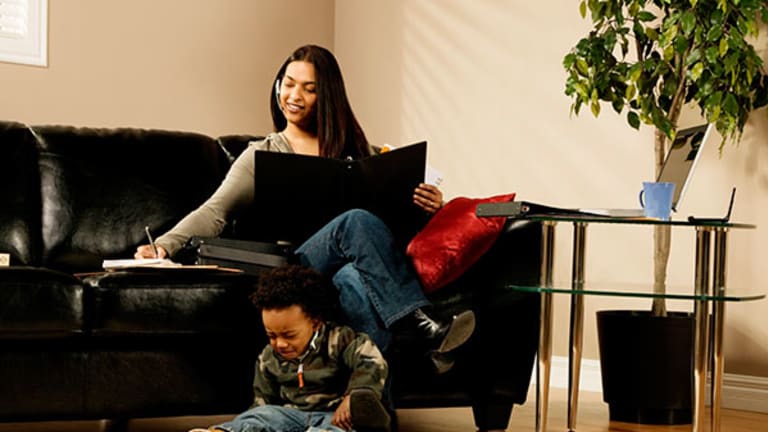 After years of inching forward in fits and starts, remote work, or telecommuting, is now commonplace in the U.S. employment landscape.
How big? The U.S. Bureau of Labor Statistics states that about 25% of U.S. employers worked from home either on a full-time or partial basis in 2015. That figure has risen from 19% back in 2003, the BLS notes.
While every company likely has its own unique rules on telecommuting, there are a few uniform standards that each remote staffer needs to adhere to in order to stay effective and be open and accountable to their employers.
"There are many things to consider before an employer adopts a policy to allow employees to work remotely," says Maura Thomas, founder of Regain Your Time, a professional training and consulting firm. "The nature of the job, the skills of the employee, and the management skills of supervisors are all important factors. Employers must have an adequate technology infrastructure, as well as supervisors who have the tools and training to effectively track remote work. A training program for both supervisors and remote workers is also recommended, so everyone understands the company policy, and what is expected of them."
The key for employees is having good productivity habits, as that will keep management satisfied, she adds. "They should also have a dedicated work space at home, and must be able to prioritize well," says Thomas. "Good technology skills are also needed."
To be effective, employees need management to take some productive steps, too - especially before they start working from home. "Employers should set good expectations," says John Gough, owner of Skyhook Interactive, a 12-person web design and development agency in Mesa, Ariz. that encourages telecommuting. "People in the office should know when someone is going to be at their desk and how best to contact them, via Slack, Skype, video conference, text or email. Remote workers should know if they're expected to be on video calls, set good working times and make sure their effectiveness isn't diminished."
"Feelings get hurt and people get frustrated if expectations aren't met, so it's important to get them out there," Gough adds.
Technology-wise, Gough's team loves Slack, a workplace communications tool. "We use it for all our communication even when we're together in the office, but it's especially important for those that aren't physically here," he says. "Since we always use it, it doesn't feel foreign when someone is out of the office." Skyhook also uses video calling through services like Appear.in or Talky.io, which are free and easy to staffers who need to meet face to face. "And of course, there's email when we don't need a quick response," he adds, "although each of these has an expected turnaround time as well."
On the downside, Gough says it's harder to bring in new people to a telecommute environment. "New team members that have come on since we started working remotely take longer to get to know each other, because there isn't the natural familiarity from rubbing shoulders," he says. "People have to put in a little extra effort to make those relationships happen."
Also, Gough says his remote employees can get lonely. "It's hard for some people to sit by themselves all day," he explains. "Even with chat clients and video calls, unless there's a lot of motivation, people can get bored, distracted, and detached. We've been lucky that many of our employees are more productive at home, but it's important to find the balance. For some people one day a week is perfect, but two days would be too much."
Above all else, employees can flourish in a telecommuting environment when the lines of communications are wide open, and transparency is king.
"I telecommuted for a few years, working for an online educational start-up," says Murray Suid, founder of Mobile Movie Making Magazine, a digital video services company. "There is really just one secret to success - there must be a clear, reasonable deadline for each work job. How the work gets done can safely be left up to the worker. But the best way to make sure things run smoothly is to have a deadline for each important goal. Without deadlines, you can expect chaos and conflict."
Chaos and conflict are two outcomes no employer wants with a telecommuting campaign. They share the responsibility of rising above any negatives linked to remote work, with their staffers. Working as a team, and focusing on productivity and communication, telecommuting can be a win-win for any organization.