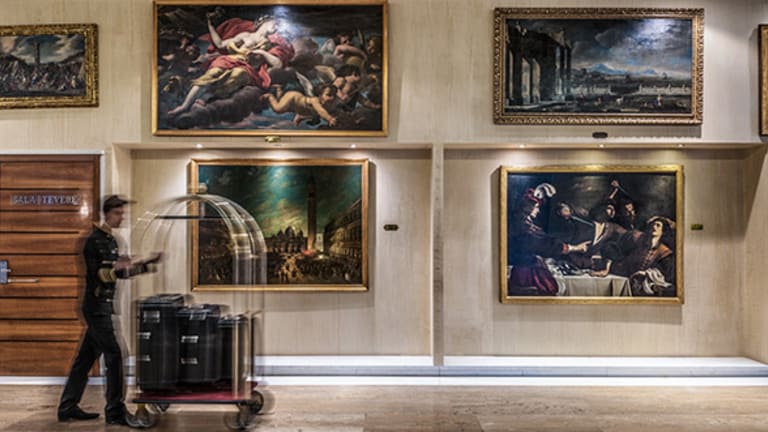 Hotels as Art Galleries - Here's Some of the Most Impressive (and Free) Exhibits On Display
Hotels throughout the U.S. and Canada have amassed breathtaking collections of art that are all on display for the public
NEW YORK (MainStreet) — In 1988, Chris Hemmeter Jr. was given $5 million and told to go forth and collect art.
The son of a wealthy developer, Hemmeter was charged with amassing all the sculptures, photography and paintings needed to fill the Hilton Waikoloa Village hotel.
In pursuit of that goal, Hemmeter traveled to China, Japan, Indonesia, Thailand, Burma and beyond. He spent at least a year traveling and shipping artwork back to Hawaii on barges where it would then be flown by helicopter to the hotel's property.
All of that effort resulted in a collection at the Hilton Waikoloa Village that is by many accounts unlike any other. The hotel is home to a mile-long walkway filled with 1,800 pieces of art, that today is valued at nearly $18 million.
"I think the collection we have is very, very unusual and valuable -- you won't see this anywhere else on the Hawaiian islands," says Marcia Ray, the hotel's art curator. "This was really all part of Chris Hemmeter Sr.'s vision to offer art to the public. I have people who are docents in museums stop me when I'm working on a piece and ask why all of this valuable artwork isn't protected or in a museum. They're just amazed by this collection."
Among the works on display are pieces so unusual and valuable that visiting sheiks from Saudi Arabia have tried (unsuccessfully) to buy them from the hotel.
But the best thing about the collection, besides its sheer size and diversity, is that viewing it costs nothing, and that holds true for both guests and members of the general public.
Every Tuesday at 10 a.m. Ray, an artist herself, leads a tour of the artwork for anyone who is interested.
"A lot of tourists from different hotels will come and walk around looking at the art," she says. "It's a free, cultural experience."
While the Hilton Waikoloa Village's art collection is particularly extensive and awe inspiring, the hotel is just one example of some of the incredibly unique and impressive art offerings that are quietly sitting in hotels around the United States and Canada.
From the Hilton Anatole hotel in Dallas, which describes itself as being home to the largest collection of art and antiques amassed at any hotel in the United States, to the Windsor Court Hotel in New Orleans, where guests can view developer James J. Coleman's $8 million collection of original works by 18th century British artists, there's a variety of hotels throughout the U.S. and Canada with arts-oriented backstories as intriguing as that of Waikoloa Village - involving developers with a particular love of art, who specifically set out to amass bodies of work that would be breathtaking.
These are properties that banish the thought of mass-produced photographs adorning the walls. Instead they are filled with the unique works gathered around the world, or in some newer examples, the works were specially commissioned.
"We're seeing this reinvestment in art and it being a big part of a hospitality experience," says Steven Hurst, of The Heathman Hotel in Portland, Ore. "Most of us can't afford this kind of art in our homes, so it's nice when you're at a luxury hotel and exposed to quality pieces of art. It changes the experience and enhances your experience."
With those sentiments in mind, here is a look at some of the other impressive hotel art collections to put on your radar.

Hilton Anatole Hotel, Dallas, Texas
Displayed throughout the corridors and common spaces for all visitors to enjoy, the Hilton Anatole's varied collection ranges from 12-foot segments of the Berlin Wall painted by Jurgen Grosse to an 18th Century Thai Reclining Buddha fashioned in gilt-bronze.
The hotel has a number of programs in place for guests seeking an interactive art experience, in addition to a Smartphone app that offers details about the hotel's most popular pieces. Programs offered at the Hilton Anatole include curated art dine-arounds, one-mile fitness art walks and more.
"This is technically a private collection, a family collection," explains Brooke Hoffman, the hotel's public relations manager. "The Crow family, who originally built the hotel in 1979, have a longstanding appreciation for the arts, and they rotate pieces in and out from their collection, which is incredibly extensive. They are huge patrons of the arts and world travelers...just this spring we got a beautiful piece commissioned by an Indian artist, a statue of Gandhi."
In addition to the already mentioned panels from the Berlin wall and the Gandhi statue created by acclaimed Indian sculptor Arjun Prajapati, the hotel is also home to a very unique Nebula Kinetic Sculpture that is suspended in an atrium. The kinetic art was created by Californian Reuben Margolin, and is made of ten miles of airline cable, 1,780 pulleys, and more than 4,500 reflectors.
"I couldn't put a dollar value on this collection," Hoffman says. "It's priceless."
The Phoenician, Scottsdale, Arizona
The diverse, multi-million dollar art collection at The Phoenician includes 17th- and 18th-century French tapestries, as well as one of the largest displays of Allan Houser sculptures anywhere. (Houser was awarded the National Medal of Arts by President George H. W. Bush, making him the first Native American to receive this country's highest art award.)
Notable among the paintings at the hotel is a piece entitled "Cavallo" by Ferruccio Ferrazzi, which is believed to have been originally displayed in a Florence cathedral, and was later sent to the Mosaic School of Art of the Vatican City for restoration after being damaged during World War II. The Phoenician later purchased the piece for $75,000, the most costly work acquired by the resort up to that time.
The hotel offers a complimentary, self-guided audio art tours for guests, local residents and other visitors. The tour includes about 12 items from collection that are all located around the resort's main lobby.
Windsor Court Hotel, New Orleans, Louisiana
James J. Coleman was born and raised in New Orleans, but he had a particular love for all things British.
"As a child traveled to England many times" says David Teich, general manager of the Windsor Court Hotel, founded by Coleman.
As an adult, Coleman became a successful businessman and eventually pursued his dream of opening a hotel that was entirely English in character.
"He got the land, did all of the drawings, but he knew there were certain things that would sell it as an English hotel, like offering English tea, and filling the property with English artwork," continues Teich.
From 1978 until 1984, Coleman amassed art piece by piece from collectors in London and around Europe and held it all in storage. Then, in 1984, he opened the Windsor Court Hotel and filled it with all that he had gathered. The property now houses $8 million worth of art including original works by British painters such as Sir Joshua Reynolds and Thomas Gainsborough.
"The collection consists of original paintings, sculptures and tapestries from the 17th, 18th and 19th century, all original, the vast majority British and depicting Windsor Caste and life on the grounds of Windsor Castle," says Teich. "Some depict royalty. Some depict the castle from various views and some depict the lives of the people who worked on the castle grounds. This is museum-quality art, and these pieces are not behind glass  - they are all around the hotel."
Those interested in viewing the collection and learning more about its history can download a Smartphone app that provides an art tour, including a brief description about each piece of work, says Teich. All of the work is displayed in the hotel lobby, second and fourth floors.

Twin Farms, Barnard, Vermont
Thurston Twigg-Smith likely inherited his love of art from his parents, and grandparents, all of whom were artists.
Whatever the source, the public is the beneficiary of his passion. Twigg-Smith, owner of Twin Farms, has filled his hotel's ten rooms and ten cottages with more than 300 pieces of original art, and there's an art concierge on staff to take guests on tours.
"He has been a collector his entire life and a lot was passed down from his parents," says Brenda Hiller, the hotel's art concierge. "The cottages are filled, floor to ceiling with art."
In addition to having serious art credentials thanks to his family, Twigg-Smith has been a board member at New York City's Whitney Museum of American Art for 40 years, says Hiller - all of which has influenced and informed the collection now on display at Twin Farms. Since acquiring the property in 1974, Twigg-Smith has been filling it with his collection.
"He would buy pieces and ship them here to Vermont and we would get these great, big packages," continues Hiller. "He shares this art because he has a passion for art and he has so much. Visiting Twin Farms is like going to your rich uncle's house in the country and he's not here and you have the run of it."
Park South Hotel, New York, New York
The art collection at the Park South Hotel has a slightly different provenance than many of the other hotels mentioned. It was not amassed by a wealthy owner or passionate collector. Instead the photographs and mixed media installations were specifically commissioned by the property during a recent renovation.
The resulting body of work is titled "City Respite: Exploring Seven of Manhattan's Greatest Parks." It was created by 23-year-old photographer and graphic designer Nicole Capobianco, who was asked to come up with imagery focused on New York City's parks. The works she developed focus on High Line, Central Park and Bryant Park, among others
"The hotel was searching for a new direction," says Capobianco. "They liked the idea of taking pictures of parks...and needed about 60 pieces to fill all seven floors."
Capobianco's creation includes timelines about each park's history, collages and photographs.
"Because New York is constantly redefining itself, the hotel wanted to do an ode to history and also talk about the present day," the young artist says of her work. "So when you come off the elevator on each floor in the hotel, you see a light box that tells you about that park, and then you turn to go to your room and there are images of the park along the way."
All of the hotel floors are public, she adds, so those interested can walk through and view the installation.


Hotel Arts, Calgary, Alberta
In 2005, Hotel Arts went through a rebrand, and used the opportunity to install an impressive collection of Canadian artists.
Primarily contemporary art, the works are a mixture of paintings and sculpture featuring a variety of artists well-known north of the border including Tim Okamura, Richard Halliday and Bruce Pashak. There is also a sizable blown glass installation specifically commissioned for the property.
"We wanted to make sure that our place had a different character and different feel and this art collection is definitely one of our differentiators," says Hotel Arts Director of Business Development Fraser Abbott. "All throughout the hotel there is delightful surprises and thought provoking art...People frequently comment when they eat at our restaurant Yellow Door that it's like dining in Alison in Wonderland - it's a feast for the senses, because of all the art work."
The hotel's front desk provides a booklet that describes all of the artwork for those interested in learning more.
The Heathman Hotel, Portland, Oregon
The art collection housed at The Heathman Hotel has taken more than 30 years to complete. Guests here will find 250 original paintings, photographs and works on paper spread throughout the property.
The art immersion begins in the lobby where there's a glowing, naturalistic mural of an 18th-century Japanese buddhist silk robe. Rounding the corner and walking up the hotel's grand staircase guests will find two Italianized landscapes by artist Claude Lorraine, a Baroque artist admired for his achievements in landscape painting. And these few pieces are merely an introduction to all that The Heathman has to offer.
"Our collection has been growing for decades," says hotel General Manager Steven Hurst. "A number of owners throughout the years have had a passion for art and its always been a part of The Heathman, which dates back to 1927." 
The Heathman is also home to the second largest library of autographed, first-edition books in the world, with nearly 3,000 volumes in its collection. Even more interestingly, all of the books in the collection were signed by authors who actually stayed at The Heathman, notes Hurst.
"Just in the past few weeks Salman Rushdie, and former President Jimmy Carter were both here and signed books," Hurst says. "We see past presidents and famous artists, you name it. And if you stay here, you can check out a book and bring it to your room. We even have a library hour, when we have an attendant here who talks about the collection."