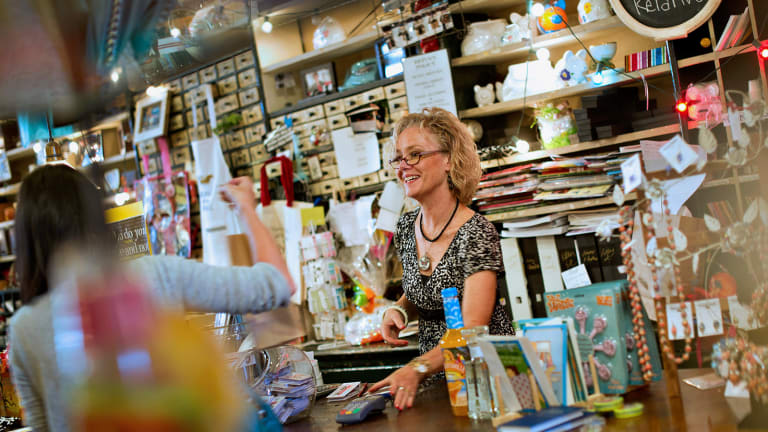 Hometown Businesses Soar Through Cash Mobs
Cash mobs inject excitement and revenue into local businesses by rejuvenating local economies and revitalizing interest in small businesses.
A growing number of community organizations are using cash mobs to boost the local economy and build brand loyalty.
During a cash mob, community host companies such as banks, hometown Chamber of Commerce associations or economic development organizations furnish cash to patrons, which is used to shop at small businesses during a set day and/or time. The event is typically promoted through social media and often through word of mouth.
"Small businesses are the lifeblood and economic engine of a community, and cash mobs amplify the visibility of unique shops and restaurants, signify the strength of small business support and put dollars in the pockets of small business owners," says Jill Castilla, President and CEO of Citizens Bank of Edmond in Edmond, Okla. The bank hosted a cash mob last spring and promoted several local businesses. Bank employees were armed with cash and encouraged to shop during the mob.
"Shopping with a small business is supporting the business owner who lives in your community, provides a job for the people who work there and also cycles money back into the economy," Castilla says. "At Citizens Bank of Edmond, we believe in putting our money where our mouth is. We're a local community bank demonstrating small business support by giving our employees an opportunity to check out a local establishment to shop or eat."
In this particular instance, bank employees were given money to shop at designated local businesses for a day and then share it on social media. "We also invite the media and community to participate with us," she adds. "Consumers are noticing the 'impact of local' already in many ways: farmers markets, local microbreweries and hip local restaurants are all taking center stage in many cities. We're just adding to that local wave by spotlighting cool businesses in Edmond. As a small community bank, we're a small business too."
Why Cash Mobs Work...

Pacific Grove Economic Development Commission Chair Jacquie Atchison says her challenge is to find ways to revitalize and invigorate interest in local businesses in Pacific Grove, Calif.
"I was presented with a complex economic challenge from our business community who expressed a desire of an increase in foot traffic, yet weren't interested or had the skills or time to market their business," she explains. "Some of these businesses were not seeing sufficient revenue to justify extending hours, and customers were coming to shop and finding that the stores did not maintain consistent hours, and getting frustrated and taking their business out of the community."
One way to combat waning local interest was to host a monthly cash mob held during an existing Pacific Grove mainstay called First Friday.
"First Friday is a monthly event started in Pacific Grove over five years ago, where stores and art galleries stay open later one night a month," Atchison says. "I decided this would be the perfect opportunity for our cash mobs, as it is the beginning of the weekend and people like to go out on Friday nights anyway and often would like to explore new businesses, which were usually closed, but would extend hours in the hope of being mobbed with customers and cash."
As a result, "I have had many people tell me that these cash mobs have brought a pulse to downtown," she says. Atchison's organization recently hosted a successful cash mob this fall that generated significant interest.
"We are seeing more and more people out and about, many just to see what happens next, all spending money at local businesses," she continues. "More businesses are seeing the benefit of the cash mob, with the increase number of people in downtown, so they are able to stay open later and increase revenue."
Do Cash Mobs "Stick?"...
Giving away cash to spend at a local business on a certain day generates hype on that day, but do cash mobs build loyalty? Atchison believes cash mobs are effective and essentially influence and develop local shopping behaviors.
"The cash mobs have had a lasting impact on these businesses, because we have introduced new customers, with many have returning again for more shopping or dining," she says. Her organization has hosted five cash mobs and reports each month has added more participants and an increased economic boost.
Local business owners said the event has been nothing but positive. "There were three of us manning the check-out where we worked in a frenzy for 30 exciting minutes and then...they were gone, almost as quickly as they had arrived," recalls Leila Kane from Blessings Boutique. "It was such fun. We collapsed into chairs and looked at each other, unable to stop grinning. Did that really happen? Were we just flooded with enthusiastic people who shopped frenetically for 30 minutes? Yes, it did, and yes, we were. The proof was in the receipts...in the 30 minutes of 'cash-mobbing,' we enjoyed twice the intake we would normally experience for the entire night."
Cash Mobs Meet Small Business Saturday...
Like cash mobs, Small Business Saturday, held this year on November 28, also supports hometown companies.
"We are having a Small Business Saturday-week celebration by cash mobbing three different local Edmond retailers in three days," Castilla says.
Castilla is encouraging consumers to shop at Tack Designs, Cupcakes To Go-Go and Serendipity Market.Each business offers unique opportunities for our staff and the local community to come together to shop local.
The Small Business Saturday phenomenon edged its way into Black Friday spending with more consumers going local during the holiday shopping season.
Founded six years ago by American Express, Small Business Saturday was leveraged as a way to answer the most pressing need of small businesses, which was to generate more customers. "The idea was to find a smart way to help small businesses by attracting more customers," says Nicole Leinbach-Reyhle, owner and CEO of Denver-based RetailMinded.com and spokesperson for American Express's Small Business Saturday. "Since the day Small Business Saturday launched, it has become a huge day for customers and a great way for small businesses to kick off the holiday season," she said.
Leinbach-Reyhle reports 88 million "shopped small" last year, which was up from the year before. According to American Express OPEN, an estimated $14.3 billion was spent on Small Business Saturday in 2014.
Neighborhood Champions are organizations like the Chamber of Commerce, downtown associations or economic development organizations that simultaneously promote multiple local businesses during the small business event.
"We are already seeing an increase in Neighborhood Champions this year too, rising from 1,700 groups last year to 3,500 signup thus far," Leinbach-Reyhle says.
Atchison says her organization isn't missing an opportunity to showcase businesses in her area this holiday season. "These cash mobs have been a great lead in to the kick off of our 'Think Local' campaign, which we call 'You'll Find It In Pacific Grove!'" Atchison said.
On Small Business Saturday over 20 local business will offer special discounts and promotions to customers in the Pacific Grove area.