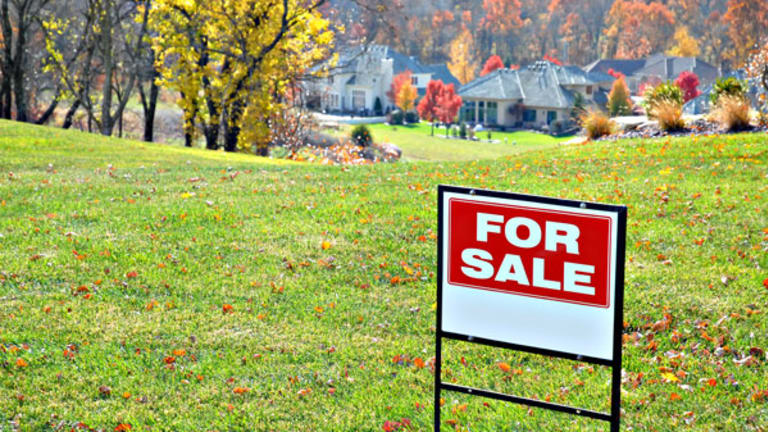 Home Sales Fall Because Sellers Can't Afford to Sell
Low equity, rising mortgage rates and homes that haven't been lived in long enough contribute to a fall in sales in March.
NEW YORK (TheStreet) -- Eyebrows were raised all over Wall Street this week, and likely on Main Street, too, after the U.S. Commerce Department released its single-family home sales figure for March.
The news wasn't good for the real estate market, as sales fell by 14.5% for the month, and 13.3% against March 2013 figures.
Economists had estimated March residential homes sales at 450,000, but the market saw only 384,000 homes move from seller to buyer.
Also see: Mortgage Rates Remain a Gift to Homebuyers>>
One culprit could be higher mortgage rates, which have been trending upward. BankingMyWay's Weekly Mortgage Rate tracker pegs 30-year fixed mortgage rates at 4.31%, slightly ahead of last week's figure of 4.30% but still significantly higher than the 3.50% to 3.75% homebuyers were seeing last year.
Low inventory is another problem, as not enough Americans are putting their homes on the market this year. It turns out too many Americans feel they can't afford to stick a "for sale" sign in their front yard and move on with their lives.
According to research from Redfin, a Seattle real estate brokerage firm, only 49% of homeowners say they are in a "financial position to sell" their homes right now. That leaves 51% who aren't ready to sell, for a variety of reasons.
Redfin lists three primary ones:
Also see: Regional Real Estate Stands Out in Spring Selling Season>>
No liquidity. 19% of homeowners say their homes have low equity, meaning the homeowners owe more than 80% of the value of their home.
"No" to higher rates. 16% of homeowners are "locked in" with historically low mortgage rates. They don't want to give up those low rates by selling and moving on to a new home that comes with a higher mortgage rate attached to it.
The seven-year syndrome. 14% of U.S. residential properties were bought less than seven years ago. Redfin has found that homes typically sell seven years or more after their purchase.
Those concerns have led to a thin U.S. housing market in April, and buyers and their agents know it.
"Competition can still get intense, but because prices have risen so much, my clients and I try to be more discerning about how far we should go to win a home," says Minni MacFarlane, a Redfin agent in Orange County, Calif. "The past two years we'd compete against people camping out in their cars or entering lotteries to win new homes. This year, a bidding war is more likely to drive the price of a home higher than it's worth competing for, and I think it will be easier for us to walk away from a situation like that."