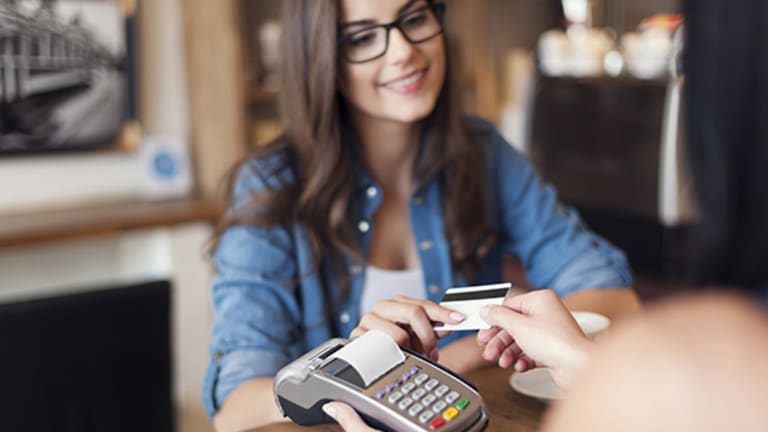 Holiday Shoppers Should Avoid Store Credit Cards
Gravitating toward retail credit card offers during the holiday season is a popular undertaking, but while these cards offer alluring discounts, the hidden costs can wind up regrettable.
Editors' pick: Originally published Dec. 1.
Gravitating toward retail credit card offers during the holiday season is a popular undertaking, but while these cards offer alluring discounts, the hidden costs can wind up regrettable.
On Black Friday alone, consumers open an average of 500,000 store credit cards, said Torsten Slok, chief international economist of Deutsche Bank Securities, in a research note. Since the recession, the average balance on retail credit cards has continued to increase and is currently at $332.
While stores increase their offers during the holidays and extend lucrative discounts on purchases, the high interest rates can easily wipe out any savings. The average retail card's APR is 23.84%, which is more than 8 percentage points higher than the average for other types of credit cards. Some retailers offer cards which go as high as nearly 30%, "which is often the penalty rate on a general purpose credit card, the rate given to people who make a big mistake such as paying 60 days late," said Matt Schulz, senior industry analyst for CreditCards.com, an Austin, Texas-based credit card comparison company.
Shoppers who are intrigued by store cards should not fall prey to the pressure and make any rash decisions by signing up for a new card during the checkout process. Instead, researching the details of the card first will help consumers make more informed choices, he said.
"Retail cards can be really tempting, especially when they come with a big discount on your purchase," Schulz said. "Read up on the details and decide if the card still sounds like a good deal. If it does, apply the next time you go to the store. Chances are all the same perks will still apply, but you'll be able to make a much less pressure-filled decision."
Interest rates on store credit cards are higher, since qualifying for them is more lenient than ones issued by banks and other lenders. That's because consumers can have lower credit scores.
"When a card is easier to get, it might attract a riskier borrower and they typically get higher APRs so banks can protect themselves if that borrower can't pay his bill," Schulz said.
Nearly half of retail-branded cards carry an APR of at least 25%, which is higher than 15.18%, the current national average rate for all credit cards, according to a survey conducted by CreditCards.com that includes every card offered by the top 100 retailers in the U.S. The rates of retail cards have risen from 23.23% in 2014, to 23.43% in 2015 and 23.84% in 2016.
The stores to steer clear of because their credit cards charge the highest APRs include Big Lots at 29.99%, Zales Jewelers at 29.24% and Staples at 28.24%. The lowest ones are Nordstrom Visa Signature at 11.15%, Military Star at 10.49% and Dillard's at 10.24%.
Weaker Security
Another drawback to store cards is their lack of security, which increases a consumer's odds of being hacked. The survey found that only 29 cards are issued with EMV chips which require the user to enter a PIN and only seven are compatible with at least one major mobile wallet, CreditCards.com found.
Owning too many cards means it's easy for consumers to forgo checking one statement to ensure all the purchases are legitimate, said Dan Lohrmann, chief security officer at Security Mentor, a Pacific Grove, Calif.-based provider of security awareness training.
"The more accounts you need to examine online, the harder it can be to find sneaky little charges that were not yours," he said. "In rare cases, you may even miss that you became a victim of identity theft or other forms of credit fraud."
Having extra credit cards can lead to loading more apps on your mobile device or PC, which all need to be updated to prevent malware.
"If you get sloppy with reusing passwords, not updating apps with the latest security fixes for known vulnerabilities or not using two-factor authentication to get into the app, security problems can develop," Lohrmann said. 
Another consideration is watching out for fake apps, bad links or online services that can steal your credit card information.
"This can come from phishing links offering credit card deals, big percentage-off discounts or even fraudsters pretending to offer data backup services or electronic wallets - which actually steal your information," he said. 
The Aite Group, a Boston research and consulting firm, predicts that U.S. online credit card fraud will jump from approximately $3.3 billion in 2015 to more than $6.6 billion by 2018, said Joseph Carson, head of global strategic alliances at Thycotic, a Washington D.C.-based provider of privileged account management solutions.
"Credit cards represent one of the most vulnerable points of entry when it comes to identity theft, because there are many vectors a thief can use to gain coveted information," he said. "Having more credit cards increases the "attack surface" and your chances of being attacked."
Cyber criminals often commit fraud by making numerous small-sized transactions across a large number of distinct stolen credit card accounts, which helps them to escape detection, said Jason Matlof, executive vice president at LightCyber, a Los Altos, Calif.-based provider of behavioral attack detection solutions.
"Attackers essentially fly under the radar of most threshold-based detection mechanisms," he said.
High Interest Rates Boost Debt Levels
The higher interest rates from retail cards can make it harder to pay off the existing balance, adding to your debt level.
"The number one job for any credit cardholder is to pay your balance off as soon as you possibly can," Schulz said. "That's true with any type of card, but it's especially true with retail cards because of their sky high APRs. If you don't pay your balance off, it can grow faster than you'd believe.
Applying for several credit cards can be detrimental to your credit score and lower it, increasing the odds that any other loans will be offered at a higher interest rate, costing hundreds or even thousands of extra dollars, said Bruce McClary, spokesman for the National Foundation for Credit Counseling, a Washington, D.C.-based non-profit organization.
"Savvy shoppers sometimes look for new ways to stretch their dollars even further and taking advantage of an introductory retail credit card offer may seem like a good deal," he said.
When a consumer has a $1,000 balance, the interest will cost $370 with the national average APR of 15 % for all credit cards, said Schulz. The payoff time is 54 months. When the average store APR of 23.84% is applied to the $1,000 balance, the interest increases to $872 and the payoff time rises to 74 months.
While consumers are drawn to the discounts, these rewards pay off if the balance is paid off each month, he said.
"After all, it doesn't make much sense to get a 20% discount if you're still going to end up paying 25% interest on that purchase," said Schulz.