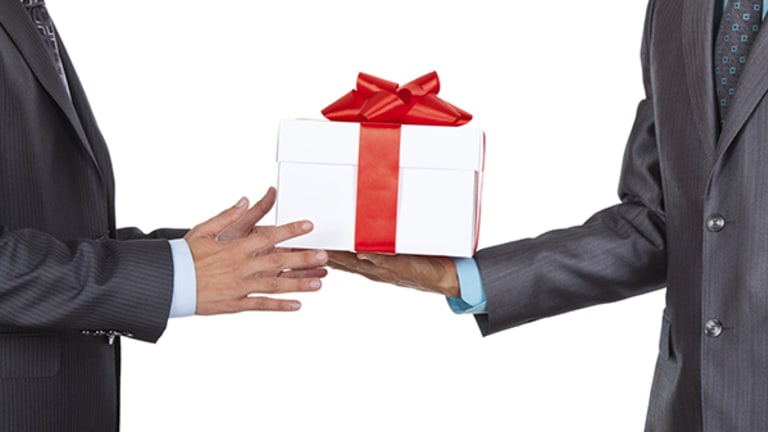 Holiday Presents for the Boss? Here's When and What to Give
The old rules say not to give holiday gifts to a boss, so there is no perception of favoritism or brown-nosing, but there are exceptions.
NEW YORK (MainStreet) — Just because your boss kept you employed all year doesn't mean you have to give him or her a holiday present. Here's a look at whether a gift for your boss is warranted and what's appropriate to give when the time comes.
To give or not to give:
"There is no right or wrong answer," says Elizabeth Spayne, executive vice president of marketing at recruitment firm WinterWyman. "According to Emily Post, you aren't supposed to give holiday gifts to your boss so there is no perception of favoritism or brown-nosing, but in my experience there are some exceptions to this rule."
It all depends on your relationship and the situation. If you and your boss are friends as well as colleagues, or started out as peers and have a tradition of exchanging presents, by all means give a gift, Spayne says.
"The omission of doing so will put more emphasis on your roles and less on your collegiality and friendship. However, exchanging gifts in private or outside of the office would be recommended so as not to give your colleagues the wrong impression," she says.

WATCH: More personal finance videos on MainStreet | More videos from Scott Gamm
View Today's Auto Loan Refi Rates
If you work at a big company and are part of a large department where you only have a passing relationship with your boss, you may want to rethink gift giving.
"If you don't have much interaction with your boss, then it's not appropriate unless it's a group gift," she says. "But if you and your teammates want to show your appreciation, a pooled or group gift would be a good solution."
Whatever you do, keep it small and thoughtful, Spayne says. The holidays are a wonderful time to show your appreciation for your boss — just make sure the gift shows that you know a bit about their personality and interests.
The best boss gifts:
Gift cards/gift certificates
A gift card or gift certificate to a favorite business is always appreciated, Spayne says.
"Maybe he has a favorite restaurant or sandwich shop that he always goes to for lunch, or you know that on Tuesdays she always run out and gets her nails done after work," she says.
If you don't know your boss' taste in food, think drinks. Starbucks or Dunkin' Donuts cards will always be appreciated, as would a gift certificate to a favorite local bar. Just stick to retailers that won't raise any eyebrows — save the Victoria's Secret gift cards for your friends.
Something edible and/or homemade
"Knitting them a scarf would be great, but you have to know their personal taste. You don't want to give them something that is your taste and impose that on them," Spayne says. "With that said, if you have taken time to craft and make something for someone, it's generally super appreciated."
If making candles and other crafts isn't your speed, anything edible is a great gift choice during the holidays, because the treats can be shared around the office. Also, your boss won't be left with something she feels obligated to display or wear in the months to come.
"Make them cookies. Everyone likes cookies," Spayne says.
Something they collect or do
If your boss collects Pez dispensers or snow globes, the holidays are the perfect chance to help grow their collection.
"People collect lots of little things. If you can find one that he's looking for or that he doesn't already have, that is a great gift," Spayne says. "It all comes down to knowing the person."
Don't be afraid to support your boss' hobby. If you know she's been meaning to try yoga, a gift certificate to a local studio can be an incredibly thoughtful gift. Iif he's into model trains, a gift card to a local toy and hobby shop would be most welcome.
Something tied to a life event
Is your boss jetting off to a foreign country in January? A travel care package with an eye mask, blanket and passport holder would be much appreciated.
"Anything that's going to make their trip more enjoyable would be great," she says.
Did your boss just buy a new home? How about giving a festive wreath or potted plant to put outside?
"Look for something for their home that also celebrates the holiday."
Charity
If your boss supports a charity, there is often no better gift than making a donation in their name, Spayne says. Most charities will provide you with a letter stating that a donation was made and the amount. Enclose that letter in a card for your boss and it's the perfect instant gift.
If you want to get a little more creative, check into planning a volunteering outing for your team at your boss' favorite charity. During the holidays, there are often ample opportunities to work at soup kitchens, homeless shelter and food banks. 
"Volunteering as a team is a great way to honor your boss and support the community," Spayne says. 
A card
The holidays are a time to reflect on the past year, and part of that is acknowledging and thanking those that have supported you throughout the year, says Tom Gimbel, founder and chief executive of LaSalle Network, a Chicago staffing and recruiting firm. Believe it or not, it is possible to show your gratitude without giving a gift. 
"If you genuinely are appreciative of the help and guidance, whether it was helping close a major deal through mentorship or support through a personal situation, remind them you're thankful, and it can be as small as writing a handwritten letter," Gimbel says. "It's not brown-nosing if it's genuine."
Employees should do whatever it is they're comfortable with and keep in mind it's not the amount spent that shows the appreciation … it's simply just saying it, he explains.
— By Kathryn Tuggle for MainStreet