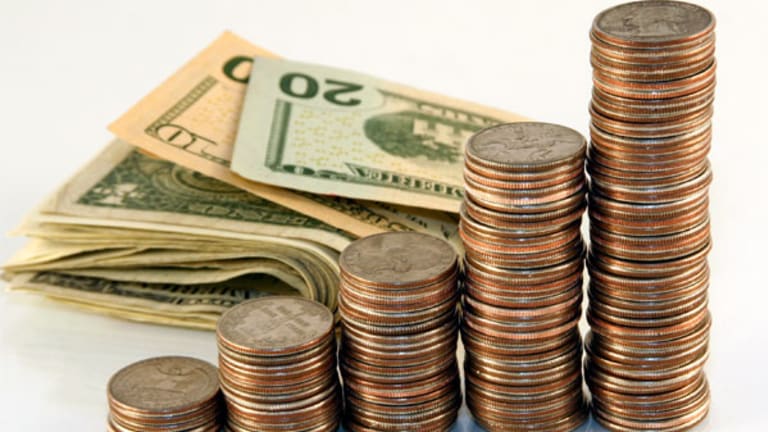 We Called It: ATM Fees Soar in Chase 'Test'
In November there was already reason to fear increased bank fees. 'Free' perks are also at risk.
Editor's note: A story posted on TheStreet on Nov. 16 warned that "Higher ATM Fees Loom for Consumers," and today Chase took a big step toward ending the looming and launching the trend for real. In Illinois, people who aren't Chase customers face a $5 fee if they need to use a Chase ATM, and that's in addition to a fee charged by their own bank; in Texas, it's $4. The company calls the fees -- up from a national average of $2.60 for such withdrawals -- a test.
BOSTON (
) -- New government regulations, although intended to be consumer-friendly, could end up taking the blame as banks raise costs for ATM use and checking accounts.
Among the items in the Dodd-Frank Wall Street Reform and Consumer Protection Act passed into law this summer were limits on interchange fees, the charges banks and credit card companies such as
MasterCard
(MA) - Get Mastercard Inc. (MA) Report
,
Visa
(V) - Get Visa Inc. Class A Report
and
American Express
(AXP) - Get American Express Company Report
assess merchants every time a credit or debit card is swiped. The legislation's Durbin Amendment, named for Sen. Richard Durbin (D-Ill.), empowers the Federal Reserve to determine "reasonable" fee limits, setting the stage for a reduction to the 1% to 3% typically assessed for processing.
Big banks may be ready to raise ATM and checking fees to make up for losses in other areas.
With debit card fees totaling roughly $20 billion a year industrywide, a reduction could be painful to banks' bottom line. In a recent earnings report,
Bank of America
(BAC) - Get Bank of America Corp Report
said these fees represent $2.9 billion of its annual revenue and could cut into that stream by as much as 80%.
Higher ATM fees may be among the moves on the horizon in response to this and other regulatory moves, such as new overdraft regulations.
"New regulations are cutting into their fees and the banks are planning on changing their pricing structure accordingly," says Gwenn Bezard, a research director with Boston-based Aite Group. "You have a lot of business plan review going on at banks as they try to figure out where and how to make money moving forward and where they are going to recoup their revenues. Banks are not going to sit idle and just see their profit margins diminish. The new regulations mean they have to come with new ways of making money."
Nationally, 85% of the 2,488 banks and credit unions surveyed by
, a Chicago-based banking analyst, charge ATM fees, including 95.5% of "Wall Street banks" with $50 billion or more in assets, and 79.1% of smaller credit unions.
There are even more factors arguing for fee increases from at those machines.
"Overall, ATMs are dying," economist Mike Moebs says. "The number of ATMs are increasing, but the overall usage or volume is falling off. Why? Consumers are using their debit cards more. Also, grocery stores are promoting more cash back to reduce their cash shipments and using the debit card to do this. Other retailers are following the grocery stores and doing the same."
Tom Kelly, a spokesman for
JPMorgan Chase
(JPM) - Get JPMorgan Chase & Co. (JPM) Report
, said the bank's ATM footprint remains an important draw for new customers.
"Our 15,500 ATMs around the country and no-fee access for our customers are a competitive advantage," he wrote in an e-mail. "If consumers find our ATMs convenient, they can become customers and get access with no fees."
In response to new regulations, however, the bank will stop issuing debit rewards cards in February and eliminate debit usage as a way for customers to have their monthly checking account fee waived.
Even though there will be new ways for customers to bank without a monthly fee, "there will be higher fees for customers who do not maintain sufficient balances or do enough business with us," was among the messages sounded at the Bancanalysts Association of Boston Conference on Nov. 4 by Charlie Schaf, CEO of Retail Financial Services for JPMorgan Chase.
"We will be appropriately paid for the services we provide," he said.
Schaf said the Durbin Amendment will likely result in "higher banking costs for lower mass market consumers," "some portion of lower mass market consumers exiting the banking system" and "potentially less innovation and functionality in banking services."
"Banks have offered a lot of things for free," Bezard says. "There is free checking, free bill pay, free access to the ATM, free checks, free this and free that. It was not like that 15 years ago, but we have gotten used to it. A lot of the things have been free, because that is how banks were able to get customers through the door. A lot of that is going to be rolled back. You have a massive revamp of products and pricing that is going on. If the big guys send signals to the rest of the banking community that they are going to roll back, then it gives more confidence to the smaller guys -- the credit unions and community banks -- to do the same."
Banking lobbyists were able to defeat a proposal by U.S. Sen. Tom Harkin (D-Iowa) to cap ATM fees at 50 cents per transaction. He argued that the national average for ATM transaction is $2.50, with some terminals assessing as much as $5 per transaction even though actual processing costs were typically no more than 30-50 cents.
In May, Harkin's proposed amendment to the Dodd-Frank Act was voted out of the final package.
Claiming that roughly 68% of all ATMs are off-branch locations (such as retailers, airports and arenas), the American Bankers Association fought the proposal on the grounds it would lead to fewer ATMs.
"If a price cap were to be put in place, these machines would be the first to be eliminated," the group said in a statement. "For any ATM where the revenues do not exceed the costs, that ATM machine will disappear."
"ATMs helped move people away from going into the branches to do basic banking," Bezard says, adding another reason higher fees may be sought. "It was a savings and convenience factor. But the savings benefits were 20 years ago. Now, if you are running a bank, you still have this massive fleet of hardware that you need to maintain, and it is very expensive."
According to an ABA survey, last year there were 425,000 ATMs in the United States, up from 273,000 in 2000. The average cost of a bank ATM ranges from $9,000 to $50,000 per terminal with annual maintenance costs (such as cash replenishment, servicing and rent) of $12,000 to $15,000.
-- Written by Joe Mont in Boston.
>To contact the writer of this article, click here:
Joe Mont
.
>To follow the writer on Twitter, go to
.
>To submit a news tip, send an email to:
.
Readers Also Like:
>>Unloved Media Stocks Are Jordan's Top Picks
Get more stock ideas and investing advice on our sister site,