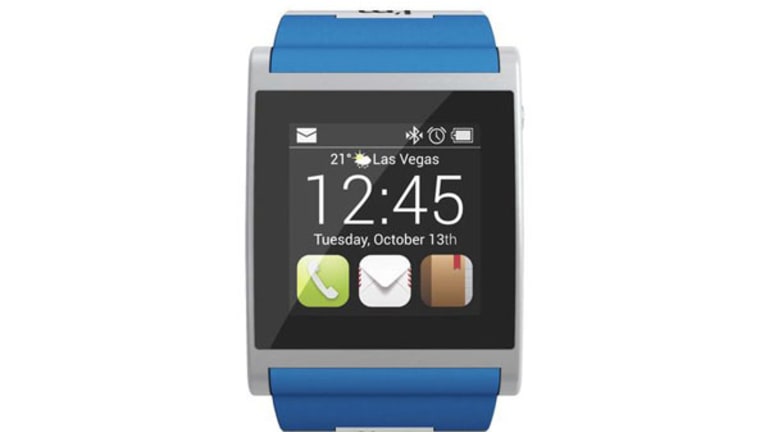 High-Tech in High Style: The Smartwatch Is Here
The i'm Watch lets you check email, read texts and Twitter updates, listen to music and make phone calls.
SAN DIEGO (
) -- It's what all the cool kids in Europe are wearing.
Before long it'll be on the wrists of all the trendsetters in the United States too -- at least, that's the goal, says Lucca Bertollo, sales and marketing manager for the i'm Watch.
"Our aim is to reach fashion and technology people -- to make it a status symbol for people like the iPod was," says Bertollo during a recent call from the company's offices in Milan, Italy, where he's in the midst of planning worldwide distribution strategy for this must-have. "It's for people who want to have something different than other people."
Created in Italy and recently unveiled at technology shows in Las Vegas and Barcelona, the i'm Watch lets you check email, read text messages and Twitter updates, listen to music and make phone calls.
"It's not only a watch. It's something more," says Bertollo, in his somewhat understated manner.
He calls it the world's first smartwatch. It doesn't entirely replace your smartphone, but works with it using Bluetooth technology. So keep your smartphone tucked in your purse, pocket or desk drawer and have your emails, Twitter feed and text messages routed to the watch, where you can read them in a meeting, on the subway or anyplace you may not want to take out your phone.
The watch was invented by 36-year-old Italian entrepreneur Manuel Zanella, founder of
i'm S.p.A.
Bertollo says the watch is already a cult favorite among technology enthusiasts in Europe. Priced at $299, Bertollo says it is aimed at what he calls the "alternative luxury" market.
"It something contemporary, and something that's not cheap, but also not so expensive. It's a design piece," Bertollo says.
The i'm Watch can be ordered from the
and shipped worldwide. It also recently went on sale at the
Ralph Lauren
(RL) - Get Free Report
store in New York City.
Next month, i'm S.p.A. will expand sales of the watch to include Los Angeles and other California locations.
But to be clear, the watch allows you to receive, not respond to, emails or text messages.
"You can't respond to those things. It would be crazy to answer your email from a watch," Bertollo says.
We'll see.