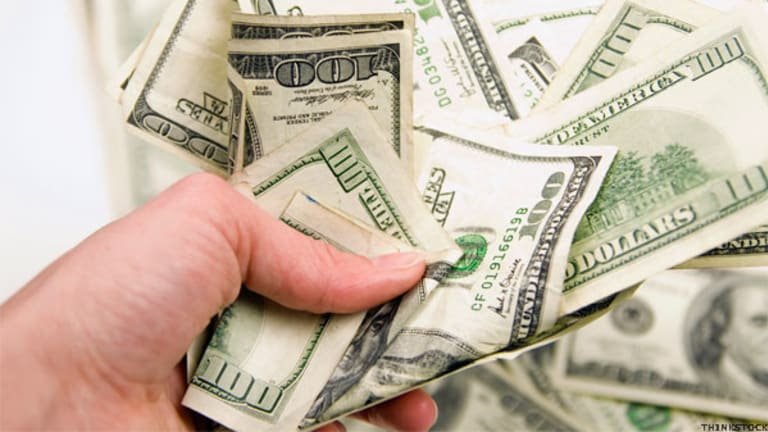 High-End Repo Men Hunt Down Jets, Yachts
The financial crisis has proven to be a boon to repo men going after big-money prey.
BOSTON (TheStreet) -- Among businesses booming in the tail end of the deepest recession since the 1930s: high-end repo men.
While most people in the repossession business work the streets for BMWs and Porsches whose owners have fallen behind on payments, Ken Cage, president of operations at Orlando, Fla.-based
International Recovery & Remarketing Group
, specializes in the more expensive bounty of yachts, private jets, RVs and construction equipment.
Cage logged more than 20 years in the banking and collections industry with such firms such as
JPMorgan
(JPM) - Get JP Morgan Chase & Co. Report
and
DaimlerChrysler Financial Services
. He became a repo man after he realized he wasn't cut out for life in a cubicle.
Working with childhood friend Bob Weeks as a business partner, Cage began looking for a new business venture in 2004. After a 13-month search, the duo decided that a repossession firm, with its focus on high-value asset recoveries, was an ideal fit. They purchased it.
The timing seemed perfect. International Recovery & Remarketing Group's new owners had time to refine its business model -- and build its banking, financial and legal clientele -- ahead of the economic crisis that began in late 2007. During the peak of the recession, the firm's demand for services increased seven-fold. The bonanza continued into 2009, when Cage and Weeks helped repossess almost 350 planes.
"We stared going crazy at the beginning of 2008," Cage says, declining to provide revenue figures. "It wasn't just the number of cases, even though those went up significantly. What we really started noticing was the value of the assets. We looked and said, 'These boats are getting bigger.' In 2006 and 2007, the average unit was about $40,000. What we were seeing was a glut of $300,000 and $400,000 units coming in. I was picking up $200,000 boats like they were nothing."
In one week-long stretch, International Recovery & Remarketing Group was contracted to repossess three helicopters, valued at $3 million, seize an entire warehouse and go after a $5 million jet.
Cage describes his business as a "grassroots indicator" of the overall economy. In the second quarter of 2008, nearly three out of four jobs involved delinquent owners in the real estate industry.
His assessment of the economy in 2010, after a spate of fits and starts?
"It is a little bit better in that we don't have as many cases," he says. "But I don't think we are through the woods yet -- not even close. We keep getting new people who are calling, and they are all big-ticket items."
Cage says work is less exciting than many imagine it to be. A typical day is spent mired in paperwork and knocking on doors. Many people surrender the goods without so much as an argument.
"Here take it -- this thing is killing us," is the response one over-extended boat owner gave when Cage showed up. A corporate jet, valued at $20 million, was found abandoned at a Northern California airport.
There are times, however, when Cage's repo men can't avoid tense situations. One recent job was seizing a plane owned by a former NFL star who charged at his crew, delivering a painful body blow to a pilot.
"He was so drugged out -- on cocaine or crack or whatever -- that it was scary," Cage says. "He was just too intense. Sure enough, two months later he was in prison for drug possession."
On another occasion, in St. Croix, the pilot of a plane the repo company was seeking played a dangerous game of chicken, barreling down the runway at a police car that accompanied International Recovery & Remarketing Group workers to the airport. The pilot didn't follow through with his high-speed threat.
A key to International Recovery & Remarketing Group's success is that it offers services as a so-called remarketing broker.
Cage says repossession brokers typically resell seized property for 20% to 40% more than standard brokers. The common perception that items are sold for "pennies on the dollar" is false, he says. The most expensive item available is a Dassault Falcon corporate jet. The minimum bid is $3.2 million. Dozens of other aircraft and yachts are also listed at the
.
A straight repo job can cost thousands of dollars and is priced according to complexity, man hours and out-of-pocket expenses. If International Recovery & Remarketing Group is contracted to be the broker, the company will often forgo investigative costs, cut repossession fees, offer free storage and reduce remarketing rates by 30%.
Cage says such discounting doesn't sit well with some of his competitors, many of whom are more than happy to earn a maximum return from the recession-fueled spike in demand. But building long-term relationships is more beneficial than short-term gains, he says. Given the exponential rise in the value of the reclaimed goods, his company stands to benefit greatly by building and maintaining its remarketing business. Debtors also benefit because many of his fees would otherwise be passed on to them.
"We are making a lot of money, but we are also saving the banks a lot of money at the same time," he says. "We've met enough people who are good folks, really good people out there who have just happened to hit hard times. If I'm doing fine, they are doing better and the banks are losing less money. It seems like a win-win-win situation to me."
-- Reported by Joe Mont in Boston.
RELATED STORIES:
>>Real Estate Market Dealt Further Blows
>>Americans Managing Debt Better as Economy Recovers
Get more stock ideas and investing advice on our sister site,