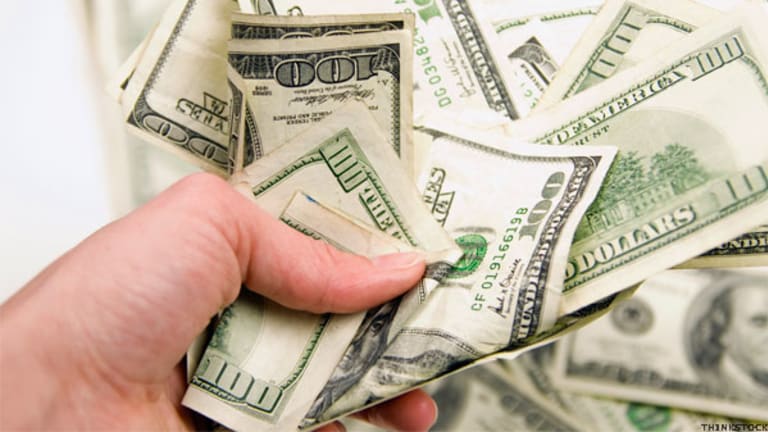 High-End Art Poses Possibility for Investors
A small but growing movement seeking new frontiers in investment opportunities are asking themselves: Yeah, but is it art?
BOSTON (TheStreet) -- Despite the economic volatility of the past couple of years, the art market continues to set records.
Back in November, hedge-fund billionaire Steven Cohen bought Andy Warhol's 1962 painting
Coca-Cola
for $35.4 million at auction. Another Warhol, at a seperate auction lasy year,
Men in Her Life
, a black-and-white silkscreen depicting Liz Taylor and Debbie Reynolds, sold for more than $63 million. Overall, the modern pop artist is poised to join the ranks of Monet and Picasso in terms of appraisals and sales.
Andy Warhol is poised to join the ranks of Monet and Picasso in terms of appraisals and sales, just as some are looking at high-end art as a securitizable commodity.
Given the massive inflows and outflows of art collectors, is artwork ready to take the leap from hobby to commodity, from private equity to mutual funds? A small but growing movement is seeking the securitization of the high-end market, following the lead of Russia and India.
Working against such a development is an unregulated marketplace that is often more Wild West than Wall Street. The art world can be a shady place, full of backroom deals, insider trades, subjective pricing, theft and forgery. Whim, rather than economics, guides much of business dealings.
Sergey Skaterschikov, however, is among those who thinks art can thrive as a formalized asset class.
Skaterschikov is founder of
, which provides investment research on the world's most valuable art and art industry companies. Skate's Top 5000 is a database and index of the world's 5,000 most valuable artworks based on publicly reported auction prices.
He says the auction season this fall confirmed that the art market is "clearly emerging as a strong alternative investment market" and that "the masterpieces segment alone in Skate's Top 5000 absorbed about $700 million in net capital inflows for the three-month period against the backdrop of currency fluctuations, European Union woes and overall global economic uncertainty."
The total volume of trading in Skate's Top 5000 art stood at $3.63 billion as last year drew to a close, roughly $6.1 billion per work of art.
At a forum last month in Miami, Skaterschikov was among those discussing whether there will soon be a new trend of institutional investment capital allocated to art as an alternative asset class.
"The biggest question which remains is whether we are going to see new classes of investors in the art market," he said. "So far, the art market is dominated by high net worth individuals and various institutes, foundations and museums. We haven't seen a really dramatic growth of institutional demand for high-end art coming from the traditional financial industry. We don't really see significant asset allocations to art from big-name asset managers, and we really don't see a lot of structured product being offered to financial markets, with art being an underused asset."
Philip Hoffman, chief executive of
, admits he was once skeptical and critical of the art market.
"Why was art of any value?" he remembers asking while working as an auditor at KPMG. "When you compared one Venetian view to another, why was one worth $20 million and the other was worth $5,000?"
His perception started to change when he saw how much money the super rich were making out of a buy-and-hold strategy at the top end of the market. He would later go to work for auction house Christie's and, still later, progress to being an art buyer and launching the Fine Art Fund, the first fund of its type to invest in art as an asset class worldwide. Numerous other funds were subsequently launched, including the Chinese Fine Art Fund and Middle Eastern Fine Art Fund.
The now-closed Fine Art Fund I had 34% annualized returns on assets sold.
He admits that, compared with other asset classes, art deals are still rather small.
"We are managing quite a substantial amount of money,
$200 million in one example, but if you are talking about an oil trade, that is probably one trade for
Goldman Sachs
(GS)
in one minute," he said. "We are on a different scale from the rest of the financial world. Given that we are one of the largest players in the market, $100 million to $300 million, is neither here nor there."
The art market itself may also be too small to accommodate large institutional investors. Hoffman recalled a discussion with the California Public Employees' Retirement System, one of the largest pension funds in the U.S.
Representatives said they were intrigued by the diversification an art investment would provide. Their plan was to consider upward of $2 billion as an investment in the space. The problem, as Hoffman pointed out, is that there is an investable market at any given time of only about $10 billion.
"CalPERS with $2 billion would skew the market very rapidly," he said. "But they said that any less than that wouldn't move the needle on their diversification and correlation data."
Nevertheless, he holds that art, especially on its highest end, can be an investment opportunity like no other.
"I bought an Old Master painting on Oct. 1, the day the catastrophe hit Lehman Brothers, for $4.75 million" he said. "I sold it one day later for $6 million ... certainly an interesting return."
-- Written by Joe Mont in Boston.
>To contact the writer of this article, click here:
Joe Mont
.
>To follow the writer on Twitter, go to
.
>To submit a news tip, send an email to:
.
RELATED STORIES:
>>Warhol's Coke Bottle Sells for $35.4 Million
>>The Rich Return, But Spend More Wisely
>>Luxury Hotels Woo Guests With Fine Art
>>Finding Bargains in the Art World
Get more stock ideas and investing advice on our sister site,