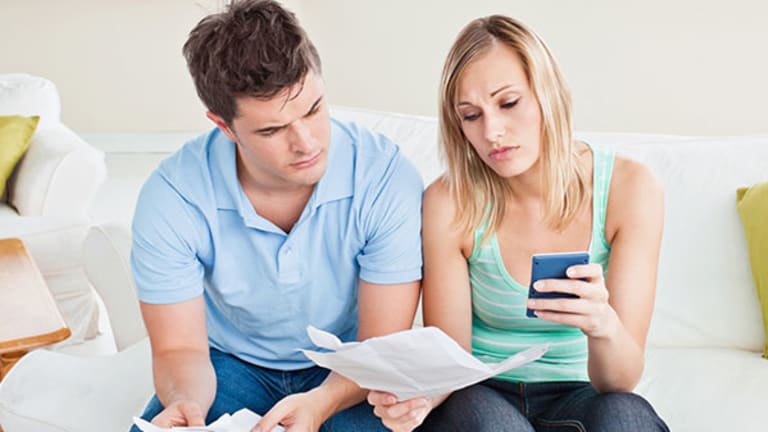 Hidden Fees Cost Consumers Billions: Which Ones Are the Worst?
A new study claims U.S. consumers are inundated with hidden fees. Which ones make the 'most unwanted' list?
Editors' pick: Originally published Jan. 10.
Consumers are notoriously combative over high product and sales fees, and who can blame them?
Fees for common items like mortgages, credit cards, bank accounts and online deliverables, among many others, can really add up, and do hit consumers hard in the pocketbook.
That goes double for so-called "hidden fees" - shadowy charges on goods and services that buyers usually don't know about.
A new study by the Washington, D.C.-based National Economic Council shows that Americans lose "billions of dollars" from such hidden fees. Another study of communications firms like AT&T, Verizon and Comcast by the Consumer Federation of America pegs hidden fee costs at $60 billion annually.
Few hidden fees are favored by consumer advocates, but some are worse than others.
"My household bills look very much like those of a typical consumer - two cell phones, cable, broadband and landline telephone," says Dr. Mark Cooper, the CFA's Director of Research and author of the communications industry report. "Hidden fees - excluding the price of the service, taxes, and governmental fees - added about 25% to my total bill."
The CFA's "Hidden Fees" report documents a pervasive pattern of abuse across many industries, adds Cooper, "but hidden fees on communications services are particularly troubling because these digital services have become absolute necessities in the American household."
Besides cable and internet service costs, which routinely stand atop the list of industry offenders, what other hidden fees continue to haunt American consumers?
Here's a quick list:
Airline fuel fees - "One hidden fee that really bothers me is the widespread manipulation of the 'fuel surcharge' by the airlines," says Greg Geronemus, co-chief executive officer at smarTours in New York. "They are unfair and harmful to travelers." Geronemus says that, for years as oil prices surged, airlines insisted that fuel surcharges line were beyond their control and simply an accurate reflection of the rising commodity cost. "However, now that oil has dropped dramatically, we have not seen anything close to a proportional drop in fuel surcharges," he adds." In fact, many airlines have not decreased their fuel surcharges whatsoever."
Financial advisory fees - Scott Hanson, a senior partner and co-founder of Hanson McClain Advisors, a Sacramento-based money management firm, says retirement investing is a "great place" for hidden fees, because, in many cases, by the time the consumer realizes that there are hidden fee's it's too late. Annuity fees are especially burdensome, Hanson says. "There may be some times when annuities are appropriate, but they are complicated, expensive, and the world would be better off without them," he says. "They are sold by a commission-based insurance salesman who often don't understand the complexities themselves and most buyers have no real idea as to how they work. There are many hidden costs with annuities and consumers lose once rates are adjusted, and fees kick in."
International money transfers - "One of the worst hidden consumer fees are the service and foreign exchange rate fees traditional remittance players like Western Union and Moneygram charge consumers who are trying to send money to loved ones abroad," says Britta Gidican, head of marketing communications at Remitly, in Seattle.
"For example, traditional remittance players like Western Union and Moneygram charge an 8% to 10% service fee of the total volume a consumer sends," she adds. "Banks are pretty bad, too, and offer very unfair foreign exchange rates. Bottomline, it costs people too much money to send money; it's ridiculous."
Travel-related fees - Mike Scanlin, CEO at Born To Sellin in Las Vegas, Nev., says hotel and resort fees are a big problem. "Hotels fees, including resort fees, Wi-Fi fees, parking fees, and local taxes are expensive," he says. "They advertise a $69 per-night room in Vegas, but then you pay $24 per-day resort fee, $18 per-day parking, and $18 per-day Wi-Fi, plus tax, so your room ends up being more like $140 per day -- more than double what you thought."
Mortgage fees - Outside of the cable/telecom arena, the mortgage sector may well boast the most hidden fees. "When applying for a mortgage, a borrower can be hit with all kinds of obscure fees like processing fees, notary fees, courier fees, even fees for sending emails," says David Reiss, a professor of law at Brooklyn Law School. " Before paying the mortgage application fee, the borrower should ask whether any of the fees are waivable. If they are charged by the lender, as opposed to a third party like a government agency, they may very well be waivable."
Consumers should be on the lookout for hidden fees, across the board. Some solid due diligence can keep a few more bucks in your pocket and strike a blow against companies with fee programs that operate in the shadows, time and time again.
But as of right now, those hidden fees are paying off for companies, and at U.S. consumers' expense.