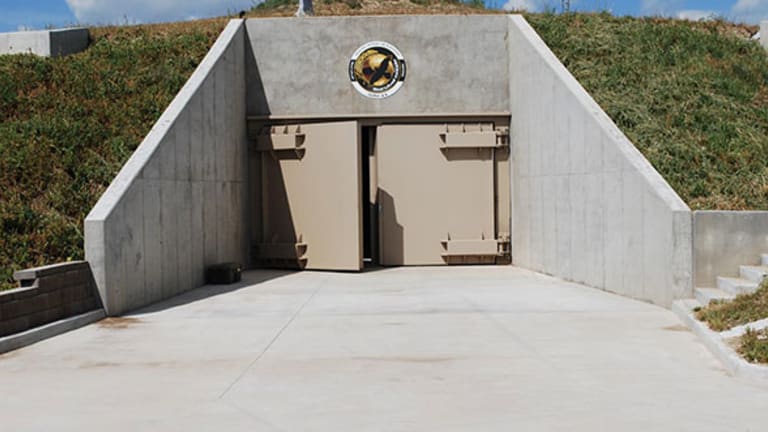 Here's Your Next Chance to Survive the Apocalypse in Style
Some people stock up on bottled water and canned goods, others buy multimillion-dollar condos built inside missile silos in the middle of Kansas.
NEW YORK (MainStreet) — Some people stock up on bottled water and canned goods to be prepared for disaster.
Others — the one percenters — buy multimillion-dollar condos built inside missile silos in the middle of Kansas. (And use the condos as vacation property while awaiting said disaster.)
Perhaps it's too soon to officially label it a trend, but if brisk sales are any indication, it's a movement worth noting.
All of the homes in Silo 1 of Larry Hall's luxury Survival Condos development sold within three months. He is in the midst of building Silo 2 and busily signing contracts for homes there too.
Ranging in price from $1.5 million for 920 square feet to $4.5 million for 3,200 square feet, layouts vary from half-floor units to penthouse-style suites and come with all the amenities you would expect in a luxury home — and then some.
For instance, like many luxury homes, Survival Condos have high-end stainless steel appliances in the kitchen, a 50-inch LED television in the living room, Kohler fixtures throughout the home and jetted Jacuzzi baths in master bathrooms.
Unlike other homes, however, each unit at the underground Survival Condo complex comes with a five-year supply of food per person.
There is also shared or common facilities to help with extended off-grid survival, including tanks holding a minimum of 75,000 spare gallons of water and an underground hydroponic farm.
Additional niceties to sustain silo inhabitants include a general store, indoor pool and spa, dog walking park, a bar and lounge, library, classrooms and first-aid center.
An entire silo complex, which in the case of Silo 2 is 80,000 square feet, can be customized for a single buyer. Hall has already had inquires about doing just that.
"We are quoting some buyers who want an entire silo complex for their extended family, so they would own the entire silo," Hall said in an emailed response to questions.
The silos, once used for Atlas missiles, were designed to withstand a direct nuclear strike. Silo walls range from 2.5 to 9 feet thick. Acquired by Hall through the Formerly Used Defense Site program, the silos have been tested by the state of Kansas, the Army Corps of Engineers and the Environmental Protection Agency and declared safe for development.
Buyers thus far include doctors, business executives and engineers, Hall says.
The type of community that would exist inside the silos, in the event of an apocalypse or other catastrophic event, sounds almost like the plot from a doomsday television show such as Jericho or Revolution.
Silo inhabitants, the website says, would become an "extended family where everyone shares the responsibilities for group security, operation and maintenance of the facility." This includes daily functions of education, aquaponic farming, medical support and as many other tasks as possible to "create the highest quality of life for the extended family while operating in survival mode."
Survival nuts need not apply, the website adds.
Those with deep pockets and a clean background (criminal checks will be conducted), feel free to apply.
Well-heeled buyers are needed because the condos are cash-only purchases, and most banks will not provide financing. That has not deterred prospective buyers.
"Interest and tours [of the condos to potential buyers] varies with world events," Hall says. "The more chaos there is in the world, the more interest we receive. We have tours at least once per month and more when events are happening."
Hall, for one, has no doubt about the practicality of his development.
The Survival Condo website outlines the rationale for such a purchase: "We believe that given the present worldwide economic conditions, historical disaster evidence, and the obvious signs of global climate changes; that it is prudent to have a disaster plan and shelter in place."
Hall's own answer to the question is even more definitive.
"It would be more of a story if they weren't needed," he says. "Catastrophic events have always happened and they will continue to happen. People just don't like to think about it because it can be depressing ... but that does not prevent these events from happening. Being prepared gives you a type of peace."
— By Mia Taylor for MainStreet