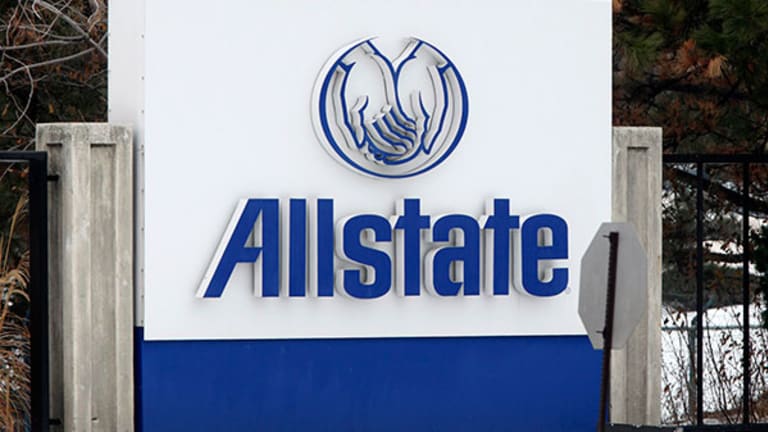 Here's One Stock That's ALL Premium Upside
Allstate has a solid balance sheet and a bullish chart.
NEW YORK (TheStreet) -- Allstate (ALL)  has been selling various forms of insurance since 1931. It is a well-managed company that sports an ISS Governance QuickScore of 1. A 1 (one) rating by ISS is the best rating that Institutional Shareholder Services can give a company. ALL has a solid balance sheet and a paltry price to earnings ratio of just 11.
ALL has traded between $57 and $73 over the past 52 weeks. However, the stock has gained about three points so far this month, a period of time when plenty of stocks were heading that "other way" in price. Thus, Allstate is somewhat quietly gaining relative strength.
Technically, I read ALL's one-year stochastic pattern and Relative Strength Index pattern as being bullish with potential for further upside improvement. Also, take note that ALL just formed into my coiling pattern, doing that about a week ago when ALL was about one point lower in price. A stock that has formed into my coiling pattern has a very high tendency to do so just as the stock's volatility is about to rise once again.
As a coil forms, accompanied by little stock volatility, options traders tend to offer puts and calls on stocks that have coiled at what I label as being "wholesale" prices. This potential is not missed by ALL options as ALL option volatilities are at relatively low vols -- like in the "teens"!
ALL has the characteristics that I look for in an options trade that I label as being a "shooter." A shooter trade tactic is a very high risk trade which at times proves to be quite rewarding. Ergo this trade has a caveat emptor advisory which you should not take lightly! And being a shooter, this trade should only be opened with very high discretionary capital.
The trade is as follows: Buy ALL September 70 call for 92 cents.
The suggested target to close for a gain is a bid of $1.42 or greater. The suggested stop loss target is a bid of 42 cents.
As always, this is a guideline, and you should always stick to your trading plan and what's best for your risk/reward tolerance.
OptionsProfits can be followed on Twitter at twitter.com/OptionsProfits
Skip Raschke writes regularly for Options Profits. You can get his trades first and interact with him there with a free trial.