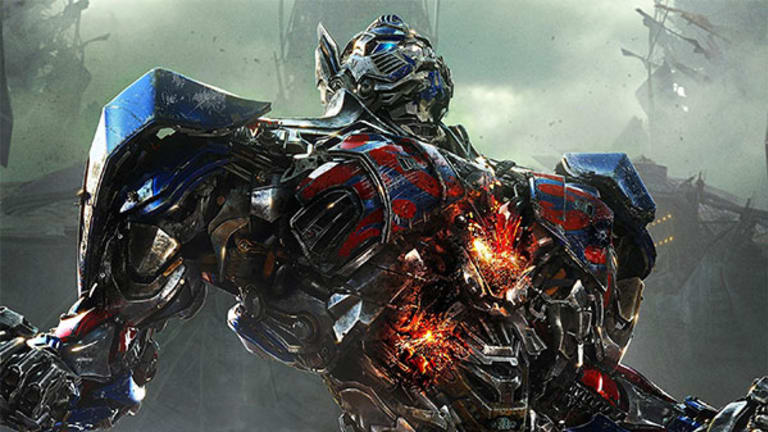 Here's How Much More Movies Cost This Summer
The average price of movies still hovers around $8, though the box office returns for summer blockbusters are down sharply. Don't expect a discount anytime soon.
The average price of movies still hovers around $8, though the box office returns for summer blockbusters are down sharply. Don't expect a discount anytime soon.
PORTLAND, Ore. (TheStreet) -- Average movie ticket prices are hovering around $8 in the U.S. this summer, and never has a summer movie audience paid so much for so little.
The average $7.96 audiences are paying for tickets is actually down from $8.13 last year, but flat compared with 2012's price and up from $6.21 a decade ago. Meanwhile, through the first six months of the year, the movie industry is on pace for its eighth box office downturn in the past decade thanks to a nearly lifeless summer movie slate of sequels and retreads.
Since 2004, the biggest film of the summer has typically brought in $400 million or more in the U.S. -- hitting a lull with Sony's Spider-Man 3 ($336.5 million) in 2007 and peaking with Disney's The Avengers ($623 million) in 2012. That big-ticket savior may not be coming this summer. This season's biggest film, Fox's X-Men: Days Of Future Past was the first film to break $200 million and sat just above it at $220 million going into last weekend. Sony's The Amazing Spider-Man 2, Warner Brothers' Godzilla and Disney's Maleficent all failed to crack $200 million a month after their release, while only eight films total broke $100 million. By this time last year, four films -- (Iron Man 3, Fast & Furious 6, Star Trek Into Darkness and Man of Steel -- had made more than $200 million.
By this time last summer, six of the seven top-grossing films of the season had already been released (Despicable Me 2 opened on July 3). From No. 7 World War Z ($202.3 million) to No. 1 Iron Man 3 ($409 million), all cleared that $200 million mark that this year's films not featuring X-Men are struggling to reach.
BoxOfficeMojo notes that this not only puts the movie industry behind last year's $10.6 billion pace, but nearly 13% off it. Hopes are high for Paramount's latest Transformers sequel after this weekend's nine-figure performance, but there are few blockbusters left in the pipeline after the Fourth of July. Disney's Guardians Of The Galaxy is uncharted comic book territory, while Paramount's latest Teenage Mutant Ninja Turtles reboot follows a 2007 Warner Brothers installment that made just $54 million in theaters.
Industry folks point to Warner Brothers' The Hobbit and Lions Gate's Hunger Games franchises as the great hope of 2014, but the latest films in those series don't release until after summer and won't do much to rejuvenate a season that's supposed to be Hollywood's biggest seller. So what's gone wrong? Basically, it's too many films aimed at too many people.
Also see: 5 Summer Movie Blockbusters Sponsors Love
Also see: 5 Summer Movie Blockbusters Sponsors Love>>
In the summer of 1994, there were only 80 films released. Last summer, studios dumped 232 movies into theaters seeking maximum revenue. That same year, only seven of the Top 20 movies of the year fell into the PG-13 category, with five more rated G or PG. Last year a dozen of the Top 20 movies were rated PG-13, with six rated PG.
That younger, broader audience is being charged more, too. The average movie ticket has nearly doubled from $4.14 in 1993 to $8.13 just last year. That's more than $2 ahead of the rate of inflation and is a poor disguise for the the ticket prices of around $20 fans have shelled out for 3-D and IMAX showings in certain markets. It also does a bad job of hiding the fact that, despite box office receipts jumping to $10.9 billion from $5.1 billion during that span, the number of people actually going to the movies is dwindling.
Sure, the 1.34 billion tickets sold last year looks great compared with the 1.24 billion sold in 1993. But the number of movie tickets sold in the U.S. has slid steeply since peaking at 1.58 billion. Last year's total is roughly the same as the amount of tickets theaters sold in 1996.
If Hollywood looks like it's running out of ideas for blockbusters and for squeezing every extra dollar out of moviegoers, it's because it has no idea what to do now that its revenue model is hopelessly broken. Not only are moviegoers not going to the movies in huge numbers anymore; they're not buying copies of those movies as much, either. Best Buy started clearing out low-margin DVD and Blu-ray racks in favor of high-rolling Samsung and Apple mini stores. DVD and Blu-ray discs have been rendered impulse-item afterthoughts at big-box stores and supermarkets and tack-on items for free shipping at online retailers. Amazon, Apple's iTunes and Wal-Mart's Vudu all sell digital copies, sure, but they also have rentals at a quarter of the price of a new copy that users can watch at any time without cluttering up their homes.
That's throwing the whole industry into chaos, since studios used to be able to estimate just how much home video would factor into their total sales. With that number now in doubt, especially for products that aren't superhero blockbusters or computer-animated kids movies, Hollywood can't take chances. Studios are now releasing all movies in digital formats only, which can eliminate some low-priced alternatives including drive-ins and small independent and second-run theaters that can't afford the digital upgrade.
Also see: Kiss 'The End' Goodbye, Suckers
Also see: Kiss 'The End' Goodbye, Suckers>>
Meanwhile, the number of theaters in the U.S. has already decreased, from 7,744 in 1995 to 5,683 last year, according to the National Association of Theater Owners. At the same time, the number of movie screens across the country has increased to 39,662 from 27,843 as big theater companies including Regal Entertainment, Cinemark and Carmike build larger multiplexes to bring remaining moviegoers under their roof.
That's not going to make things any cheaper, but moviegoers shouldn't expect as much. During a panel discussion at the University of Southern California's School of Cinematic Arts last year, legendary director Steven Spielberg noted that filmmakers are doubling down on blockbusters just when they have the least margin for error. He notes that summers filled with big-budget bombs that audiences just won't watch are going to cause a meltdown in the industry and implode the current business model.
His partner in that discussion, Star-Wars creator George Lucas, noted that a parade of lowest-common-denominator films carried largely by effects will only continue to scare away moviegoers just as streaming, gaming and online options reach their peak. That, he says, is going to transform moviegoing into a luxury.
"You're going to end up with fewer theaters, bigger theaters with a lot of nice things," he said. "Going to the movies will cost 50 bucks or 100 or 150 bucks, like what Broadway costs today, or a football game. It'll be an expensive thing. [The movies] will sit in the theaters for a year, like a Broadway show does."
So that's the future, folks: More money at the movie theater for less riveting productions. Have fun staying home from the movies this summer.
-- Written by Jason Notte in Portland, Ore.
>To contact the writer of this article, click here: Jason Notte.
>To follow the writer on Twitter, go to http://twitter.com/notteham.
>To submit a news tip, send an email to: tips@thestreet.com.
RELATED STORIES:
>>5 Summer Movie Blockbusters Sponsors Love
>>How Godzilla Made Foreign Film A Box Office Monster
>>On Facebook We Are All Mean Girls
Jason Notte is a reporter for TheStreet. His writing has appeared in The New York Times, The Huffington Post, Esquire.com, Time Out New York, the Boston Herald, the Boston Phoenix, the Metro newspaper and the Colorado Springs Independent. He previously served as the political and global affairs editor for Metro U.S., layout editor for Boston Now, assistant news editor for the Herald News of West Paterson, N.J., editor of Go Out! Magazine in Hoboken, N.J., and copy editor and lifestyle editor at the Jersey Journal in Jersey City, N.J.