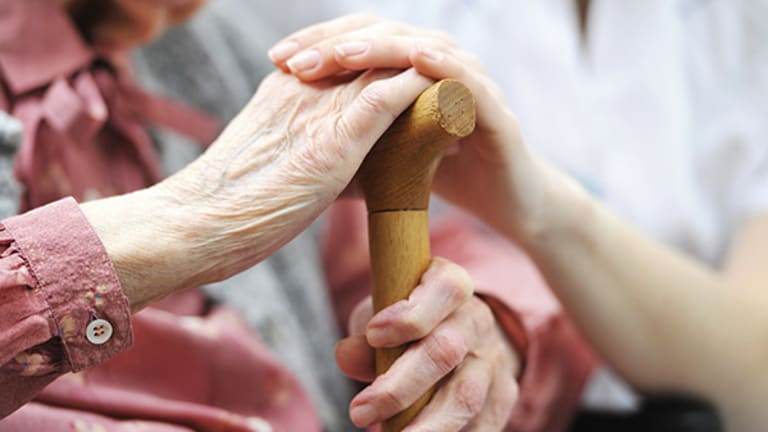 Here's How Much Long-Term Health Care Actually Costs
One of U.S. workers' greatest fears is how much they'll spend on long-term health care in retirement. The figures and their recent growth suggest those fears are well-founded.
U.S. workers are worried about the costs of long-term care, but they still don't know what they are.
According to a survey by long-term care insurance provider Genworth, which clearly has a stake in the outcome, 70% of people over 65 will need long-term care. However, based on a survey of wealthy investors by financial firm UBS Wealth Management, 77% have not set funds aside for future medical expenses, and just 8% have received advice on managing future healthcare costs.
This is troubling, as UBS found that the greatest fear among wealthy investors as they age is being a burden to children (42%). That ranks higher than fears of surviving on life support (34%) or living in a nursing home (15%). It's going to be difficult to allay those fears when just 39% of investors have talked with children about who will take care of them in old age. Worse, only 50% have factored healthcare costs into their overall financial plan, and only 23% have saved for their future care.
This isn't great news, as the Census Bureau determined last year that the population of Americans aged 65 and older will grow to greater than 80 million by 2050, and that the number of people likely to require long-term care is expected to more than double from 12 million today to 27 million over that time span.
"Maintaining self reliance is important to the vast majority of investors," said Paula Polito, client strategy officer at UBS Wealth Management Americas. "Having a plan in place for long-term care before they actually need it will help them avoid burdening their children."
While those with a plan for long-term care are significantly more confident in their ability to finance care when the times comes (71% vs. 27% of those without a strategy), a big part of that plan is knowing what you're going to pay when the time comes. If you don't end up paying at least the overwhelming majority of it yourself, you absolutely will end up burdening your family whether you want to or not. Based on the results of the UBS survey, 47% of respondents who currently provide care described it as a heavy burden, 41% described it as a moderate burden and 12% said it was a minimal burden.
Meanwhile, a Caring.com survey found that 46% of family caregivers spend $5,000 a year on costs and 33% spend more than 30 hours a week providing that care. Roughly 66% are distracted by caregiving issues while work and 60% say it had a negative effect on their job.
"Planning ahead for health expenses can help with retirement readiness and may even allow you to retire earlier," says James Nichols, head of customer solutions group for Voya Financial. "Every financial plan should include an assessment of long-term care needs. When the time comes that you need long-term care, you want the funding to be there for you as long as care is needed."
According to UBS, 89% of investors would like to receive their long-term care at home. That's fine, but it comes at a cost. For example, according to Genworth, the median of homemaker services -- which helps with household chores that can no longer be managed alone, including cooking, cleaning and running errands -- is $20 an hour nationwide. That's 2.63% more than it was in 2014 and has jumped 1.61% in each of the last five years. If you have to hire a home health aide for various personal needs that fall just shy of medical care, the median rate charged by a non-Medicare certified, licensed agency is also $20 an hour. Even that's 1.27% more than it was in 2014 after a 1.03% bump in each of the last five years. Adult Day Health Care (ADC) -- which provides social activities and outings, but also may include personal care, transportation, medical management and meals -- clocks in at a median cost of $69 a day. Demand has increased significantly, however, driving up costs 5.94% from 2014 and hiking it 2.79% annually since 2011.
Few actually want to leave their homes, but one of the more popular options -- Assisted Living Facilities (ALF) that providing personal care and health services just short of those offered in a nursing home -- comes at a median cost of $3,600 a month. According to a report from Caring.com, just 53% of people 65 and older would consider an assisted-living facility for their long-term care, 64% of those ages 30 to 64 are mulling the option. That's forced costs up 2.86% from 2014 and 2.48% a year for the last half decade.
"In some cultures, senior living facilities have been seen as taboo, as in: 'I would never put Mom in a home,'" said Dayna Steele, Caring.com's chief caring expert and the author of Surviving Alzheimer's with Friends, Facebook and a Really Big Glass of Wine. "But most of today's assisted living communities are really nice and nothing like the negative stereotypes of the past."
While it's true that, among UBS investors, 54% would consider assisted living a viable option, it's mostly because they see it as preferable to a nursing home. We can't stress enough how much just about anyone surveyed hates the idea of a nursing home. Among the UBS folks, 15% said they dreaded life in a nursing home and just 12% said they'd consider the option. Meanwhile, when insurer Nationwide asked women 50 and older about long-term care options, 67% say they would rather die than live in a nursing home. That's a whole lot of hate for an option that isn't exactly cheap.
Nursing homes provide personal care assistance, room and board, supervision, medication, therapy, rehabilitation and 24-hour on-site nursing care. They also start at a median cost of $220-a-day for a semi-private room (up 3.7% from 2014 and 3.5% a year from 2011) or $250 a day for a private room (up 4.17% from 2014 and nearly 4% a year over the last five years). That's just over $80,000 a year at its median cheapest and more than $91,000 if you want to live out your days with even a modicum of privacy.
Yes, Medicare and Medicaid chip in, but even a reduced cost does prevent roughly 18% of Caring.com survey respondents from having an overall bad impression of senior living facilities. About 41% of those who wouldn't consider a senior care facility of any kind would rather live on their own. Roughly 29% would choose to live with or be cared for by family. Of the women surveyed by Nationwide, 73% prefer to get long-term care in their own home, but only 51% think they will.
Among UBS investors who can't live alone but don't want to go into a nursing home, 15% would opt for their child's home. As for who actually provides the care, 80% of investors want their spouse to care for them and 67% want a home health aide. Just 27% want a child to care for them. However, even though 57% of those wealthy investors say long-term health care is important to them, just 48% think they'll be able to find it. About half (49%) said they are "highly concerned" about rising healthcare costs.
They aren't alone. While 64% of the women surveyed by Nationwide say they are "terrified" of what health care costs may do to their retirement plans, 47% are willing to give all their money to their children so they could be eligible for Medicaid-funded long-term care. However, it helps to make your children aware of those plans. Though only a third of wealthy investors (36%) say that they plan to turn to family for support or care, with the vast majority (64%) preferring to solicit outside help, only 39% have spoken with their children about those plans. Meanwhile, according to Caring.com, more than half (52%) of adult children don't know where their parents store their estate documents including both wills and health care plans, while 58% don't know the contents of the documents.
"It's sad to say, but most middle-aged Americans will likely have a parent who is nearing the end of their life," says Andy Cohen, chief executive of Caring.com. "Remember, your parents are going to have bank accounts, a house and other assets that will need to be taken care of in a timely manner. Having the documents in place before tragedy strikes will make the aftermath much less stressful and will save money in the long run."
This article is commentary by an independent contributor. At the time of publication, the author held no positions in the stocks mentioned.