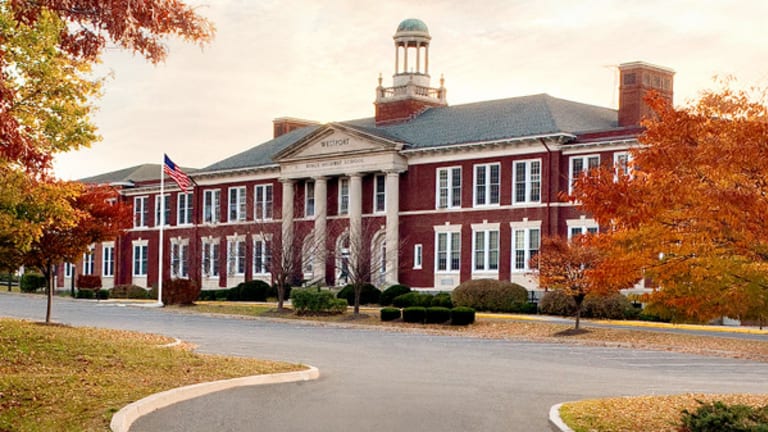 Here's How Much It Costs to Buy a Home in an Elite School District
Getting the kids into a good school district is a high priority for parents looking for a new home. But what's the price tag on that?
You can't blame mom and dad for trying to buy a home in an "A-plus" school district, where their children can get a great education.
But there's a stiff price tag to pay for getting into an elite public school district.
According to a new report from Realtor.com, homes in higher rated public school districts tracked by the company are, on average, "49% more expensive - at $400,000 - than the national median of $269,000." To boot, they're 77% more expensive than schools in lower ranked districts, which have a median price of $225,000.
The Santa Cara, Cal.-based online real estate firm also identifies the top 10 U.S. school districts that are in "highest demand" from homebuyers. Here's the list:
1. Beverly Hills Unified in Los Angeles, Calif.
2. Highland Park Independent School District in Dallas, Texas.
3. Kenilworth School District No. 38 in Kenilworth, Ill.
4. Indian Hill Exempted Village School District - Hamilton, Ohio.
5. Winnetka School District 36 - Winnetka, Ill.
6. Manhattan Beach Unified School District - Los Angeles, Calif.
7. Scarsdale Union Free School District - Westchester, N.Y.
8. Saddle River School District - Bergen, N.J.
9. San Marino Unified School District - Los Angeles, Calif.
10. Mariemont City School District - Hamilton, Ohio.
For people selling homes in great school districts, the advantages are abundant.
"It's common knowledge that buyers are often willing to pay a premium for a home in a strong school district," notes Javier Vivas, research analyst for Realtor.com. "Our analysis quantifies just how good it is to be a seller in these areas. On average, homes in top-rated districts attract a price premium of almost 50% and sell more than a week faster than those located in neighboring lower ranked school districts."
Vivas says that for-sale homes located in the top-ten areas sell eight days faster, on average, than houses in below average school districts, and they sell four days faster than the national average of 62 days.
Premium school locales are highly desirable for parents looking to save cash on private schools. They feel the higher home price in a town or city with great public schools is worth the effort.
"The Memorial Villages in Houston, Texas has great schools," notes Sissy Lappin, co-founder of ListingDoor.com, a real estate firm located in Houston. "Even with lower oil prices, the area has seen sales go down, but not compared to the city. When times get rough, homeowners with kids in private schools look at the cost of having their children in those schools. If you have three kids, at a cost of $30,000, that is a $90,000."
So parents gravitate toward areas with strong public schools and pocket the money they were shelling out for private tuition.
"Buyers know their housing investment is much safer in an area with good schools," Lappin says.
Besides higher home prices, there are other caveats from buyers looking to crack into a good school district. "For example, property taxes also tend to be higher in these areas especially if the district is currently underfunded," says Ryan Kwiatkowski, director of marketing at Retirement Solutions, in Naperville, Ill. "You also want to get to know the area and speak with neighbors to get their direct feedback regarding the area and the local school system. Speaking with several different neighbors and others in the community will give you the best feedback you'll need to know about moving into the area; it's a real life version of Yelp."
Getting into an A-plus school district will likely cost more than you think. But on the bright side, your kids will get a better education, and your home will appreciate faster, making you the financial beneficiary when your kids are gone, and you decide to sell your home someday.