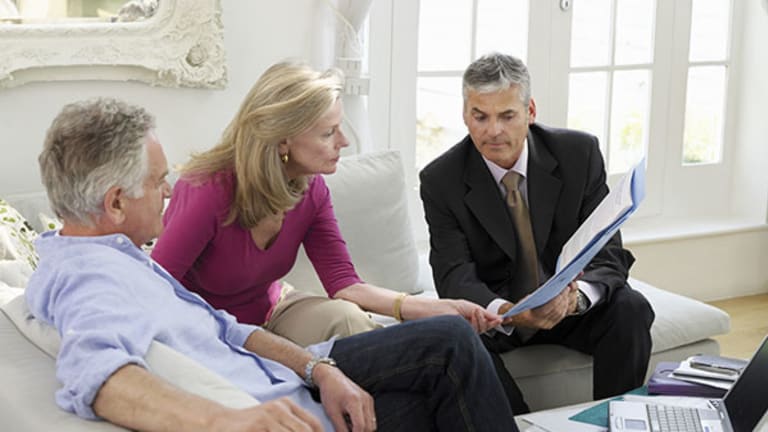 Here Is Why You Should Keep Close Tabs on Your Financial Adviser
A new rule slated to go into effect this year will require these investment professionals to be more transparent, but it could also price smaller investors out of the market
Editors' pick: Originally published Jan. 25.
America's financial services sector is expected to flourish under President Donald Trump, but the sector's growth may come at the expense of investors and savers all around the world.
U.S. policies often set the tone for the rest of the world, and the financial services sector is no exception. For better or worse, Asia will feel the effect if Trump deregulates the financial services sector in the U.S.
Shares of financial services companies have rallied sharply in anticipation of an easier regulatory environment and greater profits. Since Trump won the presidential election on Nov. 8, the S&P 500 Financials Index has risen 18%, while the index as a whole has risen just 5.8%, and the MSCI World Index is up 3.9%.
It remains to be seen whether a major investor protection ruling in the U.S. known as the "fiduciary rule" will survive under the Trump administration.
The fiduciary rule, set to take effect on April 10, may be changed, delayed or repealed by the administration. 
The new rule requires financial advisers managing retirement accounts but not other investment accounts to provide advice that puts the interests of the client first. The rule brings these investment advisers under the "fiduciary" umbrella. 
A fiduciary is a professional who must by law act in the best interest of the customer. For example, both doctors and lawyers have a fiduciary duty.
Advisers handling retirement accounts aren't fiduciaries and have no legal obligation to put the interests of the customers first in the U.S. Hong Kong and Singapore have a similar regulatory environment.
It may seem surprising that this kind of investment adviser lacks fiduciary responsibility, but right now, they are governed only by "suitability" rules. Certain financial planners and registered investment advisers are exceptions.
These professionals must follow fiduciary standards to keep their planning designation. Investors who are unsure should ask their advisers if they have a fiduciary duty. 
Advisers subject to only suitability rules must provide some evidence that a certain investment is "suitable" for the client. But they aren't required to choose the best options for that client.
This means that they can suggest investment products from which they earn higher commissions but which may not necessarily be in the client's best interest. As long as an adviser can show "suitability," it is legal.
"Suitability" lacks clarity and allows investors to be taken advantage of by greedy or unscrupulous advisers. Investors are often sold products that they don't need or understand because the adviser earns big commissions from selling them. 
The Obama administration said that conflicting advice from investment advisers costs U.S. investors $17 billion every year and annual returns on their retirement savings are 1% lower because of conflicted advice.
The "fiduciary rule" slated to go into effect in April aims to eliminate these potential conflicts of interest. 
Of course, the investment industry claims that these figures are inaccurate, and many in the industry oppose the new rule.
Opponents point to the fact that under the new fiduciary rule, more U.S. advisers would adopt a fee-based business model, instead of a commission-based model. They argue that this will cause clients to end up receiving less investment advice and paying higher fees.
Under a commission-based model, advisers earn money on transactions, that is, through buying and selling. They may collect a fee for selling investment funds and then get paid a trailing commission from the fund company for as long as the client owns the fund.
The amount that advisers receive hinges on the size of the trade.
This model lets smaller clients, investing smaller amounts, receive advice at a reasonable cost. It requires advisers to trade with prudence and not "churn" clients' accounts by making lots of unnecessary trades.
Advisers who use a fee-based model don't receive commissions and typically don't receive trailing fees from fund companies. Instead, clients pay advisers a flat annual fee, either paid as a dollar amount or as a percentage of the value of the assets managed. 
To illustrate, let's say that a fee-based adviser charges an annual fee of 1% of a client's assets, and let's say that the adviser manages $500,000 worth of assets for the client. Based on this amount, the client would accumulate $5,000 worth of fees for the year. 
But the adviser may choose to earn at least $5,000 in annual fees per client.
So a client with a $500,000 account is in a good position, paying just 1% in fees. But a client with a smaller portfolio, say $5,000, would have to fork out a ridiculous 10% in fees per year. 
Under this circumstance, advisers simply wouldn't take on small clients. If they did, the client would likely tire of the high fees and seek advice elsewhere.
This will probably happen if the new fiduciary rules go into effect, according to a November report by CoreData Reseach.
In a survey of 552 U.S. advisers, 71% said that they will stop serving some "mass-market" or smaller, clients, and 64% see the rule negatively affecting mass-market investors.
Meanwhile, 39% think that financial advice will become too costly for most investors.
These orphaned investors will likely seek investment advice from alternative sources, and 94% of the advisers surveyed predicted that these clients will turn to robo-advisers.
The harm caused to small investors is one reason why the financial industry opposes the proposed fiduciary rule. But the industry has other interests, too, and these don't always align with the interests of small investors.
Instead, the financial industry is concerned about stricter disclosure rules for retirement accounts if the fiduciary rule is implemented.
According to the new rule, advisers would have to prove that recommended investments are in the best interests of clients, and they would also have to be more transparent about commissions earned from sales.
If an adviser must disclose that he or she is making hundreds or thousands of dollars selling a certain investment to a client, he or she may think twice about the recommendation. The number of investment products that make investment firms rich but aren't in the best interest of investors may decrease, too.
Both outcomes would hurt investment firms' bottom lines. 
Similar to the U.S., investment advisers in Hong Kong and Singapore aren't fiduciaries, either. But local regulatory authorities have introduced a few new rules to control rogue advisers and brokers.
Hong Kong's Securities and Futures Commission updated its rules last year, too. Since March, advisers in Hong Kong have a contractual obligation to recommend suitable investments.
Prior to the SFC's ruling, Hong Kong advisers had a "regulatory duty." So if the adviser recommended an unsuitable product and the client complained, the broker received a warning or some form of discipline.
Now, unsuitable recommendations are considered a breach of contract. An adviser and firm found guilty could be forced to pay back money to the client.
The rule aims to hit advisers where it hurts most: the pocketbook.
Last year, the Monetary Authority of Singapore, Singapore's financial regulator, said that advisers "need to meet key performance indicators that are not related to sales, such as providing suitable product recommendations and making proper disclosure of material information to customers."
Advisers risk losing their commissions, if it can be proved that their advice wasn't in the best interest of clients. The rule aims to align the goals of adviser and client more closely.
Although Hong Kong and Singapore have changed their rules and the U.S. is moving in that direction, none of these governments have made fiduciary duty a legal obligation for advisers. This means that investors need to pay attention to their investments and their adviser's responsibilities toward them. 
It is in clients' best interest to be vigilant and keep advisers on their toes.
Make sure to ask questions and figure out how much the adviser stands to earn from a recommendation. Good advisers will give clients clear and honest answers. 
---
Learning more about finance is another way to protect your investments. One of our goals at Truewealth Publishing is to help investors make the best decisions for themselves. There's a lot of advice in our personal finance section and investment glossary.
If you're ready to take your personal finance to the next level, click here to subscribe to our exclusive investment research product, the Asia Alpha advisery.
This article is commentary by an independent contributor.
Kim Iskyan is the founder of Truewealth Publishing, an independent investment research company based in Singapore. Click here to sign up to receive the Truewealth Asian Investment Daily in your inbox every day, for free.