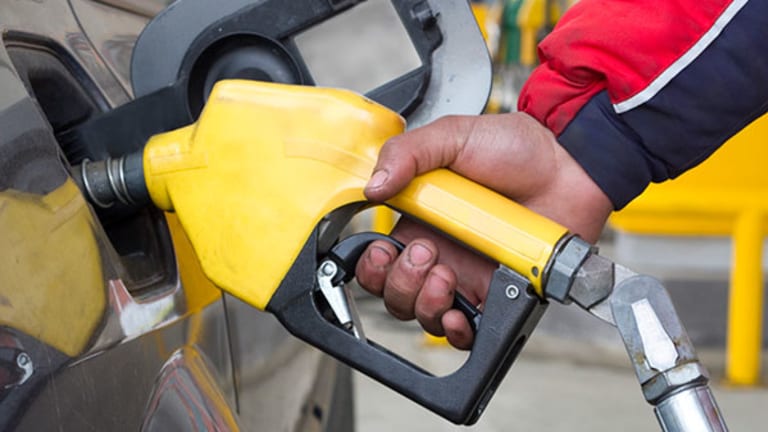 Here Are the Best Days of the Week to Buy Gas
Penny-pinching car owners can expect to find the lowest gas prices on Wednesdays in South Dakota but Thursdays in Delaware and Maryland.
NEW YORK (TheStreet) -- Penny-pinching car owners can expect to find the lowest gas prices on Wednesdays in South Dakota, Thursdays in Delaware and Maryland and a wide variety of other days elsewhere, a 50-state analysis by market tracker GasBuddy.com has found.
"There certainly can be differences in the best day to buy gas depending on your [location]," GasBuddy senior analyst Patrick DeHaan says. "We found [some national trends], but a rural city in, say, Montana doesn't have to conform to traditional behaviors."
GasBuddy, which uses crowdsourcing to track gas prices at some 120,000 U.S. stations, recently analyzed four years of data to determine which days of the week offer the lowest average gas prices in various states.
The study found that all or part of the weekend (including Friday) offer the best average deals in 35 states and the District of Columbia. Drivers in the 15 other states should stick to gassing up Monday through Thursday.
DeHaan believes weekends offer the best deal in most of the country because energy-futures trading happens only Mondays through Fridays -- and refineries typically only wholesale prices adjust once each weekday evening to reflect that day's closing market price. As a result, gas stations can offer rock-bottom pump prices over the weekend because they know in advance what it'll cost to restock on Monday morning, the expert says.
Also see: 5 Most Eco-Friendly Cars of 2014>>
DeHaan adds that stations know their customers have more time to comparison shop on weekends, making low prices key for competitive reasons.
Many consumers also have a few minutes to pop in for coffee or other convenience items that many stations sell for higher profit margins than gasoline. "If a one-penny drop at the pump brings 10% more people into the station, it's worth it," DeHaan says.
In states where stations offer the lowest prices during the workweek, the expert suspects quirky local traditions are at work.
"There's a blind rule that prices in Ohio, Michigan and Indiana are generally the best on Monday mornings at 10 a.m. because they're set at the corporate office -- and those guys don't decide what to do until they've come in at 9 a.m. and figured out what's going on [in the energy markets]," he says.
Here's a look at which days GasBuddy found generally offer the lowest pump prices in each of the 50 states and the District of Columbia. Although the best day for cheap prices varied from year to year in many states during the 2010-13 period GasBuddy studied, the days below reflect the best general advice about when to buy gas in each locale.
Also see: 5 Best Cars for Cheapskates>>
Monday: Indiana, Iowa, Kentucky
Monday or Saturday: Ohio, Oklahoma
Early week (Monday or Tuesday): Oregon
Tuesday or Thursday: Wyoming
Midweek (Tuesday through Thursday): Kansas, North Dakota, Utah
Wednesday: South Dakota
Thursday: Delaware, Maryland
Thursday or Sunday: New Jersey
Late week (Wednesday or Thursday, plus an occasional Friday or Saturday): Alaska, California, Montana, Nevada, New Hampshire
Weekends (Friday through Sunday, with a spillover into Monday in some cases): Alabama, Arizona, Arkansas, Colorado, Connecticut, District of Columbia, Florida, Georgia, Hawaii, Idaho, Illinois, Louisiana, Maine, Massachusetts, Michigan, Minnesota, Mississippi, Missouri, Nebraska, New Mexico, New York, North Carolina, Pennsylvania, Rhode Island, South Carolina, Tennessee, Texas, Vermont, Virginia, Washington State, West Virginia, Wisconsin