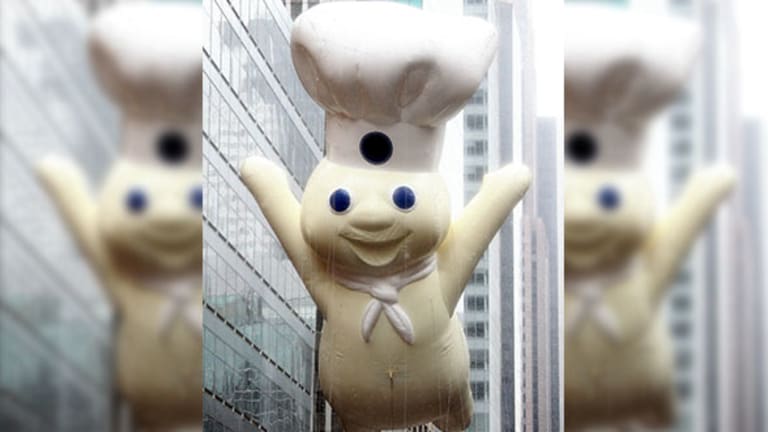 Here Are the 10-Corporate All Stars Powering The Macy's Thanksgiving Day Parade
More than 22 million people tune in each year to watch a giant commercial, but some conglomerates' mascots and balloons are cuddlier than others.
Want to see the power of branding? Turn on NBC's telecast of the Macy's Thanksgiving Day Parade.
Before it was cool for stores to open their doors and host "Black Friday" sales on Thanksgiving itself, the Macy's Thanksgiving Day Parade spent the better part of the last century using Thanksgiving to get Americans all riled up Christmas shopping. Of the 40 most-watched television broadcasts of fall 2014, only one of them didn't involve a National Football League game or a World Series game: the Macy's Thanksgiving Day parade and its 22.6 million viewers.
Though the the Detroit and Philadelphia Thanksgiving parades are far older, the Macy's Thanksgiving Day Parade in New York City is the moneymaker. Between Today show cast members basically reading ad copy every time a balloon floats past, and the touch, the feel of cotton drilling its way into your brain, the entire parade broadcast is just a marketing assault. Stand along the parade route itself, and you'll become a de facto focus group for brands giving away samples of their wares in guerrilla marketing efforts.
Even more impressive is that viewers choose to view the most commercial-laden broadcast of the parade possible. Though NBC partners with Macy's and has official broadcast rights, CBS takes advantage of the public venue (and its studio near Times Square) to broadcast The Thanksgiving Day Parade on CBS, simply because the parade passes by its studio space anyway and it has nothing better to do.
This is all before Jordin Sparks, Trey Songz, Mariah Carey or Train sing a note; the cast of School Of Rock performs a number; or the first balloon deflates a limb. It's the companies' time to shine, and the folks aboard the floats and between the balloons are just garnish for their Thanksgiving marketing feast. with all respect to Macy's itself, here are ten companies pushing this year's parade along:

Discover NHL Thanksgiving Showdown
Parade persona: Frozen Fall Fun Float
They could have just called this float "synergy."
Discover just renewed its sponsorship agreement with the NHL through 2019. NBC, meanwhile, inked a ten-year, $2 billion television rights deal with the NHL in 2011. NBC is also airing the Discover NHL Thanksgiving showdown -- featuring a matchup between the Boston Bruins and New York Rangers and another between the Stanley Cup champion Chicago Blackhawks and the Anaheim Ducks -- on Black Friday.
Put a bunch of kids skating on a synthetic, rolling ice rink, and what could possibly go wrong? Oh, you could only manage Jake Owen as the musical guest? And you say there's no real historic connection between the NHL fanbase and country music (beyond Nashville and Calgary)? Well, maybe that isn't the perfect plug after all.

21st Century Fox's 20th Century Fox Animation
Parade persona: Snoopy and Woodstock balloon and Peanuts float
Well, 20th Century Fox does have a Scrat and Acorn balloon to tout next summer's Ice Age: Collision Course, but in fairness, it's a much bigger year for Peanuts.
In its first two weeks of U.S. release The Peanuts Movie has come in a strong second to the new 007 installment Spectre and racked up $86 million of its $94 million worldwide take. That's fine, but a little boost for the holiday weekend couldn't hurt: Especially with the final Hunger Games installment, the Rocky spinoff Creed and Pixar's The Good Dinosaur all showing up in time for Thanksgiving. That doesn't even touch the fact that it's the 40th anniversary of A Charlie Brown Christmas, and those DVDs and downloads aren't going to sell themselves.

Kraft Heinz Company
Parade persona: The Kool-Aid Man "balloonicle"
If you wanted a reminder of the ongoing conglomeration of U.S. companies and the fact that your favorite brands are just sheets in a faceless company's vast portfolio, look no further than the Kool-Aid Man.
When Heinz merged with Kraft, which already split from Mondelez, back in July, it threw Kool-Aid into a collection that includes Oscar Meyer, OreIda, Velveeta, Shake N Bake, Jell-O, Capri Sun, Philadelphia, Lunchables, Planters, Maxwell House, Grey Poupon, Bagel Bites, Classico, Lea & Perrins, Miracle Whip and, what seems like a Thanksgiving no-brainer, Stove Top. That and the Kraft and Heinz brands are enough to fill a small grocery store, and it doesn't even include their overseas holdings.
Kool-Aid is a long way from its humble beginnings in Hastings, Neb., in 1927, and its rotund mascot now likely needs three forms from HR before smashing through the nearest wall. We'd go into the holdings of Kraft Heinz owners Berkshire Hathaway and 3G Capital, but your Thanksgiving grocery list is likely shorter and less depressing.

Yum Brands
Parade persona: Kentucky Fried Chicken's "The Colonel's Trip To NYC" float
If Colonel Harland Sanders knew he was being turned into a caricature by Saturday Night Live alums Norm McDonald and Darrell Hammond to sell fried chicken to Gen X-ers, he'd... well, he wouldn't be all that gentlemanly about it.
Col. Sanders has been dead for nearly 35 years after living to the age of 90. He sold Kentucky Fried Chicken in 1964, but that didn't stop him from spending some of his final years scolding KFC parent company Heulein and its franchisees. He sued Heulein over the use of his image; they sued him for calling their gravy a mix of "wallpaper paste" and "sludge." Oh, and he would just pop in on franchises and throw their food to the ground if it didn't meet his standards.
For Yum Brands' part, it doesn't care. It inherited a KFC that was using cartoon breakdancing Colonels to sell chicken and losing ground to competitors. Today, the company is watching KFC sales in the U.S. grow 2% year-to-date, while global sales jump 6%, including a 45% jump in Russia alone. Keep those Col. Sanders impressions coming, KFC: A nation that's largely down on traditional fast food is eating them up.

Aflac
Parade persona: The Aflac duck "balloonicle"
The Thanksgiving parade can cure all ills, as Aflac's duck has discovered five years after its 2011 parade debut.
That year, comedian Gilbert Gottfried --- the duck's voice for 11 years -- decided to make some jokes about the Japanese earthquake and tsunami. Gottfried was scolded by the marketing department and summarily canned. A new voice was a found, and the first commercial aired three months later. By the time the duck hit the streets of New York, the voice controversy had died down considerably, but years later, the duck is just selling insurance and freezing in New York. The parade can't cure every brand's ills (see SeaWorld last year), but sometimes it can get controversy to roll off a brand like water off a duck's back.

B&G Foods
Parade persona: Pirate's Booty Treasure Hunt float
At this stage, it's perfectly O.K. and fairly normal for a big food company to own an organic brand. The owner of B&G pickles, Cream Of Wheat, Grandma's Molasses and Ortega bought Pirate's Booty cheese-flavored corn puffs a few years back, but it was no greater shock than Clorox buying Burt's Bees, Colgate-Palmolive buying Tom's of Maine or General Mills Buying Annie's Homegrown.
Besides, if you wanted to present Pirate's Booty as a healthy alternative, there are few better places to do so than at the Thanksgiving parade. This is, after all, a parade that features a baseball-themed Cracker Jack float, two more floats dedicated to Lindt Chocolate and Domino Sugar, a Ronald McDonald balloon and a "balloonicle" in the shape of the Kool-Aid Man. Those are all brands that the organic movement is facing at Costco, Walmart and elsewhere. It may as well face them on the streets of New York, too.

Delta Airlines
Parade persona: Winter Wonderland in Central Park float
That big gap between Thanksgiving and the winter holidays? It's exactly why Delta shells out on this float and gets Pat Benatar (and husband, collaborator and inseparable co-headliner Neil Giraldo) to belt out the hits.
Travel site FareCompare's chief executive Rick Seaney calls those blank periods "dead zones" and notes that Delta and other airlines really want you to think about flying during those times. Ordinarily, the first two weeks in December and the last three weeks in January (and into February) are near-vacant portions of the travel calendar. People planning to fly for Christmas or New Year's want no part of them, and folks who blew all their cash on holiday gifts can't afford them. Everybody else gets a great deal and some elbow room. You could use those cheap tickets on last-minute trips to New York, but you may want to consider a warmer climate.

McDonald's
Parade persona: New Ronald McDonald balloon
We're kind of shocked the new Ronald McDonald balloon won't having him holding an Egg McMuffin, since breakfast has become key to the chain's U.S. survival. If only it was 1987, when the chain was on its first of four balloons, kids were eating its meals with reckless abandon and skating Ronald commercials were holiday staples.
The Today show's Willard Scott – who originated the Ronald McDonald character and played him throughout the 1960s and early '70s – helped introduce the balloon during its first parade year. Now, he's kind of the face of U.S. obesity and questionable fast-food marketing practices: RA throwback to the good old days of gratuitous product and Blockbuster movie sponsorship. The kid in us wants a cheeseburger in the worst way: The adult we are wants that kid to put down the cheeseburger and take a few more laps.

General Mills
Parade persona: Pillsbury Dough Boy balloon
When a Pillsbury ad runs during the parade and your mom in the room behind you exclaims, "Don't let me forget to pick up the biscuits," the marketing department has done its job.
Thanksgiving is firmly within biscuit season, which makes us wonder why it took until 2009 to get the Dough Boy into the lineup. Honestly, it's perfect. Pillsbury has tubes of various varieties of cinnamon rolls for Thanksgiving morning parade-watching and has spent decades insinuating itself into families' Thanksgiving menus in the form of biscuits and crescent rolls.
Don't like biscuits from a tube, you say? Try cooking a dinner for more than a dozen and making them from scratch while working a full-time job. If you're not going to slice up some cranberry sauce or go with the bag of stuffing, the tube of biscuits and butter is where you're at.

Activision
Parade persona: Skylanders Eruptor balloon
This will one day be the Teddy Ruxpin of parade balloons, but for now we're just grateful that any toy still makes the cut.
For the last six years, Activision's Skylanders games and toys use chips inside action figures to place characters into video games via a "Portal of Power." In a related development, we're going to start calling the plate we tap our card against before entering the subway a "Portal of Power."
The series has brought in more than $2 billion for Activision, but as we know, the lifespan of things like this are all too fleeting. Maybe there'll be a Skylanders movie in ten years starring Mark Wahlberg, The Rock and a whole lot of CGI for nostalgia's sake, but right now let the kids have their fun.
This article is commentary by an independent contributor. At the time of publication, the author held TK positions in the stocks mentioned.