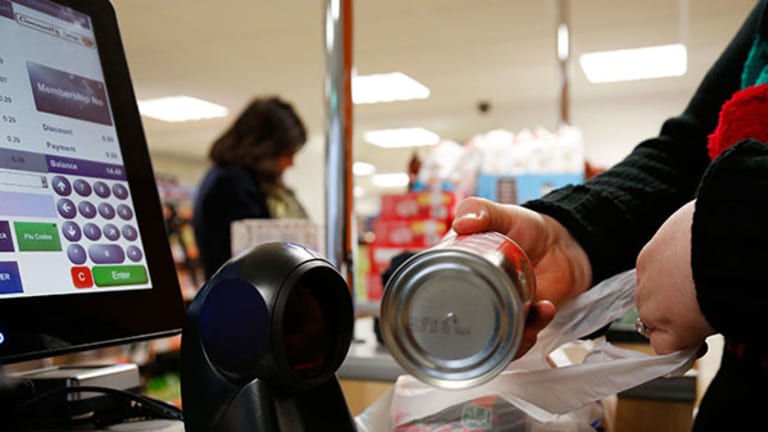 Here Are 9 Simple Ways to Slash Your Grocery Bill
Follow these tips to save big at the checkout counter each week.
Do you feel like those weekly grocery store visits are sucking your wallet dry? If you're like many Americans, you might be overspending every time you go to the checkout counter. While it's important to enjoy fresh, healthy meals each week, you're probably loading up your cart with a lot of things you really don't need, or overpaying on items you could have gotten for a cheaper price.
Thankfully, there are simple ways to slash your next grocery bill—all it takes is some planning and self-discipline. Here are nine ideas to get you started.
Check Your Pantry & Fridge First
Have you ever purchased a new jar of mayo or bag of pretzels at the grocery store, only to return home and discover that you already bought the item on a previous shopping trip? To avoid purchasing duplicate items that may be hiding in your kitchen, be sure to check your pantry, fridge and freezer before doing your grocery shopping each week. (Tip: It's easier to keep track of what you have by keeping these areas neat and organized.)
Taking inventory of the food that's already in your home can also help spark meal ideas for the coming week and eliminate the need to load up your fridge with too many extra items.
"Use the groceries you already have as a basis for a few meals and you'll spend less at the grocery store by default," says Holly Johnson, contributing editor and frugality expert at The Simple Dollar. "You don't have to buy what you don't need. And sometimes, knowing what you have already is half the battle."
If you're looking for meal ideas, the website Supercook.com allows you to type in ingredients you already have in your kitchen, then suggests recipes that you can whip up with those items.

Shop With a List
It's a common story: You walk into a grocery store intending to only buy a few items, then wind up leaving with a cartload of food. Splurging on impulse purchases can really add up, so it's a good idea to exercise some discipline when you shop. One way to help you stay focused is by jotting down the food you need to buy before leaving your house.
"Make a list and stick to it—don't be tempted by in-store marketing," says Julie Ritten, founder of Ritten Financial in Southfield, Mich. "They will try to entice you to buy something you really don't need or want; it just looks good for that moment."

Don't Shop Hungry
When your stomach is growling, surrounding yourself with aisles upon aisles of tasty food is a recipe for disaster.
"Don't shop hungry—go shopping after you eat," says Ritten. "Not only will you not be tempted to buy twice as much food, you'll burn your meal off by walking and not plopping yourself down on the couch."

Buy Local and Seasonal Foods
"One of the best ways to save money at the supermarket is to buy in-season produce and local items that have fewer production costs involved, which means less expense passed onto you," says Allison Stowell, registered dietitian for the Guiding Stars Licensing Company. "Not only is this practice good for your wallet, it supports your local economy and is great for the environment too."
For a list of which produce is currently in-season, check out this guide on the USDA website.

Don't Snub Store Brands
While some shoppers might immediately write off store brands as being inferior to the national brands, this isn't always the case. From crackers to ketchup to ice cream, some store brand items taste just as good as the big brands (if not better) and often come with a cheaper price tag.
Part of the reason national brands typically cost more than store brands is simply because "national brands have to build in advertising or promotional costs to the final price," says Andrew K. Johnson, communications manager for GreenPath Debt Solutions. "A store brand may have the exact same ingredients as a national brand—it's all up to the consumer to try store versus national and see which passes the test in the kitchen and at the dining room table."

Check the Weekly Circular
You can save big by checking out your grocery store's weekly circular, which will tell you which items are on sale. One caveat: "Don't be tempted by seeing great deals and buying what you don't really need," says Andrew K. Johnson.
If you don't feel like flipping through printed circulars, the free location-based app Flipp allows you to browse hundreds of local weekly circulars right from your smartphone. You can also easily search for a specific item, brand or store.

Use Your Phone for Coupons and Cash Back
It's a no-brainer that coupons can help you get many of the products you need for a whole lot less, but if coupon-clipping sounds tedious and old-fashioned, you can use your smartphone to access great coupons on your favorite products.
Some coupon apps to try include Coupon Sherpa and the Coupons.com app. You might also want to consider downloading an app that allows you to earn cash back on your grocery purchases, such as Ibotta, Checkout 51 and SavingStar.

Cut, Shred and Wash at Home
When your schedule gets hectic, you might be tempted to buy bagged lettuce, pre-cut fruits and veggies and shredded cheese out of sheer convenience. The truth is, though, that these prepared items often come at a higher cost, and going the do-it-yourself route really won't take you that much longer.
"It only takes a few extra minutes to rinse lettuce and tear it by hand or to shred a block of cheese," says Kevin Gallegos, vice president of Phoenix operations for Freedom Financial Network. "Skip the more expensive, single-serving packages and instead buy the bigger size and dole out smaller portions into sandwich bags or smaller reusable containers."

Join Your Store's Rewards Program
Grocery store rewards programs are a great way to pay less at the register by offering you discounts, special deals and coupons. Some rewards cards even offer you discounts on gas, such as Safeway's Club Card. For every $100 you spend on groceries at Safeway, you'll get a 10-cents-per-gallon reward if you fill up at a Safeway gas station or participating Chevron or Texaco station.