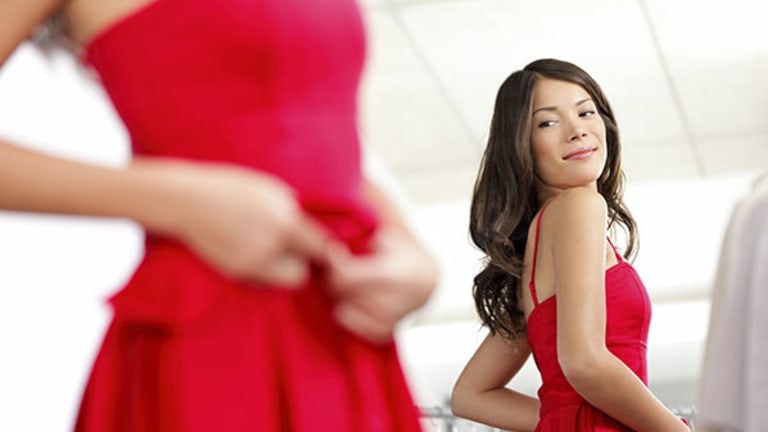 Have Your Chanel and Wear It, Too: The Best Sites to Rent Designer Clothing
For those that love high-end fashion but don't have the funds to back it up.
NEW YORK (MainStreet) — These days, people can rent just about anything. With vehicles and homes being the most commonly rented commodities, there are other less expected items that are now also available for rent. One of the biggest rental industries on the rise, which is also one of the most popular industries in the world, is high-end fashion.
While the majority of modern women unfortunately do not take home a paycheck proper enough to allow for weekly trips to Henri Bendel, this doesn't mean that those fashionistas wouldn't rather be wearing a fresh pair of Louboutins as opposed to their trusty two-year-old black pumps. Fortunately, the solution to that problem is quite simple. Just like one can lease a brand new Mercedes, why can't the same thing happen for a Louis Vuitton tote? The following is a roundup of companies that offer designer clothing and accessories for rent—discounted prices without sacrificing the style.
1. Rent The Runway. This website is a fashion lover's dream. With brands like Diane von Furstenberg, Valentino, and Dolce and Gabbana, the possibilities for dresses and accessories are never-ending. Upon signing up, users are entitled to a one-time bonus of $25 off the first rental. Users also have the option to join a monthly subscription program for $49 per month, which consists of a monthly delivery of three items. The subscription comes with unlimited exchanges for the items received and free shipping both ways. If nothing in the order fits properly, users can even return merchandise within 24 hours for a full credit!
2. Le Tote. Similar to Rent the Runway, Le Tote also offers a subscription program for $49 per month. Referred to as a "boutique in a box," the monthly delivery consists of three garments and two accessories in each tote. The products in each shipment are valued at $200 minimum and can go up from there. Le Tote also offers free two-day shipping both ways, and does not require any sort of commitments contract to participate. Cancellation is free, and the company even offers insurance at an added charge for any spills or damages to the items. Users don't even have to wash the borrowed items after wearing! Just send them back on time, and the company will handle the dry cleaning.
Read More: 10 Best Ways to Avoid Holiday Debt: Beware the Spending Danger Zone
3. Bag, Borrow, or Steal. Primarily created for renting designer handbags, Bag, Borrow, or Steal also offers the options for users to purchase new items as well as to sell their gently-used items. Upon accessing the site, new users can join the email list and, in turn, receive 20% off their first transaction. Available brand names include Celine, Chanel, Dior, Marc Jacobs, and Tory Burch, and the company guarantees authenticity. Rentals are kept typically for one month, shipped for free, and can be renewed or returned at no additional cost. The company also provides reminder emails to advise the user when the items are due back, and, so that users don't have to, will clean each item professionally upon return.
4. The Ms. Collection. Established in 2012 with its partner site, The Mr. Collection, the Ms. Collection has its users fill out a style profile upon enrollment. This way, the company gets to know each user's individual tastes before sending out each month's subscription package. By sending back one month's pack by the 11th of the month, the next pack will automatically be sent out on the 15th of that same month. Each package contains looks from the collection of the user's specific choosing. There are three main collections: Ms. Play, for fun and casual fashion, priced at $39 per month; Ms. Business, for business casual looks, priced at $45 per month; and Ms. Details, for the accessory lover, priced at $25 per month. Subscribers can hang on to the items as long as they like, and this company also offers the option to buy any piece at 40% off retail.
Read More: Tipping During Holiday Season Can Dampen Your Budget and Cashflow
5. The Mr. Collection. According to this study, men get bored within only twenty-six minutes of shopping. With a time constraint like that, it's difficult for a man to acquire a good amount of variety in his wardrobe. Made especially for the man who hates shopping but loves to look great, The Mr. Collection, keeps closets from getting boring while following the same type guidelines as with The Ms. Collection—a personalized style profile, monthly subscription packages based on individual tastes, and the option to purchase the items at 40% off retail value. There are also three categories to choose from: Mr. Play, for casual fashion, priced at $39 per month; Mr. Business, for a more corporate look, for $45 per month; and Mr. Combo, which includes a subscription to multiple collections at once, for $64 per month. It's almost like having a stylish girlfriend who picks out your clothes, drops them off, and then leaves without wanting you to buy her dinner.

WATCH: More personal finance videos on MainStreet | More videos from Ross Kenneth Urken
View Today's Auto Loan Refi Rates
6. Gwynnie Bee. A clothing rental site geared specifically towards plus-size girls, Gwynnie Bee offers designer pieces in sizes 10 to 32. Available brands include ASOS Curve, Jessica Simpson and Michael Kors. The various subscription options are as follows:
Option 1: Three items per rental, costing $10 for first month and $79 each subsequent month
Option 2: One item per rental, costing $10 for first month and $35 each subsequent month
Option 3: Two items per rental, costing $10 for first month and $59 each subsequent month. The options also continue up to five, seven, and ten items per rental, but the $10 for first month only applies to the first three options. Gwynnie Bee also offers unlimited exchanges, free shipping and returns, and the option to buy the pieces.
Read More: Retailers Make Sensible Shopping Decisions Difficult By Feeding Shoppers' Senses
7. Mine for Nine. Say goodbye to over-spending on maternity clothes for nine months, and say hello to dressing as fashionably as Blake Lively during pregnancy. Mine for Nine offers options to borrow or buy, and also offers free shipping on all orders over $75. The company also provides various money-saving perks and incentives, like a 15% discount on a $75 order when a user submits a clothing review, or a loyalty program where, after a user places three orders, she gets awarded with 25% off of her fourth order. The rental time is typically one month for average clothes and two weeks for special occasion outfits, but each item can be kept for longer with the flat rental fees per month. Also, since the company tracks the item delivery, the rental clock does not start ticking until after the clothing is received. Items can also be reserved for a future date, saving renters the added stress of finding a well-fitting dress for a big event.
--Written by Ciara Larkin for MainStreet