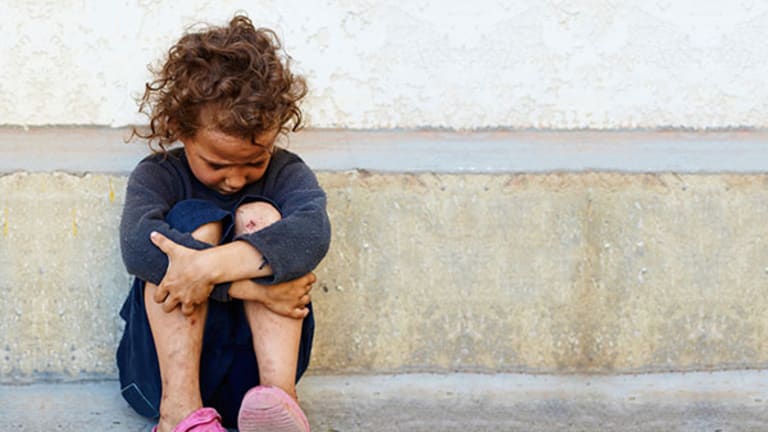 BOSTON (
) -- A
study
released last month by the Southern Education Foundation found that nearly half (48%) of the nation's 50 million public school students, and half or more of those in most Southern and some Western states, are now low income.
The report based its findings on USDA figures for students in preschool through high school that qualified for federal free and reduced-price meal programs in the 2010-11 academic year. According to the federal guidelines, the income cap for these programs for a family of four was $40,793 in 2011.
Figures for low-income students were most prominent in
17 states
, including 13 in the South and four in the West, where half or more of the students could be defined as low income. By comparison, it was just a decade earlier that only four states in the country reported low-income students as the majority, indicating the figures have more than quadrupled since 2001.
Mississippi had the highest percentage of
low-income students
, 71%. New Mexico, Louisiana, Oklahoma and Arkansas were also in the top five. Maryland and Virginia were the only states in the Southern region where low-income children did not make up a majority of public school students -- only about one-third. Arizona was the only state in the Southwest where less than half (45%) of all public school children were low income.
Northeastern states had the lowest proportion of low-income students, but the nation's cities, including those in the Northeast, had some of the highest rates. Specifically, 60% of public school students in cities were low income in 2011, with low-income students making up at least half of enrollment in urban public schools in 38 out of 50 states. Again, Mississippi had the highest rates of low-income students in its urban areas -- a staggering 83%. Yet Northeastern cities were not that far behind, averaging 71%.
"Addressing the problem starts with an understanding of the necessity to focus more on how public schools can be more effective in educating low-income students," said Steve Suitts, vice president of the Southern Education Foundation, in an email.
Also see: How Our $7B a Year Lets Fast Food Companies Pay Minimum Wage>>
Suitts said making high-quality preschool available, as well as after-school and community programs for all grades regardless of income, could help close the achievement gap between low-income students and their more affluent peers.
"With such a large growing proportion across the regions and the nation, the education of low-income students is now an issue of growth, prosperity and quality of life for the entire nation," Suitts said.
U.S. Department of Education statistics reveal that the number of homeless children enrolled in public schools rose 10% in the 2011-12 academic year from the year before, bringing the number to a record high of more than 1.1 million. This is a 72% increase since the 2006-07 school year -- just before the Great Recession.
In particular, 43 states have experienced consecutive annual increases in youth homelessness since the onset of the recession, with 10 states reporting increases of 20% or more.
Worse yet, these statistics are probably an underestimate of the nation's homeless children; they don't consider infant and toddlers, or children not identified as homeless by school officials. Additionally, some students may not be included in the Education Department statistics because although they are eligible for aid for the homeless through their schools, their families are ineligible through the US. Department of Housing and Urban Development.
In addition to the recession, other contributing factors to the rise of low-income and homeless students likely include parental unemployment or underemployment and stagnant wages coupled with increases in living expenses and inflation, as well as immigration and a higher birthrates among low-income families.
Also see: It's True: You're Paying Much More for Rent Next Year>>
"The
economic recovery has bypassed the poorest families and youth in our country," Barbara Duffield, policy director of the National Association for the Education of Homeless Children and Youth,
told Youth Today
. "A lot of people think, well, the recession's over and things are getting better, but that's not actually what we're seeing in public schools."
The nation spends about $500 billion annually on K-12 education, with all three levels of government -- federal, state and municipal -- contributing. With the federal government footing about 10% of the bill, though, the contributions of state and local governments can make a big difference. (For instance, New York contributes about $19,076 per student, while Utah contributes only $6,212.)
In every region but the Northeast, the rise in low-income students has outpaced spending on students. Since public schools are typically subsidized on the local level by property taxes, poorer districts suffer from scarcer resources to provide for their students. At the same time, low-income and homeless students who are not eating or sleeping well because of their circumstances will have trouble focusing in school and learning, which in turn can have long-term effects on their educational success.
"We have to do something different by the way we educate, but we do it by understanding who are the students and what are the needs," Suitts
.
Unfortunately, if this issue is not addressed aggressively, the trends suggest that low-income students will make up the overall majority of public school enrollees in the country in the next few years.
"With huge, stubbornly unchanging gaps in learning, schools in the South and across the nation face the real danger of becoming entrenched, inadequately funded educational systems that enlarge the division in America between haves and have-nots and endanger the entire nation's prospects," the SEF study says.