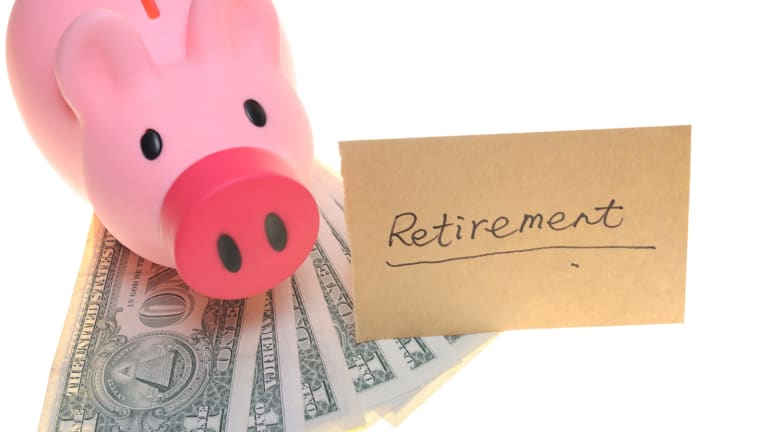 Guaranteed Retirement Income -- Can Your 401(k) Do This?
Annuities took a hit in recent years as insurance companies retreated from 'guaranteed income for life' offerings. Now they're making a comeback.
NEW YORK (TheStreet) -- With the withering of pensions, Americans are hungry for a steady retirement income plan. Few 401(k) plans offer income-for-life options, so retirees have to implement their own asset draw-down strategy. That could be changing.
The much-maligned annuity may be making a comeback. Insurance companies that issue the products spread the investment risk over a large pool of investors, leveraging the fact that some annuity owners will die before others. But by opting for a guaranteed income, an owner forfeits withdrawal flexibility and often pays a good deal in fees. And the financial health of the insurance company backing the annuity must always be considered.
Still, "guaranteed retirement income for life" is a strong incentive for retirees, and annuities are once again gaining popularity. Sales are climbing -- not to the extent of their heyday back in the early 2000s -- but interest is rising significantly. One reason: Retirees are looking for pension-like payouts from 401(k) assets, and the government is pushing providers to offer just such a solution.
"It's the Department of Labor and the U.S. Treasury Department really pushing, emphasizing, blessing -- making it easier to have annuities inside of qualified plans, 401(k)s," said Dr. Moshe Milevsky, professor of finance at York University, speaking to Investment News during the Retirement Income Summit in Chicago earlier this month. "[But] there's a lot of shady products out there and shady characters and miss-selling -- people who purchased them who shouldn't have purchased them. And that has to be cleaned out. If the industry can't do it themselves, then the regulators will have to do it."
Last October, the Treasury and the IRS issued guidance designed to expand the use of income annuities in 401(k) plans. Plan sponsors are encouraged to offer the option of an annuity payout as a component of target date fund investments.
"A target-date fund may include annuities allowing payments, beginning either immediately after retirement or at a later time, as part of its fixed income investments, even if the funds containing the annuities are limited to employees over a specified age," the Treasury said in a statement. "Instead of having to devote all of their account balance to annuities, employees use a portion of their savings to purchase guaranteed income for life while retaining other savings in other investments."
So far, the idea has gained little traction. Among the concerns: Employers who sponsor 401(k) plans worry about their liability should a provider become financially unable to live up to their responsibility to provide the lifetime payments to participants.
Meanwhile, other "income for life" solutions are being floated. Earlier this month, Natixis Global Asset Management announced a "Retirement Spending Account" that seeks to "provide a realistic, steady annual income" to investors. It's not an annuity, but a bit more like a target-date fund -- in reverse.
The investment begins with a conservative asset allocation, then ramps up risk for a period of time before scaling back again as the investor grows older.
"The allocation of higher-risk assets is low in early retirement to help limit volatility when withdrawals are just beginning," said Edward Farrington, executive vice president of retirement at Natixis, in a product launch statement. "This is the time when an investor is most susceptible to a sequence of return risks, since a major market correction at the beginning of retirement could deplete a large percentage of the retirees' total nest egg. The allocation to risk assets increases during mid-retirement to pursue potential returns to help protect against inflation and longevity risk, and then declines again late in retirement to preserve capital and prepare for transitioning assets to the next generation."
The account is designed to provide a 4%-5% withdrawal rate, with an annual inflation adjustment. Unlike an annuity, the basket of mutual funds and ETFs allows additional withdrawals beyond the projected income stream.
With retirement savers clamoring for income security during their life after work, no doubt more investment providers will begin offering potential solutions. Knowing your options and making the right choice is always the hardest part.