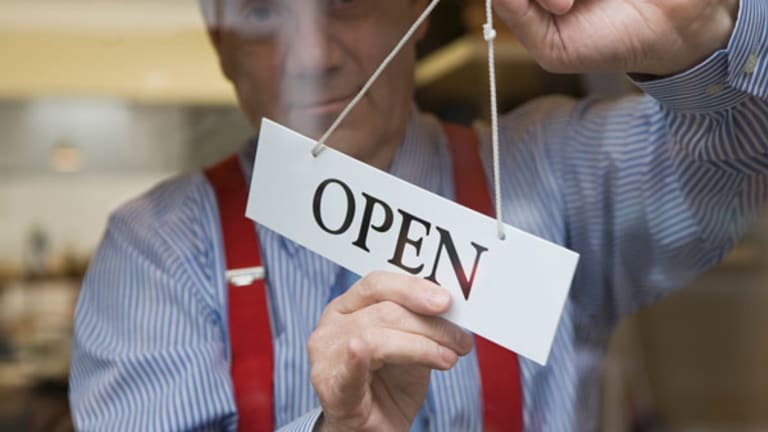 Group Discount Sites Lure Small Business
Group discount sites are back as small businesses look for ways to promote products to budget-conscious consumers. These five are gaining traction with shoppers.
BOSTON (TheStreet) -- Ten years ago, armed with financial backing from Microsoft (MSFT) - Get Microsoft Corporation Report co-founder Paul Allen, an e-commerce start-up called Mercata hit the market with a business plan it dubbed "We Commerce."
Individual Web shoppers would sign up en masse to buy the same product, and the price of the product would fall as more people signed up to buy it. Sadly, the company shuttered within a year and a half, unable to compete with the likes of then-novel sites like
Amazon.com
(AMZN) - Get Amazon.com, Inc. Report
.
Group buying sites are back en force as small businesses look for ways to promote their products to budget-conscious consumers in a weak economy. Instead of selling high-end TVs and camcorders like Mercata, today's group buying sites focus largely on local businesses, offering coupons for restaurants, spas, entertainment and clothing boutiques.
Groupon.com
, for example, recently offered $30 "groupons" for a one-hour Segway adventure from
in Boston, which usually costs $60. More than 400 customers jumped on the deal. Groupon keeps a chunk of the proceeds from each sale; this is the business model for most group buying sites.
While such deals may be reminiscent of trading a dingy old quarter for a bright shiny dime, the price margin drop may be worth the boost in publicity for small businesses.
"Think of this as an alternative to traditional advertising, where you pay a particular amount up front and hope customers come in the door," says Mark Desky, vice president of marketing at Chicago-based Groupon, which has garnered 2.3 million subscribers in some 50 cities since launching 15 months ago. "This is so much more attractive; there's not an out of pocket cost."
Each deal generally lasts a day or two, and unless a set minimum number of people buy into the deal, the deal is canceled. This encourages customers to publicize the deal -- and the small business -- via social networking sites. That's a key detail that may explain why group buying is a bigger hit today than it was in the time of Mercata: "In the year 2000, there was no social community like
Twitter
and
Facebook
," says Alan Garcia, co-founder of
SocialBuy.com
, a luxury-focused group buying site that launched last week.
Here are five sites offering deep discounts to recession-weary consumers:
Groupon.com
Pros:
The site offers huge deals in 50 cities and counting, for a wide variety of services that have included skydiving lessons and sensory-deprivation tank rentals.
Cons:
Each city offers only one deal per day, and each deal lasts for one day, though the coupons are often good for several months.
SocialBuy.com
Pros:
The site focuses on luxury goods and services from high-end businesses that are making recession concessions. "Businesses now more than ever have to get their name out there, their image out there, and their brand out there," Garcia says.
Cons:
So far, deals are limited to Los Angeles and San Francisco.
Restaurant.com
Pros:
The site offers $25 gift certificates for $10, and includes restaurants and bars all over the U.S.
Cons:
Deals often require a minimum purchase, and some of them exclude weekend evenings.
eSwarm.com
Pros:
In addition to offering big discounts on outdoor sporting equipment, the site also provides a Twitter-like conversation board.
Cons:
The cluttered site design can be annoying.
BuyWithMe.com
Pros:
The site is similar to Groupon in terms of featured products and services, but many of the deals last for several days.
Cons:
Groupon deals are available in more cities than BuyWithMe deals.
-- Reported by Carmen Nobel in Boston.