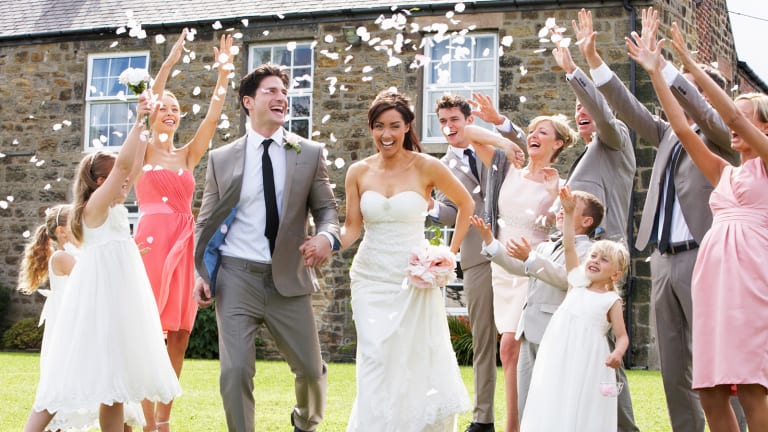 Groomsmen Spend More on Weddings Than Bridesmaids: Here's Why
There's an art - and a right time - to ask for a credit card limit. Follow these rules to get one.
Editors' pick: Originally published May 4, 2016.
Man, oh man.
Guys have to dig deep financially when asked to stand up for a brother or buddy who's getting hitched. So much so, in fact, that men participating as groomsmen in a wedding pay more for the experience than women acting as bridesmaids in the same ceremony.
Here are the digits that may have guys reaching for an extra beer on wedding day. The data come from GoBankingRates, in a new study of 1,005 recent bridesmaids and groomsmen on the financial responsibility of wedding party participants from both genders:
- Altogether, each American spends $1,000, on average, to be in wedding parties. "Groomsmen actually outspending bridesmaids across the board for clothing, bachelor/bachelorette parties, gifts and other incidentals," GoBankingRates states in an email to TheStreet.
- The average best man in a wedding today is spending $998.78 on the bachelor party. That's almost twice as much as the average maid of honor is spending on the bachelorette party at $552.33.
- Groomsmen are spending more on average than bridesmaids for their wedding attire - $245.50 versus $214.58, respectively.
- The average total cost for a bachelor party is $681.13, but bridesmaids report spending an average of $437.31 for bachelorette parties.
- One in four bridesmaids and groomsmen spend $200 or more on gifts for the couple getting married.
If money is an issue, there's no shame in nixing an offer to be in a wedding party, man or woman.
"Of course, it's an honor to be asked to be a part of a friend or family member's wedding," offers Cameron Huddleston, life and money columnist for GOBankingRates. "But you should think carefully about whether you can afford the costs of being a bridesmaid or groomsman before saying yes. If you do agree to be part of someone's special day, you certainly should create a budget and stick to it."
Budgets are a great idea, but there's more a smart guy can do to save on wedding party costs.
"A lot of people are very surprised by how much money can be saved by purchasing instead of renting," says Steven Burton owner of PerfectTux.com. "Average rental cost is around $185 and $400 to $500 for designer tuxedos, while you can purchase a tuxedo as low as $100."
"Recently, I had a wedding party save over $1,200 just by purchasing instead of renting from Men's Warehouse," Burton says. "Not to mention you own your tuxedo or suit for future use."
Opting for nice suits instead of tuxedos can also save cash for everyone in the groom's party (including the groom.) "A great way that men -- both guests and those in the wedding party -- can save money is by investing in a couple of great tailored suits to add to their wardrobe, especially if they know that invites to attend multiple weddings are on the horizon," notes Mystique Latese, founder of Coordinator For A Day and BecomeAWeddingCoordinator.com.
"Let's face it, the color palette that men draw from is pretty standard," Latese adds. "So if they already have the great foundation pieces on hand, then it can be as simple as wearing a different shirt, going with just the vest or swapping a skinny tie for a bow tie, to revamp the signature suit, instead of renting or buying something new every time a wedding invite is received."
Wedding experts also advise getting a head start on a hotel room if you're in a wedding. "If you're staying overnight for the event, book with the wedding room block versus finding something on your own," advises Meghan Ely, a wedding marketing specialist at OFD Consulting LLC in Richmond, Va. "These room blocks often have negotiated rates and added perks -- such as transportation to and from the event."
If finances are really tight, but you want to make every effort to attend the wedding anyway, be honest with the bride and groom about it, and be money smart while attending the festivities. "Guys actually do pay more for weddings, but we've seen some methods used successfully at weddings to lower costs for men," notes Kristin Vanzant, founder of Kristin Vanzant Photography in Nashville. "For example, only go with beer and wine instead of hitting a full bar. And, why not stop by Trader Joe's and load up some coolers?"
While men may bear more of a financial burden from being included in a wedding party, there are good ways to curb costs, and still have a good time. Just being there to support the groom should be enough, and if it isn't, take smart steps and budget accordingly - even if that does mean keeping a low financial profile.