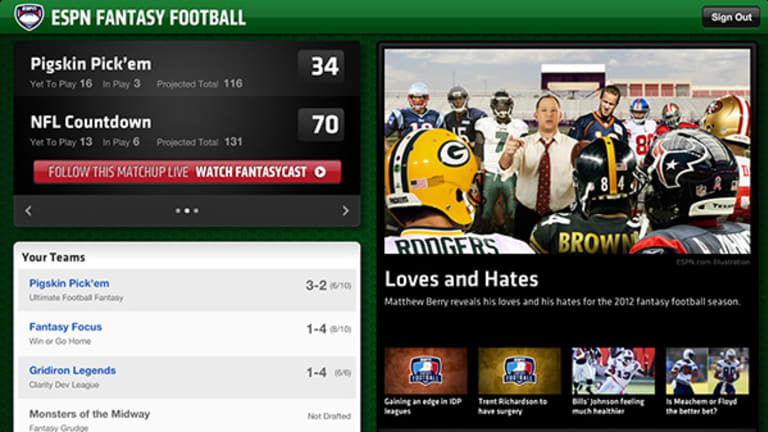 Gridiron Games: How To Cut the Spiraling Costs Of Fantasy Football
Football season is about to kick off, but too many fantasy football players kick in too much cash to play.
NEW YORK (MainStreet) - Jeremy Greenberg, the CEO of Flyte, a Philadelphia-based personal fitness services firm, has served as the commissioner of his fantasy football pool for years, he says. The buy-in, at $100 may be relatively low, but it's the extras that add up and put a dent in his wallet.
"We have our annual draft in Vegas every year," Greenberg says. "There are eight of us who go to Vegas annually from all over the country, and we spend a lot in Vegas. It's a nice way to have an annual reunion as we all worked together back in the day. But it ends up being pricey."
That's just one side of the cost equation. For employers, fantasy football leagues will cost them $16 billion in lost workplace productivity, according to a new report by Challenger & Gray. Challenger estimates that of the millions of U.S. fantasy football players, 66% of the 56.8 million league players are full-time employees, who spend valuable workplace hours "researching, building and managing their fantasy football teams." Many will do this during work hours from cell phones, tablets or the speedy internet connections found in most modern workplaces, Challenger reports.
O.K., that's an employer's problem. For actual players, the goal, besides winning their league, is to keep the cost of playing fantasy football as limited as possible. One estimate states that players spent $1.6 billion on fantasy football leagues in 2014, or about $111 per player.
"Travel is by far the biggest cost for our league members, who will travel to Kalamazoo, Mich. this Labor Day weekend to meet in person, sing the national anthem at the draft's onset, drink a few beers, eat some good food, and talk sports, families and life," says Mike Nemecek, a fantasy football player based in Raleigh, N.C. "We try to cut costs by booking our league trip early each year. We do want to get together in person, so we don't draft online. We also invested in a trophy that can be used year-in and year-out, and always take advantage of online league hosting sites, which makes signing up cheaper."

Cutting your playing time into smaller pieces can also save players some cash, too. "Play daily fantasy NFL on a site like FanDuel or DraftKings," advises Jonathan Moreland, digital marketing manager at RotoGrinders.com, a fantasy sports site. "Daily sites offer games with six- and seven-figure prize pools each week, with entry fees as low as $1 and $5 - allowing even the most casual and frugal fans to enjoy fantasy gaming as part of their viewing experience."
But even daily fantasy leagues can add up financially. A recent American Express survey notes that 85% of players who participate in daily fantasy football leagues will bet money, with the average amount spent totaling $122 per draft.
For fantasy football zealots, the best way to mitigate that kind of spending is to stop the betting, find free sites to play and host draft parties at the house instead of a location you have to take a plane to reach. After that, have fun, and take a running back with your first pick - word is, that's the inside track to leading your league, year in and year out.