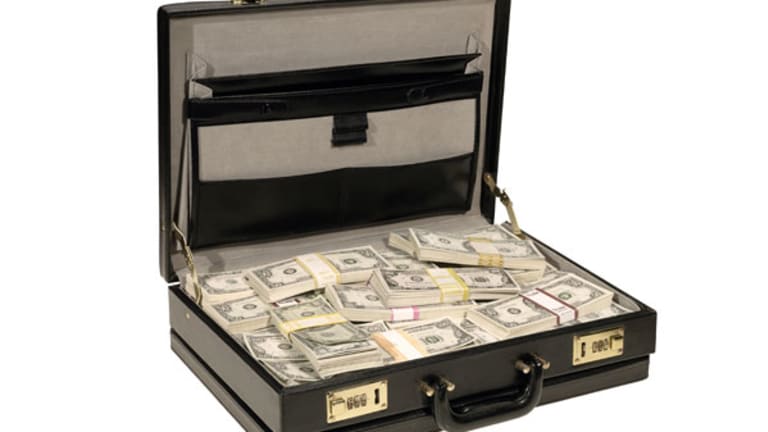 'Green Lantern' Takes On 'Captain America'
Marvel's Captain America may have the makings of a red-white-and-blue blockbuster, but Green Lantern's marketing goes all out.
NEW YORK (TheStreet) -- Summer blockbuster season is hitting stride as comic geeks and cinephiles alike ponder the schoolyard question: "Who would win in a fight: Green Lantern or Captain America?"
That matchup isn't just about two of the great World War II-era comic book franchises, but the battle between
Marvel Comics
( MVL) and D.C. Comics and all that entails. It's
Warner Brothers
(TWX)
versus
Viacom
(VIA.B)
and
Disney
(DIS) - Get Walt Disney Company Report
for box-office bragging rights. It's Subway versus
Burger King
(BKC)
for the fast-food tie-ins. It's
Mattel
(MAT) - Get Mattel, Inc. Report
versus
Hasbro
(HAS) - Get Hasbro, Inc. Report
in the action-figure arena. It's
Dr. Pepper Snapple
(DPS)
versus
Pepsi
(PEP) - Get PepsiCo, Inc. Report
, and it's all for the benefit of big-budget superhero film buffs.
"The greatest part about all of this is that you have these amazing entertainment companies spending all this money and producing films for a lot of people who have loved these characters for a very long time," says Gareb Shamus, chairman and chief executive of
Wizard World
(WIZD.PK)
, which runs a comic book and pop culture site and a series of comic conventions across the U.S. "They've really put their marketing muscle behind it and have exposed to the world what we've been fans of for decades now."
With the the exception of Screen Gems' Korean manga-based film
Priest
and its subpar $73 million showing last month, Marvel has sucked up most of the box office superpower in this early summer movie season. The Marvel Studios/Paramount release of
Thor
collected more than $430 million at the box office since its release in May, while Marvel's collaboration with
20th Century Fox
(NWSA) - Get News Corporation Class A Report
on
X-Men: First Class
raked in another $221 million -- somewhat surprising for a prequel to the X-Men series that ended in 2006.
Meanwhile, Thor brought sponsors including
Acura
(HMC) - Get Honda Motor Co. Ltd. Report
, Hasbro,
Visa
(V) - Get Visa Inc. Class A Report
, 7-Eleven, Burger King, Sega and Dr. Pepper Snapple along for the ride, selling millions of dollars in toys, video games and branded food items along the way. After spending much of the past two summers on the sideline -- not counting last summer's disastrous
Jonah Hex
-- D.C. and Warner Brothers are back in the mix with
Green Lantern,
which opens Friday. While Ryan Reynolds' man in green and black isn't exactly a household name like Spider-Man or Batman, Shamus says it's tough to count out a character just because not as many people have read the comic.
"When you talk about the number of people who read the comic book compared to the number of people who are going to see the movie, the comic book numbers are miniscule," Shamus says. "Their only knowledge of these characters is going to be what they see on the screen, because for most people that's going to be their first exposure ever to these characters."
That broad base of blockbuster ticket buyers doesn't care that there have been multiple alter egos for Green Lantern (Hal Jordan, Guy Gardner, John Stewart and Kyle Rayner) and Captain America (Steve Rogers, John Walker and James Buchanan "Bucky" Barnes) since each of their comics first appeared in 1941. They don't care that Captain America was assassinated in the comics four years ago or that Green Lantern won his way back into fanboys' hearts by fighting black-ringed zombie versions of D.C. superheroes last year. Millions of moviegoers far outnumber thousands of comic book readers, and the former are the ones who do the bulk of the fast-food buying and tie-in video game playing.
"The first responsibility is to create a great movie that's going to engage the fan, which means creating a great story, getting great actors and marketing it really well," Shamus says. "It's great that there's comic book source material and thousands of fans over the years who have enjoyed those characters, but it's important to take that history and boil it down into a two-hour film where people can immediately engage with that character."
So who does it better, Marvel or D.C.? It's a pretty even matchup. When each is at their worst, they and their film studio partners can create unwatchable dreck such as
Jonah Hex
. Josh Brolin, John Malkovich, Meghan Fox and a June release date couldn't help Warner Brothers or D.C. convince fans to spend more than $11 million on it last year, and that was only $1 million more than moviegoers gave Marvel and Lionsgate's 2008 faceless winter washout
Punisher: War Zone
.
When each company is at its best, however, they can revive Robert Downey Jr.'s career and ride his two Marvel-made
Iron Man
films to roughly $1.2 billion at the global box office or bring in $1 billion alone for D.C.'s Batman-based
The Dark Knight
and get its late star Heath Ledger a Best Supporting Actor Oscar in the process.
Green Lantern vs. Captain America looks like a fairly tough fight at first glance, but let's see how the superheroes match up before declaring this a draw:
Green Lantern
Release date:
Friday
Studio:
Warner Brothers
Budget:
$300 million
Marketing:
It was all well and good when Warner Brothers was quoting a $150 million budget for this film a few months ago, but
Green Lantern
's story got a lot more interesting when a
New York Times
interview with star Ryan Reynolds this week suggested the film's actual production and promotion budget was double the initial estimate.
That's pretty steep for a comic book hero who's never been on the big screen -- it nearly equals the budgets for 2005's
Batman Begins
($150 million) and its sequel
The Dark Knight
($185 million) combined. That, however is where the marketing comes in.
D.C. and Warner Brothers started running trailers for
Green Lantern
before
Harry Potter
movies in November. The movie's animated companion film,
Green Lantern: Emerald Knights
, went straight to video last week and its Warner Brother Interactive video game for the
Sony
PlayStation 3,
Microsoft
(MSFT) - Get Microsoft Corporation Report
Xbox 360, Nintendo Wii and DS and
Apple
(AAPL) - Get Apple Inc. Report
iPhone and iPad released the same day.
"Having those partnerships really adds to the experience," Shamus says. "It's similar to the way NASCAR works: Fans are appreciative of brands that embrace the things they appreciate."
But that and a line of toys from Mattel are standard for a comic book movie;
Thor
just did it. On a $300 million budget, you need at least a fast-food tie-in. The film's partnership with Subway, for example, features Green Lantern-themed Pepsi and Frito-Lay products and packaging and prizes from American Airlines and LG. If only there was some way to get captive audiences thinking about your brand all summer long.
That's where Warner Brothers' ties to Six Flags amusement parks come in handy. Green Lantern roller coasters make their debut at Six Flags Magic Mountain in California and Six Flags Great Adventure in New Jersey this summer, taking their place near Batman and Superman rides and drilling themselves into the memory of every park patron masochistic enough to stand in line to ride them during their inaugural run.
Captain America: The First Avenger
Release date:
July 22
Studio:
Paramount
Budget:
$140 million
Marketing:
Let's just forget for a second that star Chris Evans has already appeared as a character in Marvel films during his turn as the Human Torch in 2005's
Fantastic Four
and 2007's
Fantastic Four: Rise of the Silver Surfer
. Comic book films, like their pulp predecessors, aren't immune from amnesia storylines -- as evidenced by Ryan Reynolds going from Deadpool in 2009's
X-Men Origins: Wolverine
to the Green Lantern we know today.
Much of Marvel's marketing uses those familiar touches to its advantage. Those same Burger King and 7-Eleven cups with
Thor
last month will have the Captain's star-spangled shield on them by July thanks to their ties with Marvel. The Captain America toys tied to this movie by Hasbro will be on the same Toys R Us,
Target
(TGT) - Get Target Corporation Report
and
Wal-Mart
(WMT) - Get Walmart Inc. Report
shelves their
Thor
toys once occupied. There's also a strong chance that if you tracked down the
Thor: God of Thunder
video game Sega made for that film's release, you'll have no problem finding copies of Sega's
Captain America: Super Soldier
when it also releases for the Xbox, PlayStation, Wii and DS on July 19.
The big change is that those
Thor
-themed Dr. Pepper cans will be sticking around a while, as Dr. Pepper Snapple decided to shift Captain America to its 7-UP, Sunkist, Canada Dry and A&W Root Beer lines. Cans will feature five characters from the movie and a chance to win a sweepstakes featuring a
Harley-Davidson
(HOG) - Get Harley-Davidson, Inc. Report
motorcycle "inspired by" the film. If fans aren't fatigued by the same product pushes they saw for
Thor
, the
Iron Man
films and 2008's
The Incredible Hulk
once next year's all-in-one
The Avengers
brings Marvel's merger with Disney full circle, the Marvel marketing team deserves a super-soldier-strength pat on the back.
"The grand plan is to create these films that establish characters in their own right with the goal of creating an
Avengers
film where they all come together and people already care about them," Shamus says. "Marvel was able to do that with
X-Men
, where they launched a bunch of characters all at the same time, but it's more difficult when it's a multipicture, multipromotional opportunity."
The Winner:
Green Lantern
, but only if it makes enough green to cover its costs.
-- Written by Jason Notte in Boston.
>To contact the writer of this article, click here:
Jason Notte
.
>To follow the writer on Twitter, go to
.
>To submit a news tip, send an email to:
.
RELATED STORIES:
>>Thor Beats X-Men In Movie Smackdown
>>Iron Man Spawns Blockbuster Gravy Train
>>Looking To Beat Stocks? Buy Comic Books
Follow TheStreet.com on
and become a fan on
Jason Notte is a reporter for TheStreet. His writing has appeared in The New York Times, The Huffington Post, Esquire.com, Time Out New York, the Boston Herald, the Boston Phoenix, the Metro newspaper and the Colorado Springs Independent. He previously served as the political and global affairs editor for Metro U.S., layout editor for Boston Now, assistant news editor for the Herald News of West Paterson, N.J., editor of Go Out! Magazine in Hoboken, N.J., and copy editor and lifestyle editor at the Jersey Journal in Jersey City, N.J.