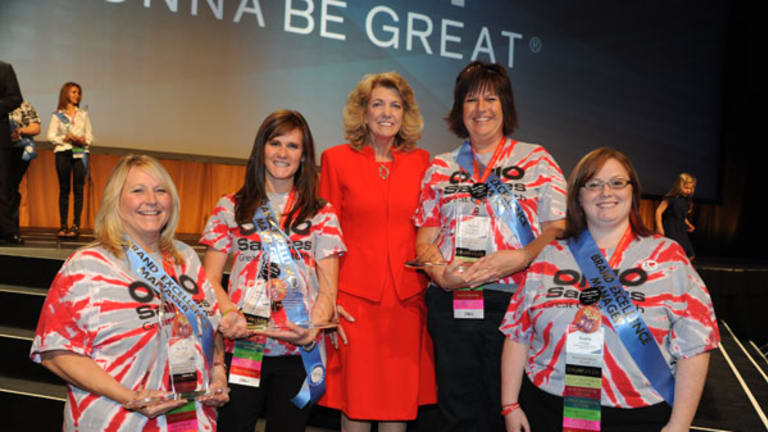 Great Clips' Rhoda Olsen: Company CEO (and Mom-in-Charge)
'Extra warmth and caring' goes a long way at this salon chain.
(Great Clips CEO Rhoda Olsen is the sixth female executive to be profiled in our series highlighting women in business.)
NEW YORK (
) -- Over her 25-year career with
, CEO Rhoda Olsen has had many haircuts by the Minneapolis-based company's employees.
Olsen began her journey with Great Clips as a consultant in 1984. She joined full time as vice president of human resources and training three years later. At the time, the chain had 180 salons and was owned by three partners, one of whom was her brother, Ray Barton, who recruited her. She became its president in 1999 and succeeded Barton as chief executive in 2011. (Barton is now chairman and Great Clips' majority owner.)
After all this experience, Olsen knows the company and its franchisees pretty well.
>>>Fastsigns CEO Catherine Monson: 5 Traits to a Successful Career
>>>BrightStar Care's Shelly Sun: From Frustrated Consumer to CEO
>>>Janska's Erickson Breaks Mold for Older Entrepreneurs
>>>How One Woman Broke Into the Auto Supply Industry
>>>Style Me Pretty's Larson: Women Business Leaders
Today, Great Clips stands at 3,200 salons throughout the U.S. and Canada. According to Olsen, the company has had eight straight years of same-store sales growth.
Olsen attributes the success of the company equally to the strong community the franchise has created among corporate employees and franchisees, and the convenience and professionalism it provides to customers.
She says that being a good CEO means making sure franchisees feel important, whether it's celebrating a store milestone or getting feedback on suggestions of how to run the company more efficiently.
Olsen is a strong supporter of career-dedicated women (about half of Great Clips' franchisees are women, many with families) balancing their work-life schedules.
One of the biggest challenges for her in becoming the CEO of a large company was being able to step back from the day-to-day operations to fulfill Great Clips' strategic vision.
A conversation with Olsen follows.
When you became CEO, what were some of the priorities you had for the company?
Olsen:
The primary things that were really important to me were, first of all, making sure that we leveraged the importance and value of the stylists in the salon every day, the value of the industry and the organizations or the schools that provide us those stylists.
The second one was technology -- to try and make sure that we connect with customers in a way that's meaningful to them and innovate around technology to support our brand. We really want the brand to be simple in the salon. We want stylists to be able to deliver a consistent brand, but we also know technology can support that and enable that and help customers get more convenience and feel more connected to the brand. Although we did do some things regarding data internationally, it was really more of the customer data and the customer side that was a priority.
The last priority really was the growth at the salon level, both in sales and profits for the franchisees. We just finished our 32nd quarter of
same-store salon sales growth.
As of Dec. 31, we will be at 33 quarters of straight growth. Sometimes when you're growing year over year over year, that growth is a little harder to continue to get. We have to stay focused on making sure that we are growing solidly.
Where's the competitive advantage in going to a place like Great Clips as opposed to an independent salon. Do you have mainly walk-ins or repeat customers?
Olsen:
I think we have fabulous stylists and we have a lot of experienced stylists. We're a stable brand, so I think stylists look at us as a good opportunity for long-term career options and career development, as well as just a great place to work. We provide training as well.
About 80% of our customers visit more than one of our stylists, whereas in the full-service salon segment the customer always goes back to one stylist. I think that's because they have confidence in the brand. I think that people also find that our hours are better.
We have a great online tool called Online Check-In that allows the customer to check in on their mobile app. They can load the Great Clips app and it loads all of the salons in that immediate area with their actual wait time at that moment, and the wait times are updated every 30 seconds. So they can look at that app and say, "Oh, there's a 20-minute wait." They can
virtually check in at that salon and run to the dry cleaner or do another errand, and then when they get to the salon, they won't have to wait at all. Our wait times are really an advantage. So the hours, the convenient locations, great stylists and better technology. We've kind of taken that front door off the salon.
What were some of the concerns you had stepping into the CEO role? Was there a fear of not being respected?
Olsen:
You know a lot of times the president and CEO roles overlap, and I think that for me really learning how to be strategic, and even when I say that word I'm sure a lot of people don't really
understand it.
Being strategic is more difficult for women. We aren't quite as visionary. We get caught up in the day-to-day details and we're really, really good at the day-to-day details. And so trying to get more strategic and visionary, that was a challenge for me even at the president role, but certainly at the CEO level. I had to step out of my normal frame of mind, and that is -- get out of the details, get out of the action plan, get out of the list. I think letting go of details is often hard for women because we also get a lot of credit for being good at details.
You seem to be big on company culture and team building. How do you make sure that filters down to the franchisees and their employees as well?
Olsen:
It's OK to look at a culture and say, "We really do want people to feel great here." We use the word love all the time. I hear our stylists talk about loving their franchisees. I tell our franchisees I love them. It's kind of funny because that used to be really kind of an odd thing, but in today's business culture, it's all about the emotional connection, and people clearly say they want to be emotionally connected.
So I think from a culture standpoint we've worked really hard at developing trust and I'd say love and connection -- building a strong community for people to support one another. I think we have a great sense of community and people really do want to help other franchisees.
In a way, it sounds almost like you have to be a mom to hundreds of people. Can you elaborate about how being a mother, because you are one, helps you in the CEO role?
Olsen:
Being a mom is probably one of the most important, humbling, learning roles that we can ever have, and so I don't mind it when people call me a mom because I think what a mom does is care at a deeper level. They care beyond, and I don't want to say men don't, but I think moms just care at a really deep level. They see beyond what's in front of them. They care about someone's feelings. They'll take an extra step with someone.
For a lot of our franchisees, they're often fearful and that extra kind of warmth and caring often gets them over the hump. I mean, it's scary. They're putting a lot at risk.
We actually just had a situation out in one of our New York salons where a customer actually died in the salon on Christmas Eve and our business services director, who happens to be a male, was in the salon as quickly as he could, hugging the stylists, spending time with them, helping the franchisee. This is a fairly new employee and he knew that he needed to be there, but even the e-mail I got from the franchisee said, "John didn't need to be there. He took one of the stylists in the back room that was crying and got her settled down, and he just ..." So, I think mom experience really helps create that sense of kindness and caring. I think moms also have to learn to hold people accountable and learn tough love, and that helps as well.
I understand you like to bake before big corporate meetings. What is your specialty?
Olsen:
I make pancake breakfasts.
For how many people?
Olsen:
Eighty or 100.
Wow. How do you do that?
Olsen:
: I have my griddles. I set up in the kitchen. I do pancakes, French toast, eggs, ham, sausage, and I do bake chocolate chip cookies too. But probably one of the things that you heard was really more about these chaotic pancake breakfasts that we do fairly often in the office. And once we get everything set up, I can usually handle all the cooking on three griddles myself. I used to be a fast-order cook at a restaurant.
-- Written by Laurie Kulikowski in New York.
To contact Laurie Kulikowski, send an email to:
Laurie.Kulikowski@thestreet.com
.
>To submit a news tip, email:
.
RELATED STORIES:
>>7 Biggest Small-Business Trends in 2013
>>How One Small Business Made Money in Its First Year
>>5 Etsy Success Stories to Get Your Business Going
Follow
TheStreet
on
and become a fan on
Disclosure: TheStreet's editorial policy prohibits staff editors, reporters and analysts from holding positions in any individual stocks.