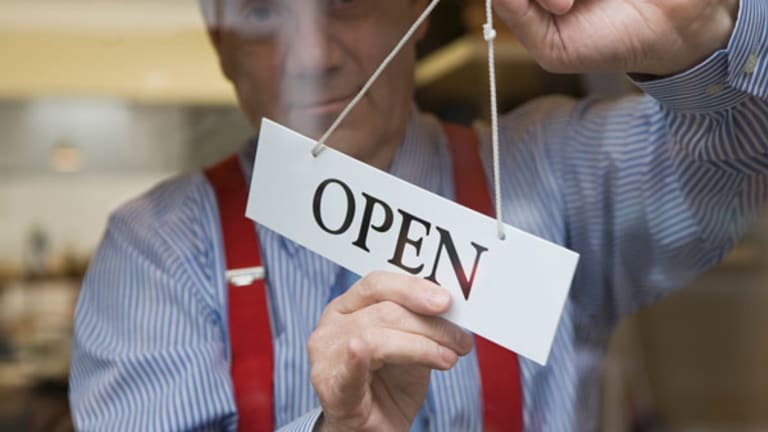 Google Buzz Falls Flat for Small Business
Google Buzz has many small-business owners wondering what they can do with the new social networking tool. For now, they should just avoid it.
MOUNTAIN VIEW, Calif. (TheStreet) -- Forget Web search, document sharing or even cellphones. Google (NFLX) - Get Netflix, Inc. Report has cornered the market on hype. Case in point: Google Buzz.
Earlier this month, Google released a social networking application called Google Buzz that aims to compete with the likes of
Twitter
,
Facebook
and
LinkedIn
. Google Buzz adds so-called microblogging -- the ability to post short phrases, images and digital information -- to its e-mail service. Small-business owners have been wondering how they could use the tool to promote their products.
During the past few weeks, I've given Google Buzz the small business once over. Here is what you need to know:
What you get:
For small businesses, there's not much to buzz about with Buzz.
To be fair, Google addresses many of the problems one faces with social networking. Unlike Twitter, there's no character limit for posts. There's none of the dopey FarmVille spam or marketing glop that clogs Facebook. There's no complex network setup like you would find on LinkedIn. And video and image support is best in class. Also, the code updates all its content in real time. No reloading pages or updating links. In Buzz, you post it and everyone sees it. It's a staggering technical achievement.
At first, Google Buzz seemed to have hit a home run by making it easy for small groups to collaborate. But in a little over two weeks of testing, I could not find a good use for it.
What you don't get:
Buzz is not controllable enough for business communication.
Google doesn't seem to be targeting small businesses with Buzz. There's already no support for Google's business process software, Google Apps. And with Buzz limited to Gmail, you would have to toggle between Google's tools and your other small business software. That would be standard Web 2.0 pain, if not for the critical way Buzz handles information.
Google Buzz does not have defined public Web spaces such as Facebook's "walls." Rather, the user defines which posts are public or private. There's a pull-down menu that labels whether a post is open to a group or to everyone on the Internet. And that creates dangerous risks in the flow of information.
My employee, for example, posted what I thought was a company chat about his father's book. He had mislabeled the post as public. It's not his fault. It's really easy to do. But imagine the damage if we were chatting about a client and he accidentally saw the post.
To channel
30 Rock's
, Liz Lemon: "That ladies, is a deal breaker"
Bottom line:
There is no getting over the fact that Google Buzz is right there under your Gmail inbox. And Google will almost certainly be upgrading and addressing issues with Buzz for some time.
But for now, don't let the buzz suck you in. Buzz is a small-business work in progress.
--
Reported by Jonathan Blum in New York
.
Jonathan Blum is an independent technology writer and analyst living in Westchester, N.Y. He has written for The Associated Press and Popular Science and appeared on FoxNews and The WB.