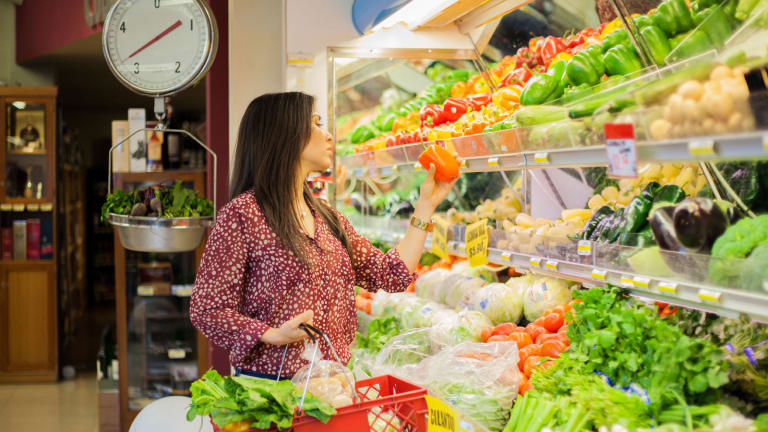 Going Organic Without Going Broke: What to Buy and How to Buy It!
It is possible to buy organic without spending your whole pay check! Just follow these simple tips.
It is possible to buy organic without spending your whole pay check! Just follow these simple tips.
NEW YORK (MainStreet) — Most people embarking on weight loss journeys these days rely much on convenience. Whether it's paying for a nutritionist, ordering pre-packaged diet food, or taking expensive supplements, dieters have the tendency to buy without thinking. However, while the typical "nutritious diet and exercise" method isn't exactly free either, a hefty budget is not always needed for food shopping. Organic vegetables and healthier cuts of meat are easily attainable just by following a few simple steps. It's not impossible to eat healthier while on a budget. 
 First of all, for people who are just starting their wellness journey do not need to get their own celebrity entrance into the local Whole Foods and spend a ton of extra money on the organic version of everything they planned to buy. (Cough, cough, Katie Holmes!)
First and foremost, it's important to realize that just because something is labeled "organic," for example, an organic cookie or organic potato chips, does not mean that it's automatically healthy, according to Jeanette Pavini, Coupons.com saving expert.  While organic food is better than non-organic in many ways, the bottom line is that an organic cookie is still a cookie, and going completely organic is not a one-way ticket to healthy living.
Once the reality check sets in that "organic" is not a synonym for instant weight loss, one of the most basic (yet necessary) steps is to know the lingo while food shopping. When browsing the various food sections, it is impossible to miss terms like "organic" and "natural" stamped on certain items. While these terms may initially sound the same to the average buyer, the FDA has its own list of requirements for each term:
1. If a package says "100% Organic," it must contain all organically-produced ingredients and processing aids, excluding salt and water.
2. Products labeled "Organic" must have at least 95% organic ingredients.
3. "Made with Organic Ingredients" means that at least 70% of ingredients are certified organic.
4. "Natural" does not imply organic. While FDA policy says that "natural" should mean that the product does not contain synthetic or artificial ingredients, it is virtually unregulated. Earning an organic label from the FDA is a much more stringent process.
Once shoppers have the terminology down, the next step is to know which foods should always be purchased organic and which foods really don't matter as much. The simplest way to remember when to splurge on the organic version of something is to keep copies of the following lists. Now commonly known as the "Dirty Dozen" and the "Clean Fifteen," the following lists, courtesy of the Environmental Working Group (EWG), are twelve "dirty," or most contaminated, foods, for which organic versions should always be purchased, and fifteen "clean," or less contaminated, foods, which are not as much of a necessity to purchase as organic.
The "Dirty Dozen" (2015 List)
1. Apples
2. Peaches
3. Nectarines
4. Strawberries
5. Grapes
6. Celery
7. Spinach
8. Sweet bell peppers
9. Cucumbers
10. Cherry tomatoes
11. Snap peas
12. Potatoes
The "Clean Fifteen" (2015 List)
1. Avocados
2. Sweet corn
3. Pineapples
4. Cabbage
5. Sweet peas (frozen)
6. Onions
7. Asparagus
8. Mangos
9. Papayas
10. Kiwi
11. Eggplant
12. Grapefruit
13. Cantaloupe
14. Cauliflower
15. Sweet potatoes
When it comes to purchasing food other than produce, meat is one of the most important items to splurge on. When purchasing beef, organic, grass-fed meat is typically the best choice. The same works with chicken—terms like "cage free" and "free range" are both positive terms, and they work even better when paired with organic. All of these meat labels are necessary if carnivores are looking to eat meat that isn't laced with antibiotics or extra unnecessary and unhealthy fat from grain feed. For the money-conscious, Pavini explains that purchasing a full organic chicken rather than pre-sliced organic chicken breasts is key, as stores tend to charge more for the pre-sectioned breasts, especially if they're boneless and/or skinless, or even thin-cut.
Looking for a few extra money savers? Here are some extra tips…
• Shop the weekly circulars for the local supermarkets. While this one initially seems obvious, studies have shown that only about 10% of shoppers use the circulars to determine which supermarket they will be shopping at that week. That's a lot of missed savings.
• Don't forget about manufacturers' coupons. Before throwing away the piece of cardboard holding those yogurts together, check the inside for a manufacturer's coupon. These come in handy, especially for items that are purchased on a regular basis.
• Search online for coupons. SmartSource, ValPack and Coupons.com are all great places to start.
• Join a CSA (community supported agriculture) or meat-share. If you happen to live in an area where CSAs and meat shares are available, consider yourself one of the lucky ones. Aside from the support that these things bring to small farmers, members are able to pick and choose various fruits, vegetables, and cuts of meat for a flat fee. This means fresh food, all the time, usually at lower costs than the organic, grassfed versions of foods sold in supermarkets. While many shares sometimes also charge some kind of membership fee, the money saved in the groceries and the quality of the food tends to outweigh the membership costs. This fun list from SeriousEats will help you decide if a CSA is the right choice for you.
• Ordering online. Many websites like Vitacost.com offer various food items, including organic and all natural items, for a discounted cost, and the shipping fees are usually waived when spending over a certain amount.
• Download some apps. There are quite a few smartphone apps that have been created to save money, whether it's by providing coupons or offering cash back on certain purchases. Apps such as Ibotta, Snap by Groupon, SavingStar, and Cartwheel for Target all fall into this category.
--Written by Ciara Larkin for MainStreet