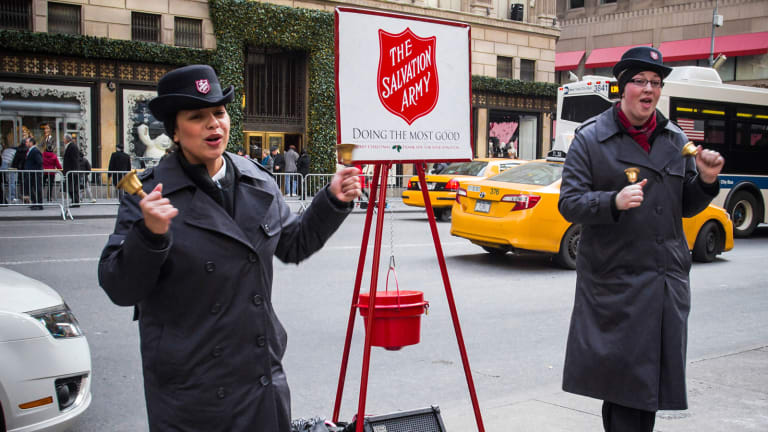 Giving Tuesday and Beyond: Holiday Generosity Doesn't Have to Wait
Charity doesn't have a specific holiday start date, so giving your giving some serious consideration now can only help everyone involved.
If it isn't too early to start your holiday shopping, it isn't too early to start your holiday giving either.
While the folks over at charity evaluation site CharityNavigator note that charitable organizations have branded Giving Tuesday -- December 1 -- as the start of their giving season, the third quarter is basically all fair game for holiday donations. Though Ask Your Target Market's latest survey finds that 38% of those who donate to charity said that they are more likely to do so during the holiday season, the Nonprofit Fundraising Survey found that over half of nonprofit organizations reported that they received over a quarter of their contributions between October and December. Roughly 16% of all nonprofits receive over half their year's total contributions during those same months.
Meanwhile, a GuideStar survey found that 50.5% of their organizations receive the majority of their contributions between October and Decemeber. To boot, some 80% of companies surveyed by fundraising company America's Charities say they conduct their giving programs in the fall or during the holidays. That's what also makes this pre-holiday season a great time for individuals as well.
"It is a great time of the year, because this is a time that those foundations really need to give away money to causes they believe in and it's great tax timing because you get a deduction," says Masood Vodjani, founder and chief executive of Bethesda, Md.-based MV Financial. "It's also around a time when you can cause others to think that, in a happy time, you need to consider the less fortunate."
Vojdani notes that one of his clients gives away money on a yearly basis and makes her children and grandchildren think about a charity they want to fund through their family foundation. He notes that it gives children something to think about beyond "me, me" and makes them think about others and "we" as a community.
Kim Dula, a partner with Friedman LLP in Marlton, N.J., notes that one of her clients schedules an annual review of the family's annual charitable giving each year and allows children as young as eight to give presentations about how charities were important to them. It keeps the entire family engaged and secures the family legacy in a fairly tangible way.
"Charity is something that, during the holidays, is a magnificent thing to talk about with your children," Vojdani says. "One of the most important things I do around this time of year, the holiday season, is help clients give gifts to less fortunate people. I would like all parents to get children involved during that giving so it creates a culture of unity between parents and children for years to come."

Also, keep in mind that there is more to give away than just cash. For example, appreciated investments are not only greatly appreciated by charitable organizations, but donating them will prevent you from taking too large of a tax hit on their income.
"Your cash contributions to qualified charities may be tax deductible, but you might get even bigger tax breaks by donating appreciated assets," says Bill Ringham, vice president and senior wealth strategist at RBC Wealth Management. "Suppose, for example, that you purchased shares of ABC stock for $1,000 and they are now worth $10,000. If you were to give these shares to a qualified charity, and you are in the 28% tax bracket, you may get a $2,800 tax deduction, based on the current market value of the donated shares."
Rebecca Pavese, a certified public accountant and financial planner with Scarsdale, N.Y.-based Palisades Hudson Financial Group's Atlanta office notes that highly appreciated stocks or mutual funds you've owned for more than one year are completely deductible if you give them to charity and itemize deductions. However, if you're loath to give them to strangers, you can give them to your children, grandchildren or really anyone else you know and still receive a benefit.
"Each taxpayer can give up to $14,000 a year to each recipient without filing a gift-tax return," Pavese says. "Giving away income-producing securities also reduces your future taxable income."
However, you don't have to be laden with assets to make a difference. In fact, The Chronicle of Philanthropy discovered that middle class donors give a considerably higher percentage of their income to charity than their high-income counterparts. Mike Lynch, vice president of strategic markets for Hartford Funds, recommends that those middle-income donors keeping and inventory of their donations throughout the year, even if it's just a folder that gets receipts out of the junk drawer.

"Many clients elect until the end of the year to make charitable donations," he says. "If you plan on doing so, think about how you are giving and through what method. Each option has pros and cons, and each option may also allow you a different amount of deductions"
Just make sure you're giving for the right reasons. Shomari Hearn, certified financial planner and vice president of Palisades Hudson's Fort Lauderdale, Fla. office, notes that any tax savings you receive from a charitable donation should be considered secondary to helping others -- mostly because you'll never get a full return on that donation otherwise.
For example, someone in the 28% federal income tax bracket who makes a $500 charitable donation, will see their tax liability decline by $140 (28% of their tax bill). For high income taxpayers with incomes over certain thresholds, the tax savings may be lower than their marginal tax rate due to limitations imposed on donations and other itemized deductions.
In the case of the wealthy individuals that Vojdani and Dula discussed earlier, bequeathing assets to qualified charities is their best way to escape federal and state income tax. With a top federal estate tax rate of 40%, $4 out of every $10 in assets subject to the tax will go to the government instead of to family members and other loved ones. However, donating assets to charity will reduce their estate tax exposure, and it can also allow beneficiaries to think less about themselves and do more for those less fortunate.
"In fact, by informing loved ones of their philanthropic objectives, donors can get their family involved in the process by holding family meetings to discuss giving goals, selecting the charitable organizations that will receive their donations, establishing a vehicle -- like a donor-advised-fund -- through which to donate, and evaluating the impact of the donations that have been made," Hearn says. "This is an effective way to pass core values on to younger generations."
This article is commentary by an independent contributor. At the time of publication, the author held TK positions in the stocks mentioned.