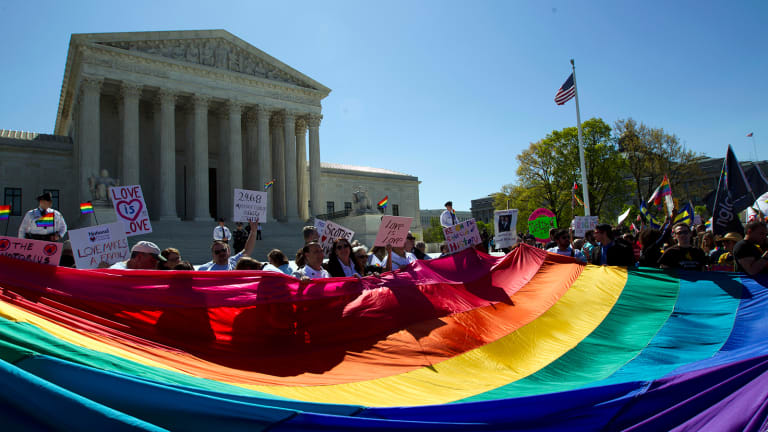 Gay and Getting Hitched? Know What to Expect, Financially
Same sex couples who are tying the knot should plan out their money matters first.
NEW YORK (MainStreet) -- With the Supreme Court giving its stamp of approval on gay marriage in June, same-sex couples who may not have given full thought to the financial also of matrimony, should do so now - especially if they've already agreed to exchange now federally protected wedding vows.
Marriage triggers many financial, health care and workplace benefit changes, says Hector De La Torre, executive director at the Transamerica Center for Health Studies. "It's important that all newlyweds - including already married same-sex couples whose marriages are now federally recognized - spend time discussing their options and making mutual decisions about their benefits," he said. For example, marriage paves the way to "immediate" health insurance enrollment, De La Torre says. "The Obergefell ruling may prompt Health and Human Services (HHS) to open a special enrollment period for previously married same-sex couples to sign up for health insurance coverage through the exchanges," he adds. "So, married same-sex couples who are planning to seek coverage through the ACA should watch for this possible announcement."
If a special enrollment period is not opened, a new marriage is considered a life-triggering event and gives Americans an opportunity to sign up (that's best done within a month or so) for health coverage through an exchange outside of the open enrollment period, De La Torre notes.
Retirement is another open-ended issue that needs to be resolved before same sex couples say "I do." Transamerica notes that legally married couples that are both employed through workplaces that offer comprehensive health insurance benefits should gather detailed information about their employers' benefits options and compare the costs and benefits of each plan. "It may make sense for both spouses (and any dependents) to obtain coverage through one of the employers rather than remain on separate plans.," says De La Torre.
Tax credits matter, as well. De La Torre advises same sex couples to talk over how they file their taxes, and to know they must file jointly in order to qualify for the premium tax credits and lower out-of-pocket cost on private insurance plans offered through the exchanges."
Additionally, if one spouse earns significantly more than the other, then marriage may have a beneficial tax impact by dropping them into a lower bracket collectively than they were in prior to marriage, notes Emily Boothroyd, a financial planning specialist at Westport Resources in Westport, Conn. "However, if they earn approximately the same amount, expect to see a larger tax bite each year," Boothroyd says.
When it comes to estate and gift taxes, however, marriage can be very beneficial. "You can give gifts to your spouse during life or at death without those gifts being included in your gross estate by using the marital deduction," she adds. "Unmarried couples are limited in what gifts they can give to one another without taxation, sometimes severely depending on the state."
Some pre-planning to protect individual assets is advisable, too. According to Christopher W. Rumbold, a South Florida family law attorney who focuses on same-sex marriages, the best financial advice for a couple getting married is to have a legal pre-nuptial agreement in place. For a couple already married (or whose marriage has now become legal thanks to the SCOTUS ruling), Rumbold recommends creating a post-nuptial agreement. "There are many reasons for either agreement, but they all center around asset management and division in the case of a divorce down the road," he says.
Newlyweds should also look into a solid life insurance plan for further financial protection down the road. "One of the first things that newlyweds should do, both same-sex and opposite-sex, is ensure that they have life insurance in place to help with the financial loss of losing a spouse," says Jeremy Hallett, chief financial officer at Quotacy, a life insurance consumer services firm. "At the start of a marriage, we recommend that couples have 10 times their income in force plus any large, outstanding debts - like a mortgage." Hallett also notes that this amount can be adjusted with supplemental term life policies as the couple grows together and raises a family.
Now that the initial celebration among same sex couples has passed, it's time to look at the financial side of same-sex marriage. No doubt, there's a lot to absorb, so get going now, before you're in reactive, rather than proactive, mode.