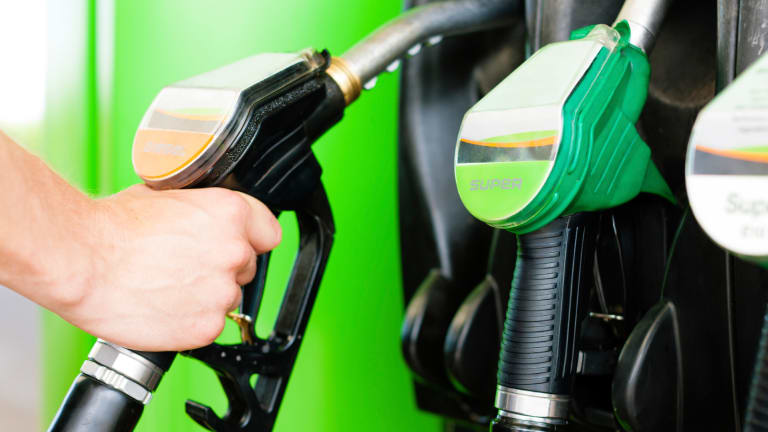 Gasoline Prices Expected to Tick Upward as Summer Demand Increases
Gasoline prices are following the increase of crude oil prices and will likely rise slightly this summer.
NEW YORK (TheStreet) -- Prices for crude oil will continue to increase in the short term following their upward spike since March as demand for gasoline picks up with the arrival the summer months.
As crude oil prices have rebounded slightly, gasoline prices have followed suit and increased about one-third since March, said Bernard Weinstein, associate director of the Maguire Energy Institute at Southern Methodist University's Cox School of Business in Dallas.
With the price of gasoline nationwide at $2.66 a gallon on average, consumers are still paying a dollar less per gallon than in 2014, he said. Prices for gasoline will not increase substantially "even as demand jumps over the Memorial Day weekend and into the summer," Weinstein said.
The refineries that were shut down for maintenance during the winter and spring months are back online, and inventories of both gasoline and diesel are "at a record high, so there is plenty of product available," he added.
When the Organization of the Petroleum Exporting Countries meets next month, there is a possibility that the cartel will announce a small reduction in production quotas, Weinstein said. The supply of oil globally is expected to remain high even through the end of the year, "suggesting that higher prices for refined products are unlikely," he added.
Oil prices should remain in their current range of about $60 per barrel, and the likelihood of upward pressure is low, said Timothy Hess, a lead analyst for the Energy Information Administration, the independent statistical arm of the Department of Energy based in Washington, D.C.
Prices at gas pumps are averaging $2.74 a gallon in many states, according to Gasbuddy.com. The lowest price is in South Carolina where gasoline is about $2.41 a gallon and the highest is in California, at $3.79 a gallon.
In the third quarter, gasoline prices will decline to $2.51 per gallon and dip even lower, to $2.35, by the fourth quarter, Hess said.
"There could be quite a bit of variability, depending on what happens with crude oil and if some geopolitical disruption pushed prices higher," he said.
The current prices have already accounted for the more expensive summer fuel, which is more costly to refine. The peak for the gasoline crack spread -- that is, the difference between the price of wholesale gasoline and crude oil prices -- tends to occur in April and May, Hess said.
Gasoline prices should average somewhere in the $2.70 range leading up to the Memorial Day holiday weekend, said Ryan Mossman, a senior director of Insite360 FuelQuest, a Houston-based energy and services software unit of Veeder-Root, the petroleum equipment services company.
Since crude oil accounts for two-thirds of the price of a gallon of gasoline, several geopolitical factors have pushed up prices: the gains by ISIS in Iraq, the cost of summer gasoline blends and a "belief that significantly lower oil drilling rig counts will lead to less U.S. oil production," Mossman said.
Prices are expected to decline even further with the amount of fuel in inventory positions, the rise in the value of the dollar and ample global supplies, Mossman said. There has only been a slight reduction in crude oil production even though the amount of drilling has fallen by half compared to last year and this will put further downward pressure on prices this year, Mossman said.
Even if any major unexpected geopolitical events occur, which could result in a dramatic decrease in supply, prices would not return to their highs of 2014, he said.
Varying regional regulations will cause strong variances in prices, Mossman added. Prices continue to be high in the Golden State and have run $0.10 to $0.15 more per gallon there because of supply issues stemming from refinery matters and the mandate of the Low Carbon Fuel Standard, administered by the California Air Resources Board and requiring fuel producers to reduce the carbon intensity of their products.
Prices will continue to fluctuate as various factors affect the global crude oil markets, which tend to be volatile and sensitive to political pressures and uncertainty.
The average American household is predicted to spend about $675 less on gasoline in 2015 compared with 2014, as "annual motor fuel expenditures are on track to fall to their lowest level in 11 years," the Energy Information Administration said in its recent report on price projections.
The weakness in the global economy and a glut in the supply will keep prices low. Prices for Brent, the international crude oil benchmark, will average $61 per barrel in 2015 and $70 per barrel in 2016, the Energy Information Administration said. Prices for West Texas Intermediate, the U.S. crude oil benchmark, are expected to average $6 per barrel in 2015 and $5 per barrel in 2016, below Brent prices.