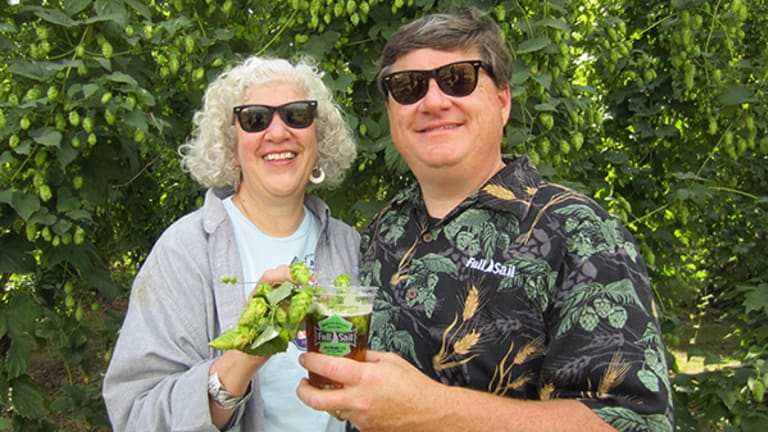 Full Sail Buoys Craft Beer By Keeping It Simple
Full Sail Brewing has kept afloat for 27 years by limiting its selection, appealing to a broad buyer base and going where the beer snobs aren't. It wasn't always easy, but it's working.
PORTLAND, Ore. (TheStreet) -- Without adapting, flexing and going where the competition won't, there's no way Full Sail Brewing would have hung around for 27 years.
Co-founder and Chief Executive Irene Firmat left a job as a buyer for the Meier & Frank department store chain in New York and headed across country in 1987 to Hood River, Ore., to open a brewery. At the time, only a few brewers including Olympia, Rainier and Henry Weinhard's still existed in the Pacific Northwest, while small brewers including Widmer Brothers, BridgePort and Rogue Ales were just finding their footing in Oregon.
Firmat and her partners opened Full Sail in an old, long-vacant Diamond Fruit canning facility in Hood River. They brewed 287 barrels their first year in new equipment bought with borrowed money. The next year, they began bottling on old wine bottling equipment and taking their first steps into the greater market.
The old cannery facility would later expand into adjacent buildings; the old wine bottler would eventually give way to a 600-bottle-a-minute line; the colorful, triangular gear of sailboarders seen from Full Sail's brewpub deck would yield to crescent-chuted kite boarders; and a brewery that produced less than 300 barrels would produce more than 100,000 each year starting in 2010. Last year, Full Sail made 115,000 barrels of beer and distributed it to 31 states.
It wasn't all worth drinking to. In 1998, members of Full Sail's board opted to put the brewery up for sale. Firmat and her executive brewmaster and husband, Jaime Emmerson, pushed to sell shares to the brewery's 47 employees to keep it running independently. By mid-1999, Full Sail was employee owned.
In 2005, as much of the small brewing community began turning toward big bottles of more intense, alcohol-heavy beers, Full Sail went in the other direction and produced snub-nosed bottles of low-alcohol Session Lager. As much at home in supermarkets and dive bars as it was in tap rooms and bottle shops, Session was that year's fastest-growing brand and took home the title of "World's Best Premium Lager" in 2007. It is now a pillar of Full Sail's fairly narrow beer portfolio that Emmerson parallels to Apple's mobile device color scheme -- you get black and you get white, but both are going to sell really well.
When the dairy farms in the Columbia River Gorge that used Full Sail's wet, spent grain as cattle feed began closing and Full Sail was forced to ship that grain more than 130 miles to Tilamook Dairy on the Oregon Coast, the brewery looked to Belgium for help. As a result, they became the second brewery in the U.S. -- with remote Alaskan Brewing in Anchorage being the first -- to buy a Meura Mash Filter that uses inflatable bladders to press more moisture out of grain and cut spent-grain transportation costs. It has the benefit of producing a clear, extremely sweet wort that requires less water to produce without losing any flavor or quality.

When the cost of packaging increased, Full Sail added a box builder to its production line that brought all its packaging in house and reduced delays.
There's a cabinet filled with medals from the World Beer Cup, Great American Brewing Festival and other competitions near the entranceway to Full Sail's main brewery that should serve as a testament to Full Sail's achievements. But it's the folks who've worked on Full Sail's brewing floor and in its labs and offices that pay Full Sail its highest compliments.
Also see: Widmer Brothers Marks 30 Years Of Craft Beer -- Yes, Craft Beer>>
The brewery's publicist is nearing the end of her second decade with the brewery and is scarcely an anomaly in Full Sail's 85-member workforce. When employees do leave, it's usually only to begin building a legacy of their own. Hood River is now dotted with breweries and businesses run by Full Sail alums. Dave Logsdon, who co-founded Full Sail with Firmat and served as the brewery's original brewmaster, left the brewery to found Wyeast Labs -- which helped produce and reproduce many of the yeast strains used by home brewers today. He's since sold his stake in that company and opened his own brewery, Logsdon Farmouse Ales, in rural Hood River. Doug Ellenburger, brewmaster at Everybody's Brewing across the Columbia River in White Salmon, Wash., was also a Full Sail employee before opening his brewery in 2008. At Pfriem Family Brewing just down the hill in Hood River, both brewmaster Josh Pfriem and head brewer Dan Peterson worked on Full Sail's brewing crew before Pfriem's own brewery opened in 2012.
John Harris, who served as brewmaster at Full Sail's smaller Riverplace brewing facility on Portland's south waterfront, just opened his own Ecliptic Brewing. Perhaps the most visible manifestation of Full Sail's brewing family tree is directly across the street at Double Mountain Brewing, which former Full Sail brewers Matt Swihart & Charlie Devereaux opened in 2007 and which Swihart still oversees to this day.
In mid-May, we spent a day with Firmat and Emmerson in Hood River and discussed Full Sail's history, some of its more recent changes and the benefits of going upstream when many small brewing peers were floating with the current:
You've built your legacy on traditional beers such as your amber, ESB and Session Lagers with a few limited released added here and there. Was it a conscious decision to keep the beer portfolio so narrow?
Firmat: Sometimes it would be easier to chase a trend, but what we've seen over time is that the hotness lasts for less and less and less time.
When we first started, we'd see that a brewer would be hot for a couple of years. Then it became a year. Then six months. Now we think it's maybe 10 minutes.
You don't want to live in that world, but you also have to stay relevant. We review the portfolio all the time, but we want to stay true to our vision while being creative and innovative. But we are creative and innovative within our guidelines of being absolutely disciplined about our portfolio and being very respectful to our customers.
You've mentioned that you feel a responsibility to the company, your employees and to the local economy when considering your portfolio and your expansion. Seeing your brewery from Interstate 84 looming over Hood River, how much of that responsibility stems from sparking the brewing industry that's grown so rapidly in the area around your brewery?
Firmat: I've always seen Hood River as much broader than Full Sail and brewing, partly because we were here so early on.
What we really saw was a moment in time when it was really wounded. It was the whole timber industry changing, the whole dynamic of the fruit co-ops and it had this brief flicker of opportunity with windsurfing. All the people who were moving here were very entrepreneurial and had a vision of the way they wanted this community to be. Over time, the people who came in worked with the people who came in, and I love that story of Hood River. It's broader than the beer piece, broader than the wine piece. It's a quality-of-life piece.
People move out here because they love it and they want to take care of it.
Emmerson: Irene hired me to come out and I came out in April of '88, drove into town coming from the Midwest and the downtown was bombed out. I was like, man, what have I gotten myself into? Stores were closed, storefronts were done, but you were talking to people and they really had a vision of what Hood River would be. There are other places in Oregon who haven't fared so well, but I'm glad we were a part of this. It actually took people a long time to figure out that we were going to stay.
Firmat: It can't be overexpressed just how fragile craft beer was in the beginning and how outside the realm of everything we were. We're so mainstream now, in some ways, that it's kind of like I don't know what to do with that sometimes.

This was all before what now seems like a craft brewing template: Find an old industrial space, fix it up, make a brewery. When you were just figuring this out on your own, what did it take to reach a point where things felt stable?
Firmat: Go back to three years before the brewery opened -- because it took us three years just to raise the money, because you just couldn't couldn't get financing from a bank or investment group. It was really family and friends.
That in itself has changed so profoundly. There's a lot of ready money for craft beer.
Emmerson: The state wasn't even sure how to license anything.
They had the guys in Portland, so they had some experience, but we had a bunch of people come out who hadn't looked at the regulations for 100 years. Nobody'd been licensed.
Firmat: It's this whole thing of being so on the edge of it, and I think what's really interesting about how Portland evolved is that we were a lot of people in different locations, but we shared a lot of the same view of the quality of life.
If you interviewed the first 25 craft brewers, I wonder how many of the stories would start out with a trip abroad and them saying why can't we have something like that back home? For us that was a huge motivator ...
Emmerson: ... better beer.
Firmat: I think it's a really interesting piece. It's not just the flavor of the beer, but the culture of the beer. You can't have a beer at a beer garden in Munich and think this life isn't good.
So is that where it all starts for you? Back in Germany?
Firmat: I think it's a sense of coming back and wanting something better, and I've always loved beer. Being in Portland and seeing the bubbling up of what was going on with Widmer and BridgePort -- and Redhook and Pyramid in Washington and Sierra Nevada in California -- and just trying to figure out how to be a part of that.
I was working for a large company and I just realized that you're working on quarterly profits. I wanted to do something more long term that really had more sustainability and felt like you were building and not scrambling for public consumption. For me, it was about being able to take something I love, the culture of beer, and figuring out how to run a business in a more sustainable way.

How much of this were you able to plan for in advance and how much did you learn on the fly?
Firmat: It was very different for both of us, because Jaime actually has a formal education in brewing.
Emmerson: I had a great German teacher in middle school and high school -- same lady -- and she encouraged me to go as an exchange student to our sister high school in Munich.
Also see: How Brewer John Harris Began His Second Act>>
So I went three times, all and all, and the first time I went when I was 16, my host family took me to the monastery brewery of Andechs and I had doppelbock. I was exposed to good beer right away, and one of my friends called me the other day and told me 'You know, when you came back from that trip you said you were going to be a brewmaster, and you're the only person I know who's doing what they said they were going to do at 16.'
My exposure to beer was definitely from the German side: quality, consistency, good flavors, better beer. The idea that the first beer calls for the third. Balance matters. That's where I came from, but then organic chemistry training, lab work and then going to brewing school and learning about package quality, brewhouse consistency and microbiology. What is the sanitation in support of the recipe, because the recipe doesn't actually shift except for agricultural differences?
People will complain if our amber shifts, and I'm glad that people are so involved with it. I think what's interesting is that people will really tell you if they like a beer or not. They're very blunt about it, and if we pour a pint at the pub and they ask for something else, it's expected. If you go to a restaurant and open a bottle of wine and ask if it's OK ... yeah, sure. If it's not bad, you'll never return it back.
The great part of our business is that beer is so approachable. You can buy the same beer Bill Gates buys, but can you buy the wine that he buys?

Do you think that's still true when people line up for limited-release beers and pay big prices for one-off varieties?
Firmat: I really worry about that with craft now. It has this piece where it's become very pretentious, and we see it all the time.
If you can't talk original gravity or plato or who's the brewer who brewed the beer and where did he brew in his last three brewing posts ... please. Enjoy it, think about how that beer tastes and what you like about it in that place in time. That piece can become very offputting to people, because it makes them feel like they don't know enough to drink craft.
Emmerson: There was a guy the other day in the pub who said 'I'm tired of craft brew': I'd rather refer to it as quality brewers and non-quality brewers. You have those of all sizes, and people may rag on the majors, but it tastes the same wherever you go. People may not like it, but the quality is perfect and exemplary. There are little guys with good quality, but there are others who don't do the work.
Louis Pasteur didn't cut his teeth on milk, he learned on beer and cleaned up beer. When you're not doing the work, all of a sudden it's going on the shelf in the grocery store and you're wondering how long it sits, is it stable, does it get chunky? Then it reflects on all of us because that drinker doesn't discern that brewer from the rest of craft.
You were one of the first craft brewers to bottle and sell your beers beyond bars, pubs and taprooms. What did you take away from that experience?
Firmat: You want to make sure your beer is always fresh and always available for the distributors and retailers.
You don't want to be this out-of-stock thing where you can't find the beers. Before I started the brewery, I was a buyer for a department store, and having items out of stock always seemed disrespectful the whole way through. If you're going to have a product for sale, have a product available for sale.
Emmerson: Freshness matters. When you look down at that set when you're in the warehouse, I maintain maybe four business days worth of inventory. We brew all flavors every week and a tight portfolio enables tight production. If I hit my numbers right, our brewery hits the shelves within one month of packaging everywhere we ship. That's a big deal, because with a premium product with a premium price, freshness matters.

And you've managed to sustain that for nearly three decades, which can't be easy. Was there ever a period of crisis for Full Sail when you wondered if you would have to stay the course, make a leap or close up shop?
Firmat: There was the period where we became employee-owned, which was definitely a period of crisis for us.
We were put up for sale, which is a very difficult thing for a brewery because everybody starts to lose confidence in you. Your retailers, your distributors ...
Emmerson: Distributors are the worst, because they don't know if they're going to keep the brand.
Firmat: That was a huge deal. It was really difficult for us, and everyone who was around at the time remembers it deeply.
With employee ownership, it was a line in the sand, saying that we're not going to go the way these other breweries have gone. We're not going to shut down and have the brand just sold. We were going to do what we could do to make it work, and we made it work.
When we did Session in 2005, that was also a line in the sand for us. We saw the industry going all the way to an extreme, and we don't believe that. We put a line in the stand and said 'Session stands for what craft beer should be: Inclusive, sophisticated, elegant, drinkable flavors.'
Was that a crisis? It was risky. We think it's funny right now that everybody wants the name session when, back in those days, nobody thought in those ways.
Emmerson: Part of that comes back to the idea of better beer. What are you going to have a couple of beers of and enjoy? I've just seen a lot of people get away from that. Odd is odd and there's always going to be a place for those things, but there's this spectrum of beer that's so wide and vast, and to just go from one end to the other end and that's all there is -- no, there are these great beers all throughout.
Firmat: It's the old retail merchandiser in me, but what you want is same-store sales. You want to look at your business through the reality and constraints of how healthy you are competing against the same thing and not just pipeline fill. I think the other part is, when you look at food, I use sun-dried tomatoes and roasted garlic a lot because when they came out they were a great idea. But then they got so overused. What those two things did was give people entering a category a validation that they were actually eating or drinking something different. I think in some ways the extreme hops and extreme alcohol are doing it for craft: It's roasted garlic, it's sun-dried tomatoes ... it's buttery chardonnay. It's a point of differentiation: I spent a lot of money for this, I know what I'm doing.
The brewmaster at Oregon State once told us that all his guys drink down there are super hoppy IPAs. We asked him what he tells them about those beers and he said he tells them that as their palates evolve, what they'll really appreciate is a well-done pilsner. And we hold on to that, because we think that once people get through all this, they won't come back to Wonder Bread. They'll want something more subtle and satisfying where they can have more than one.
-- Written by Jason Notte in Portland, Ore.
>To contact the writer of this article, click here: Jason Notte.
>To follow the writer on Twitter, go to http://twitter.com/notteham.
>To submit a news tip, send an email to: tips@thestreet.com.
RELATED STORIES:
>>Widmer Brothers Marks 30 Years Of Craft Beer -- Yes, Craft Beer
>>How Consistency Kept BridgePort Brewing Afloat
>>How Dale Katechis Made Oskar Blues A Can-Do Beer
Jason Notte is a reporter for TheStreet. His writing has appeared in The New York Times, The Huffington Post, Esquire.com, Time Out New York, the Boston Herald, the Boston Phoenix, the Metro newspaper and the Colorado Springs Independent. He previously served as the political and global affairs editor for Metro U.S., layout editor for Boston Now, assistant news editor for the Herald News of West Paterson, N.J., editor of Go Out! Magazine in Hoboken, N.J., and copy editor and lifestyle editor at the Jersey Journal in Jersey City, N.J.