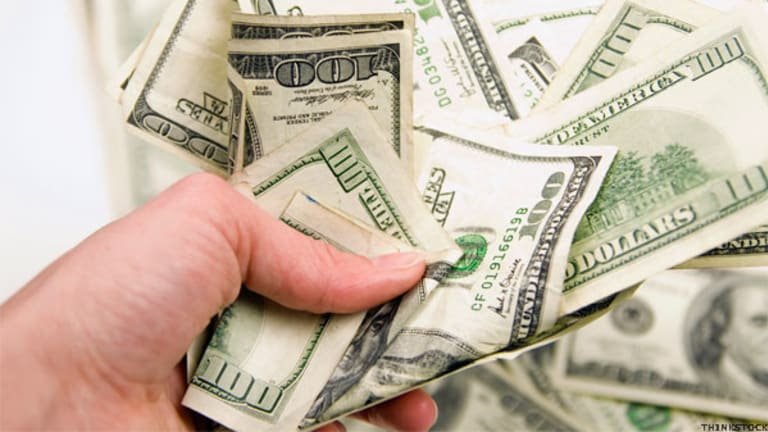 From the Financial Police Blotter
Federal investigators have had a busy autumn busting or sentencing financial fraudsters.
BOSTON (TheStreet) -- The following is a round-up of recent fraud cases investigated, prosecuted and closed by federal investigators.
FOREX TROUBLE
On Nov. 4, David R. Lewalski, 47, formerly of Gainesville, Fla., was arrested in Manhattan for participating in a $30 million investment fraud scheme, federal prosecutors say.
Lewalski and his co-conspirators told investors he could earn them up to 10% interest return per month trading on the foreign currency market, prosecutors say. He invested only a small portion, generating little if any profits, and made "interest payments" of about $15 million from the original pot.
Lewalski, according to prosecutors, spent lavishly on himself, his friends and his family, for real estate, private jets, luxury automobiles, clothing and jewelry. If convicted, he faces up to 20 years in prison.
FORGERY AND EMBEZZLEMENT
A former Bridgewater, Conn., registered securities broker waived his right to indictment and pleaded guilty Nov. 12 to one count of wire fraud stemming from his theft of about $1.4 million from 10 clients.
Gregory J. Buchholz, 45, operated a branch office of
Raymond James Financial Services Inc.
(RJF) - Get Raymond James Financial Inc. Report
as an independent contractor, engaging in a long-running scheme to defraud clients, some of whom were retirees, by selling their securities and depositing the proceeds into his personal bank accounts. He forged client signatures on documents and checks and further misrepresented that he had their authorization to redeem securities.
Buchholz is to be sentenced Jan. 31. He was fired from Raymond James and no longer is licensed to act as a securities broker. Raymond James has agreed to reimburse Buchholz' victims for their losses. The victims have been repaid the vast majority of their losses.
CASHING IN ON BAD INVESTMENTS
On Oct. 27, Florida's Mark Adrian pleaded guilty to a federal fraud charge, admitting to concealing spot foreign exchange trading losses and inflating investment returns that caused 47 investors to lose approximately $2.3 million.
Mark Adrian was a consultant at
Avidus Trading
, in Boca Raton, Fla. According to Adrian's plea agreement, Avidus' trading was not profitable and losses were hidden to keep investors' business. He sent faked monthly spreadsheets hiding losses, even from other employees, by creating fake brokerage statements showing an inflated balance for client funds. He faces up to 20 years in prison.
REAL ESTATE PONZI
A Chicago-area man was sentenced Oct. 14 to five years in federal prison for defrauding some 100 victims of millions in a Ponzi fraud scheme. The defendant, Forrest David Laidley, owned and operated
Forrest Properties
, a real estate developer.
He got more than $10 million from investors and financial institutions by selling limited partnership interests in a commercial development and short-term, high-interest, guaranteed promissory notes. But he lied about the expected return on investments and risks, his ownership of property and loan collateral, his financial condition, the status of investments and the use of funds. He commingled and misappropriated funds to make Ponzi-type payments to investors, repay delinquent bank loans, pay for unrelated real estate development projects and to benefit himself.
Victims were defrauded of about $9 million, prosecutors said.
TARP FRAUD
On Oct. 8, Charles J. Antonucci Sr., former president and CEO of New York-based
Park Avenue Bank
, pleaded guilty in Manhattan federal court to criminal charges including securities fraud, bank bribery, embezzlement of bank funds and participating in a $37.5 million scheme that left an Oklahoma insurance company in receivership.
Among other things, Antonucci misled the FDIC by misrepresenting the source of $6.5 million he claimed to have invested out of his own pocket to recapitalize the bank. He tried to use that sham recapitalization to get more then $11 million in Troubled Asset Relief Program funds.
Instead, Antonucci had engaged in a complicated round-trip loan transaction in which he merely borrowed from the bank itself the funds he'd purportedly invested in it, meaning the bank got no additional capital from the transaction. When the bank's regulators began investigating the source of the purported capital infusion, Antonucci lied. Ultimately, the bank's application for TARP funds was denied.
Antonucci also pleaded guilty to accepting customer bribes -- including cash and use of airplanes and cars -- to influence his decisions as president and CEO. On more than 10 occasions in 2008 and last year, Antonucci used a private plane owned by a co-conspirator to fly to the Super Bowl and the Masters Golf Tournament.
NOT SO CONSERVATIVE
A New Jersey-based investment adviser is charged with defrauding numerous investors -- including a union pension fund -- of more than $2 million by funding his lavish lifestyle with money he claimed to be investing in conservative securities.
Carlo Chiaese, 38, of Springfield, N.J., surrendered to FBI special agents Oct. 5 to face a criminal complaint charging him with securities fraud at his independent investment firm,
CGC Advisors
.
Between November 2008 and September, he raised more than $2.4 million but did not invest it as promised, prosecutors say. Instead, he used more than $1.4 million in investor money to pay for leases on a Porsche 911 Carrera, Audi Q7 and a Land Rover; fees at two country clubs; stays at luxury hotels in New York, Florida and St. Thomas; and purchases at high-end retailers such as
Hermes
,
Salvatore Ferragamo
,
Bergdorf Goodman
and
Saks Fifth Avenue
. Chiaese also made cash withdrawals in excess of $185,000 and transferred more than $800,000 to his wife and members of her family.
Chiaese also used at least $180,000 of the investors' money to repay other investors, including one in London, in Ponzi-scheme fashion. To conceal his conduct, he sent investors fake trade confirmations and account statements, prosecutors say. Chiaese faces up to 20 years in prison and a fine of up to $5 million.
GAS PAIN
On Oct. 1, a 47-year-old Texas man was sentenced to 97 months in federal prison for his role in a multimillion-dollar oil and gas Ponzi scheme.
Richard W. McFarland Jr. pleaded guilty March 26 to mail fraud and was ordered to pay nearly $9 million in restitution.
McFarland was founder and President of
Delta Interest
of Marshall, Texas, which got working interests in oil and gas wells in Texas and offered portions of those interests for sale to the public. From 2003 to 2009, he sold interests in wells that didn't exist and sent investors faked monthly production statements.
He got more than $30 million from more than 350 investors in 25 states.
-- Written by Joe Mont in Boston.
>To contact the writer of this article, click here:
Joe Mont
.
>To follow the writer on Twitter, go to
.
>To submit a news tip, send an email to:
.
RELATED STORIES:
>>History of Greed: Book Excerpt
>>How to Steer Clear of Financial Rogues
>>Financial 'Tricks' Appear Under Our Noses
Get more stock ideas and investing advice on our sister site,