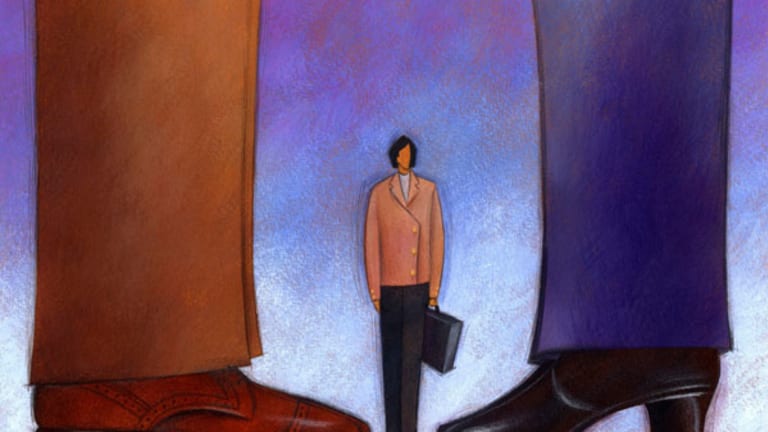 FreshBooks Sends Bills Fast, With Limitations
FreshBooks sends professional-looking invoices quickly, but you will eventually outgrow the Web-based service.
FreshBooks sends professional-looking invoices quickly, but you will eventually outgrow the Web-based service.
TORONTO (
) -- Billing customers and collecting payments are some of the biggest chores for
.
Gone are the days when invoices were created and sent by snail mail. Now, it seems like everyone has jumped into the accounts-receivable game, from client management specialist
NetSuite
(N)
to payroll services provider
Paychex
(PAYX) - Get Report
. Even giants like
American Express
(AXP) - Get Report
and
Bank of America
(BAC) - Get Report
offer billing tools.
With all these sharks swimming around, there's plenty of blood in the water. Tax software maker
Intuit
(INTU) - Get Report
just paid $170 million to gobble up the Web 2.0 personal finance site
.
To find out what the remaining field looks like for small businesses trying to bill smarter, I tested
, a Toronto-based invoicing service. It's free to start, but full-service packages run $150 a month. Most small businesses should expect to pay $29 a month.
What you get:
FreshBooks is probably the simplest way to bill customers and do basic accounting.
FreshBook aims to make billing digitally and tracking expenses easy. And from that perspective, the product succeeds. Tired of sending invoices using
Microsoft
(MSFT) - Get Report
Word? Simply head to FreshBooks' Web site, enter some basic company information -- no complex tax data or sensitive details are required -- and in three minutes you will have a page with tabbed categories, such as clients, team, estimates and expenses.
It's easy to get started. Just enter your clients' information (the free edition only allows three). FreshBooks will prompt you to create an invoice. After you fill out the particulars, the service crafts a bill you can send by e-mail for free or by snail mail for $1.79, which includes postage and paper costs.
These basic billing features are nested inside a larger suite of online business tools. Your contractors or employees can bill based on time. You can create estimates and monitor expenses. You can compile reports and opt for online payment. It takes five minutes to bill a client.
What you don't get:
FreshBooks isn't a comprehensive accounting program, not does it integrate easily with your existing IT architecture.
All the the data-entry screens are simple, but they still require you to enter information manually. It's possible to import and export data, but task lists aren't easy to transmit.
While FreshBooks offers an open API that allows developers to adapt the program to their systems, software support is limited. For example, the only project management tool that worked with my test program was Basecamp, from Chicago-based 37signals.
And then there's the 800-pound gorilla in the room: your accountant. Your bean counter is probably accustomed to Intuit's QuickBooks. That means your accountant might need to redo your ledgers manually in QuickBooks if you rely on FreshBooks. That's likely to make him or her cranky at tax time.
Bottom line:
If you're stressed about being 15 days behind in billing clients, get FreshBooks. It's fast. It's easy. It sends professional-looking invoices. But you will eventually outgrow it, and move on to QuickBooks.
FreshBooks will help you start tracking your earnings. Just keep in mind that it's only a start.
-- Reported by Jonathan Blum in New York
.
Follow TheStreet.com on
and become a fan on
Jonathan Blum is an independent technology writer and analyst living in Westchester, N.Y. He has written for The Associated Press and Popular Science and appeared on FoxNews and The WB.