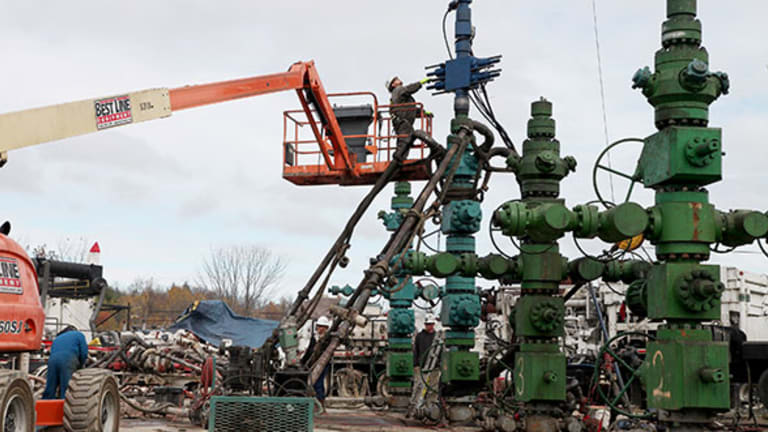 Fracking Growth Moves Too Rapidly for Environmental Caution
Hydraulic fracturing, or "fracking," a popular method for extracting natural gas, has been increasingly controversial. And moving at an unsustainable clip.
NEW YORK (MainStreet) — Hydraulic fracturing, or "fracking," a popular method for extracting natural gas, has been increasingly controversial. And the speed of its expansion is now outpacing our understanding of environmental concerns.
First, there was the June 28 explosion and fire at a fracking site in Monroe County, Ohio, which caused thousands of gallons of toxic chemicals to spill into a tributary of the Ohio River, killing over 70,000 fish. Then there was the study released in July that implicated fracking in an increase in seismic activity in Oklahoma. Namely, researchers found that four fracking wells in the Oklahoma City area were accountable for more than 100 earthquakes that reached a magnitude 3 or greater between 2008 and 2013.
Read More: a href="http://www.mainstreet.com/article/fracking-fissures-more-ground-it-cracks-democrats-too-0" data-add-tracking="true" target="blank"> Fracking Fissures More Than Ground - It Cracks Democrats Too
Now, an alarming new report published in Frontiers in Ecology and the Environment warns that natural gas production methods like fracking have outpaced scientific understanding of the practice's long-term environmental and public health impacts.
Specifically, a team of eight conservation biologists from various universities and institutions including Princeton University, Smithsonian Conservation Biology Institute, the University of Bucharest in Romania, Colorado State University, the University of Washington, the University of Wisconsin-Madison, Simon Fraser University and the Society for Conservation Biology are calling on the industry and policymakers to work together in enforcing better standards in order to minimize the risks associated with fracking.
In particular, researchers found significant "knowledge gaps" as to how shale-gas operations impact ecosystems and wildlife. The report also highlights a lack of accessible and reliable information on spills, wastewater disposal and the composition of fracturing fluids.
In fact, an unrelated study by the Environmental Integrity Project found that hundreds of gas facilities in the United States emit approximately 8.5 million pounds of toxic chemicals annually that were unreported due to the industry's exemption from the Environmental Protection Agency's Toxic Release Inventory due to a legal loophole.
In that same vein, the authors of this latest report note that of the 24 American states with active shale-gas reservoirs, only five — Pennsylvania, Colorado, New Mexico, Wyoming and Texas — maintain public records of spills and accidents.
"The Pennsylvania Department of Environmental Protection's website is one of the best sources of publicly available information on shale-gas spills and accidents in the nation," Sara Souther, a postdoctoral research associate at the University of Wisconsin-Madison and lead author of the report, said in a release. "Even so, gas companies failed to report more than one-third of spills in the last year. How many more unreported spills occurred, but were not detected during well inspections? We need accurate data on the release of fracturing chemicals into the environment before we can understand impacts to plants and animals."
Souther and her co-authors also reviewed chemical disclosure statements for 150 wells in three top states for producing natural gas. They found that an average of two out of three wells were fractured with at least one undisclosed chemical, while some wells in the chemical disclosure registry were fractured with fluid containing 20 or more undisclosed chemicals. Some of the chemicals that have been successfully identified are suspected or known to be carcinogenic or radioactive.
Overall, the study identified widespread shale development as a formidable threat to animal and plant life, as even a single gas well usually requires the clearance of between 3.7 to 7.6 acres of vegetation, while also contributing to air, water, noise and light pollution that can interfere with wildlife habits such as nesting/denning, breeding, mating and finding food.
"If you look down on a heavily 'fracked' landscape, you see a web of well pads, access roads and pipelines," Souther said. "What are the combined effects of numerous wells and their supporting infrastructure on wide-ranging or sensitive species, like the pronghorn antelope or the hellbender salamander?"
In the U.S., natural-gas production from shale rock has increased by more than 700% since 2007 and is set to surge even more dramatically over the next several decades.
With many coal-fired power plants around the United States retiring — 288 out of 1,091 since 2011, natural gas has often been touted as a bridge fuel that can help cut down on domestic emissions, especially as it emits 50% less carbon dioxide on average than coal.
However, many climate experts now maintain that approximately 80% of worldwide fossil fuel energy reserves must remain untouched to avoid catastrophic climate change. Additionally, new studies suggest that methane leakage from fracking sites is much more significant than previously believed. Since methane has nearly 30 times the warming effect on the atmosphere as carbon dioxide, fracking might be a substantial contributor to climate change.
"Past lessons from large scale resource extraction and energy development —large dams, intensive forestry, or biofuel plantations — have shown us that development that outpaces our understanding of ecological impacts can have dire unintended consequences," says Maureen Ryan, a research fellow in the University of Washington's School of Environmental and Forest Sciences and co-author of the report. "We must not just consider the impact of these projects individually, but also try to evaluate the ecological impacts holistically."
--Written by Laura Kiesel for MainStreet