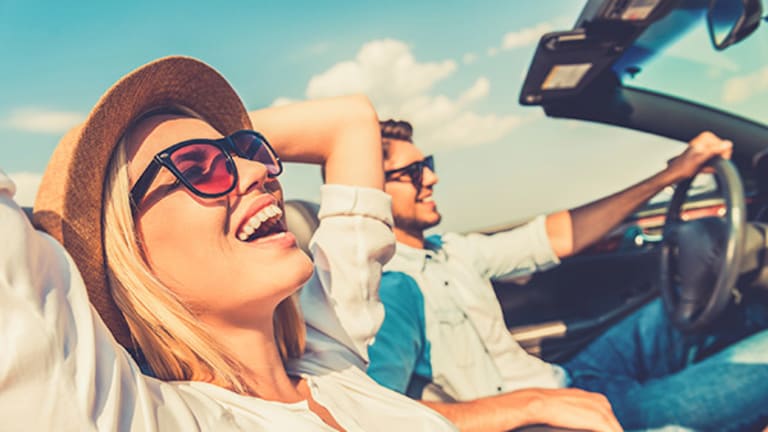 This Is Why You Will Pay the Lowest Price for Gas Since 2005 on Fourth of July Weekend
Great news.
Gasoline prices are hitting a new low this Fourth of July, marking the first time in 12 years as the continuing global supply glut has kept the commodity inexpensive.
Consumers who are driving to their holiday destination will pay an average of $2.21 per gallon, which falls below the ten-year average of $3.14, said Patrick DeHaan, a senior petroleum analyst for GasBuddy.com, a Boston-based provider of retail fuel pricing information and data.
"We thought that last summer would be the cheapest since 2005, but U.S. oil production has offset all of OPEC's production cuts," he said. "Oil price headwinds are perhaps stronger than ever as we prepare for 'lower for even longer.' For motorists, it's a great holiday to hit the road and with gas prices at their yearly lows, why not take advantage?"
The spread in gas prices are reaching historic highs and many consumers will easily overpay, DeHaan said. SUV drivers can save on average $11 per fill-up by finding cheaper gasoline while smaller cars can save $6. The spread between the lowest and highest priced gas stations on June 27 was $1.29 per gallon, demonstrating a higher variance than the ten-year average of 98 cents per gallon for this time of year. The spread is still high among gas stations in the same state with a difference of 51 cents per gallon.
"Perhaps we can finally get rid of the myth that gas prices go up for the holiday," he said.
Gasoline prices are reaching another record - the national average gas price is expected to be lower by 12 cents on July 4 than it was on New Year's Day. This is the first time occurrence since GasBuddy began tracking fuel prices 17 years ago. During the past decade, the national average has been $1.04 per gallon higher on July 4 than New Year's Day. Prices are 47 cents higher on the holiday during an average year.
"As Americans hit the road for the extended July 4 holiday weekend, they'll be paying an average price of $2.25 a gallon for gasoline, about the same as a year ago and 50 cents less than two years ago," said Bernard Weinstein, associate director of the Maguire Energy Institute at Southern Methodist University's Cox School of Business in Dallas.
Domestic inventories still remain at near-record highs as U.S. companies have not slashed production, which will lead to gasoline and diesel prices remaining "subdued" for the rest of the summer, he said.
"Though crude oil has ticked up a few dollars this week to around $45 a barrel, it remains nearly $10 below its high for the year," said Weinstein. "There's more good news for drivers. With one-year WTI oil futures currently trading at just over $46, retail gasoline prices should see little change through the end of the year."
The recent surge in oil prices is not sustainable, said Chris Faulkner, CEO of Breitling Energy, a Dallas oil and gas exploration and production company. Some of the upswing in prices is because of temporary factors such as the shutdown of some oil production sites due to Tropical Storm Cindy which blew through the Gulf of Mexico and maintenance activities in Alaska.
"Once these factors are alleviated in the coming weeks, you will see a noticeable rise in U.S. oil production and the headwind will be rebuilt for oil prices," he said.
Although OPEC began its pullback on production last November, two of the organization's 14 member countries, Libya and Nigeria, did not agree to curb their output.
"Libya and Nigeria has the throttle pegged on production and the continued surge in shale drilling here in the U.S. are crippling oil stock drawdowns and will continue to create headwinds for oil prices for the third and fourth quarters," Faulkner said.
The continued surge of production will not only offset inventory declines for the balance of the year, it will also keep oil prices "testing and bouncing around the $45 mark," he said.
"If we don't see a decline in U.S. shale production, the 4 handle could easily become a 3," Faulkner said. "The danger now lies in March 2019 when the OPEC production cut agreement ends and if we enter that period with oil in the $40s, we will be in for a wild ride. It's obvious that OPEC has lost its power and if we are not careful we will drill ourselves into oblivion over here."
Visit here for the latest business headlines.