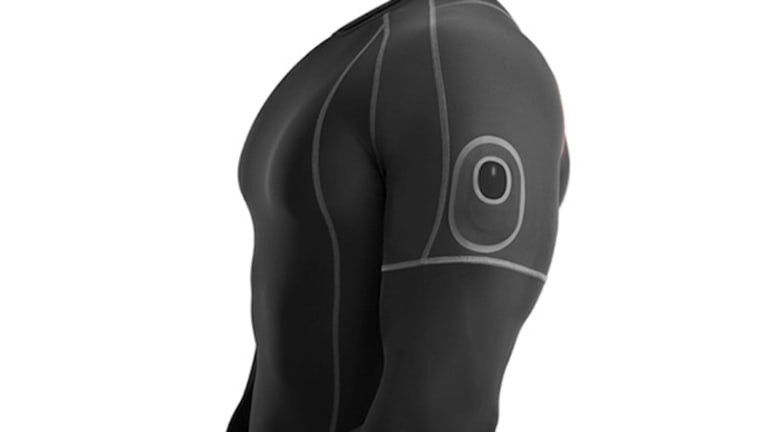 Forget Your Smartwatch, Because Smart Clothing is Where It's At
Google is now making smart clothes with Levi's, and the partnership between the two powerhouses is just one example of this hot high-tech market.
Google is now making smart clothes with Levi's, and the partnership between the two powerhouses is just one example of this hot high-tech market.
NEW YORK (TheStreet) — The blurring of the digital and physical worlds has begun.
By now, most people are familiar with smartwatches and smart glasses, such as Google Glass. In the fast-paced world of technology, they're almost old-school already … almost.
Smart clothes are increasingly where it's at and where the industry is headed — a growing universe of garments made from fabric that's wireless, washable and that integrates computing fibers into the integrity of the fabric.
As just one indicator of how big this market may soon be, Google announced a partnership recently with the iconic clothing maker Levi's.
At the Google I/O 2015 keynote event, Google's Advanced Technology and Projects group unveiled its Project Jacquard partnership, whose mission is to make garments interactive and overcome any historical limitations of wearable technology.
The deal is merely one sign of the explosive growth analysts predict for the next five to 10 years.
A report from tech analyst Gartner shows sales of smart garments skyrocketing — going from barely measurable in 2014 to more than 10 million shipments this year and to 26 million in 2016.
The number of companies involved in this industry, more broadly referred to as the Internet of Things, is also expected to multiply in the near future. Gartner predicts IoT companies will generate $300 billion in revenue by 2020.
The term refers to the network of physical objects that contain embedded technology to communicate and sense or interact with their internal states or the external environment. This technology excludes PCs, tablets and smartphones.
What it does include is such things as smart shirts, gloves, jackets and socks. Early versions of these items are already available on sites such as Wearables.com.
"We're starting to see a lot of cool stuff," says Luis Rincon, co-founder and CEO of the site, launched last year.
Shirts available on the Wearables site include one produced by Athos that allows for biomonitoring. Selling for a steep $298, the shirt contains 14 sensors to monitor muscle activity, two heart rate sensors and two breathing sensors. The smart garment gathers your information via The Core, a small device worn in the shirt that connects via Bluetooth to a smartphone app. All that and it's machine washable.
Even more interesting are the Beartek motorcycle gloves sold by Wearables that allow you to control your phone, music and camera using touch points on the gloves. In other words, you don't have to actually touch devices to answer calls, play and pause music or take pictures.
One of the most popular items on the site, Rincon says, are Owlet smart socks for babies.
"The socks tell you the baby's body temperature, activity levels and that sort of thing," says Rincon of the $250 product. "It allows you to monitor a baby's health. I don't think it will replace an actual baby monitor, but will supplement them with information about the baby's health."
"What they're trying to do with smart technology and smart clothing is get rid of wearable technology or have it blur into things that we already wear," adds Rincon, noting that even such well-known designers as Ralph Lauren and Tommy Hilfiger debuted smart clothing options recently.
Yet another intriguing application of smart clothing is being offered by the company Like a Glove.
The startup has developed smart garments that eliminate the need for measuring tape when gathering body measurements. Just slip into the Like a Glove garment in the comfort of your home and it measures your shape, sending the data via Bluetooth to an app that creates your personal Like a Glove account.
The company hopes to revolutionize online clothes shopping by accurately collecting measurements and translating them into the right clothing size before you place an order.
Clothes that change color based on mood or environment — one color for a formal business environment, another for a night on the town — are in the works from yet another developer.
One of the most popular applications will likely come in the form of smart clothing that allows for immediate user identification, replacing passwords.
"We will see this first with the smartwatch. Instead of having to input a password, it will recognize you by some sort of item you're wearing that recognizes you by your heart rate or some sort of proprietary data point that is unique to you," Rincon says.
With such progress however, comes security issues and concerns.
Jason Sabin, of DigiCert, a company that specializes in encryption and authentication, says security must be at the forefront for those making and selling smart garments. As these companies move forward, they must think about how each smart clothing user is uniquely identified by the high-tech garment, as well as how information is being sent from smart shoes, jeans or shirts to the Internet, ensuring data is encrypted and unable to fall into the wrong hands.
"A lot of this stuff is being done insecurely. Now we're connecting millions of devices, such as smart clothing and wearables, and a lot of it is insecure," says Sabin, whose company is discussing security solutions with many IoT companies.
"Maybe authentication becomes the way you walk as a person, or how you interact with the environment around you," he adds, noting that our perception of the role of clothing may well change dramatically in the future.
With fashion choices already serving as a way to project our unique identity, whether that be conservative, cutting edge or something in between, clothing could also someday project much more than your sense of style.
"As we move to smart clothing, not only will you be projecting physically what you want to look like, or how you want to be perceived, but you may also be projecting information about yourself in a different way," Sabin says. "We could hit a point where, when you walk into a store, the store might be able to read the clothing you're wearing, recognize who you are and then go and retrieve information about what you last bought in the store, and direct you to what might interest you."
Some of the other companies to watch in this industry include Sensoria with its smart socks that provide information on how fast, how far and how well you are running, and Heddoko, which has created a yet-to-be-released shirt for athletes that keeps performance information in 3-D and shows a person if they're putting too much pressure on a certain part of the body. The Heddoko app provides real-time feedback and help, with the goal of preventing users from becoming hurt while training. It's in pre-order, but those interested can sign up at the Heddoko site to get product updates.
One final factor these companies will need to get right as they market products is the price point at which consumers will feel good about buying.
The predictive analytics firm First Insight forecasts which products will be successful and which will not.
First Insight's research on the topic, conducted for various clients, found that consumers are not willing to spend more than about $121 for smart gloves, although they are often retailing for about $200.
Smart shirts, meanwhile, should be marketed for around $111 if they're to be well received by consumers, according to the firm's research. But many are selling for upward of $199.
"One of the things we found is that the value quotient — or the combination of price and quality — is really the most important thing that determines how a product will perform," First Insight's Jim Shea says. "On average, consumers were not willing to pay the current retail prices. Even in areas like Silicon Valley and San Francisco, where people tend to be more tech forward, they thought these products were overpriced and far away from the mainstream market. You may get some early adopters at those prices, but you're not going to achieve mainstream."
The current retail landscape for smart clothing is a challenging one, where sellers are struggling to find their footing and differentiate themselves, Shea says. It's a search for market share that will likely include whatever product ultimately comes from the partnership between Google and Levi's.
"Consumers have been conditioned to expect discounts. Particularly for a brand-new product like jeans with technology in them," Shea says. "How should Google and Levi's price a product like that? They really have no historical precedent."
All of which may or may not be important — because before we know it, smart clothing could also be eclipsed. The Gartner report says just a little further down the line is human augmentation.
Although the idea of digitally connected humans with cyborg-like implanted electronics raises complex ethical, legal and moral issues, the march toward this future state is already well underway, the report says.
The world we've been seeing in science fiction movies for years is no longer a distant reality.