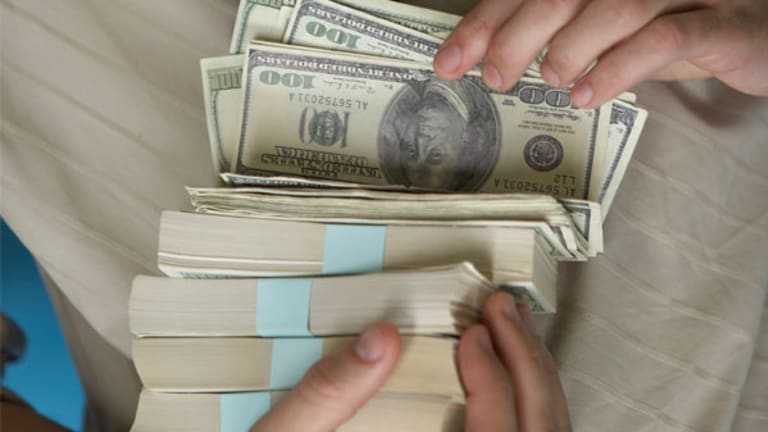 Forget Pony Rides, Book a Star for that Party
How to get an NBA star at your kid's bar mitzvah or Snookie for the shareholders meeting. (Hint: money.)
How to get an NBA star at your kid's bar mitzvah or Snookie for the shareholders meeting. (Hint: money.)
BOSTON (MainStreet) -- Of all the places you might expect to find former NBA bad boy Dennis Rodman in Las Vegas, there is one place you probably wouldn't think of looking: a bar mitzvah.
, a celebrity booking agent and co-founder of Florida-based
and
, found himself escorting the flamboyant figure to a hired gig as guest of honor for just such a celebration.
That booking -- which ended in a bar of a different sort after a barnstorming tour of Sin City's best clubs -- remains one of the most unique bookings Totka has helped arrange.
"It was like a rolling snowball, everywhere you went the crowd just kept getting bigger and bigger," he recalls. "With some celebrities they can be somewhat undercover. But with him, the whole place just stops ... With these NBA Players, like Shaq and Dwight Howard, who are over 6-foot-5, they are going to get recognized wherever they go."
That recognition factor is a cornerstone of Totka's business. For the past dozen years, he and his company have served as an intermediary between celebrities, agents and the folks who want to hire them for personal appearances, endorsements and speaking engagements.
Although athletes are a focus, they have made arrangements for celebrities, comedians, business leaders, reality TV stars and celebrity chefs. "Pretty much anybody who is in the limelight that a company would want to get to for a corporate affair or speaking engagement," Totka says.
Beyond the usual ribbon cuttings and corporate retreats, there are occasionally opportunities to book more intimate gatherings.
"We get everything from the CEO's kid that wants LeBron James at a birthday party to a big financial firm that wants a big name as a motivational speaker," he says.
"You can't fulfill every request for a birthday party of bar mitzvah or someone who just wants to meet somebody," he says. Sometimes, however, professional connections, coupled with cash, can score a big name for a small gathering.
What's it all cost? That depends largely on the celebrity, the event and a variety of negotiable items. Minor celebrities can cost just a few thousand dollars; marquee talent may need $1 million or more to be persuaded for a private concert.
"Companies will come to us and say, 'I have a $50,000 budget' and they are hosting an annual banquet, financial seminar or just a private event for employees," Totka says. "A lot of times they don't have anyone in particular they want, so they come to us and say, 'Here is our budget, who do you recommend?' We try to match them up. It all depends on budget. If somebody has a $5,000 budget you can't go get a big-name guy. There is no chance they are going to do it."
Even a big budget doesn't assure success.
"A lot of these guys get so many demands on their time," Totka says. "We've had Tiger Woods turn down a million deal. The money is relative. It seems a little weird sometimes when some people barely make $10,000 a year and you have someone who turns that down for one night of work."
Other expenses -- such as airfare, ground transportation, food and lodging -- also have to be factored into the fee. Sometimes that can work as a negotiation chip.
"We've seen some people reduce their fee up to a third if the location is close enough that they can get a car to take them there," Totka says. "We usually know what they demand going in. Some demand first-class travel or private jets. Everyone is different."
More magnanimous celebrities and athletes may agree to an appearance at a reduced rate, or even for free, if there is a cause or charity involved.
"It's not always about the money," Totka says, recalling how entrepreneur billionaire Mark Cuban once took "a lot less" than his standard $100,000 speaking stipend as a favor.
Behind the ball
Sports stars have always been a staple of the paid-appearance business -- presiding over everything from corporate events to autograph shows.
"A lot of times the companies don't know how to go direct to the athletes and the athletes, they really don't have the means to generate the corporate clients. So we kind of work as a middle person to bring them these deals," Totka says.
Years in the business have built their roster of go-to contacts. Booking Denver Broncos QB Tim Tebow, for example, Totka works directly with the Florida Gator phenom's brother.
Increasingly, Totka has been building his roster of retired athletes.
"That's become our niche," he says. "What I've seen is that a lot of these players get abandoned by their agents once they are done with their playing career. They are in it for the big contract and then afterwards they don't care anymore. So I try to take these retired guys -- Refrigerator Perry, Thurman Thomas -- guys who had great playing careers, but weren't making the money that guys now are. People still want to book them. They are still marketable, have a recognizable face and are the ones with the great stories to tell. They want to hear Magic Johnson and
former Notre Dame football coach/icon Lou Holtz, people who have overcome adversity and have years of experience."
Current athletes, as expected, are harder to get due to limited in-season availability. Tebow, whom Totka has worked with on four occasions, is a rarity because he was already earning $50,000 to $60,000 per engagement as soon as he graduated college.
A draw for Tebow is that his outspoken Christian faith has made him a popular speaker for organizations that share that religious focus. Tony Dungy, former head coach of the Indianapolis Colts, is a high-demand speaker as well for his ability to speak from both a sports and faith-based perspective.
Reality sells
In an age where the Kardashian clan has parlayed mere personality into stardom, reality TV stars are among the most sought-after for appearances.
Rather than offer pep talks to a sales team, they are more frequently hired for presence alone -- paid tens of thousands of dollars for little more than relaxing in a VIP section to boost the chic quotient of a nightclub or restaurant.
"It's the biggest niche right now," Totka says. "We have a lot of people who are becoming popular stars who were nothing before. Shows like
The Bachelor
,
The Bachelorette
and all these competitive cooking shows basically create superstars overnight. You have contestants on
American Idol
who are performing in front of 30 million people who haven't signed big contracts yet, so they aren't already rich and they will do things for less."
Topping the list for reality stars may very well be Snookie and her housemates from
Jersey Shore
, who can command $20,000 to $40,000 for even non-speaking appearances.
"It's not like they created a company and they are telling their story," Totka says of the reality show crowd. "They just got lucky being in the right place at the right time."
Those who can do, teach
For events that might benefit from more of a demonstration-based approach, celebrity chefs have become hot celebrities to hire, Totka says.
Among the popular names -- many of whom will set your event budget back $50,000 or more -- are Paula Deen, Bobby Flay, Mario Batali (whom we suspect won't be invited to any bank-related functions any time soon), Anthony Bourdain, Todd English and Emeril Lagasse.
If burning calories is more important than consuming them, the Web site
allows users to email, video chat or place a phone call with a variety of athletes who, for a set price, can serve as a personal coach, motivator or trainer (albeit for just a few minutes at a time).
Among the fitness experts associated with the site are American Gladiator Lazer and body-building champion and
Incredible Hulk
star Lou Ferrigno.
On the celebrity front, you can also seek guidance from talk show great Joe Franklin,
Goodfellas
inspiration Henry Hill, Jimmie "JJ" Walker, Antonio "Huggy Bear" Vargas and former child star Rodney Allen Rippy.
A Swank affair
Hillary Swank is among the celebrities who learned the hard way to be more selective about paid appearances.
At issue is the two-time Oscar winner's October appearance at a 35th birthday party for Chechen president Ramzan Kadyrov, a fete also attended by such compensated guests as Seal, Jean-Claude Van Damme and violinist Vanessa-Mae.
The problem: In addition to his rather eclectic taste in entertainers, Kadyrov has long been accused of human rights violations, including murder and torture. He supports men being able to treat wives as property and being justified in killing them for any "dishonor" they might bring the family by, for example, refusing to wear a headscarf.
Swank, via publicists, later issued an apology.
"I deeply regret attending this event, which has thrown into question my long and deeply held commitment to the protection of human rights," she said in a statement. "I would never intentionally do anything that raised doubts about such commitment. I will continue to donate my time and my financial resources not only to the charities with which I am currently affiliated, but also those dedicated to the preservation of human rights. If I had a full understanding of what this event was apparently intended to be, I would never have gone."
Her explanation was that she intended to attend the opening of a residential and commercial complex in Grozny City she saw as a "symbol of hope for the people of Chechnya, a region that had been devastated by war."
At the event, she was urged to give birthday greetings to Kadyrov, whose party "happened to coincide with the opening," Swank's PR team wrote in their statement. "Not wanting to be rude, she obliged" and was "unaware, at the time, of the allegations ... made by various human rights groups."
According to the international advocacy group Human Rights Watch, their staff had reached out to Swank ahead of the opening -- which they called "a pretext" for the birthday celebration -- and, initially, thought she would decline the appearance. Other celebrities who were invited as paid guests and refused were singer Shakira and actors Eva Mendes and Kevin Costner.
It has yet to be made public how much Swank was paid by the Chechen Culture Ministry for the appearance, but other celebrities were compensated between $500,000 and $1 million. Swank has agreed to donate any money she was paid in connected with the event to charity.
"Ramzan Kadyrov is linked to a grim record of abuse," said Hugh Williamson, Europe and Central Asia director at
. "When stars get paid to turn up to party with him, it trivializes the suffering of countless victims of human rights abuses."
"Hilary Swank has said that she will not keep the money, and that's the right thing to do," he added. "It sends a message that stars need to do more research about the events they attend so that they do not profit from celebrating human rights abusers while damaging their own reputations."
Under the spotlight
Swank's transgression pales in comparison with the firestorm that surrounded revelations about the celebrity hirings made by the late, deposed Libyan dictator Moammar Gadhafi and his sons.
Among the big name performers who had been hired to either make appearances or perform for the Gadhafis in recent years have been Beyonce, Jay-Z, Usher, Mariah Carey, Nelly Furtado, Lionel Richie and Lindsay Lohan.
Those performances became widely known recently when WikiLeaks released Libya-related State Department documents.
Public outcry amid the backdrop of the overthrow of the Gadhafi regime led several of the red-faced entertainers to apologize and pledge that they would donate the equivalent of what they were paid to charity.
This much is certain: The Gadhafis were willing to spend a lot for their A-List entertainment. Furtado and Mariah Carey each netted $1 million; Beyonce took home $2 million; and Richie said "Hello" to a cool $5 million.
-- Written by Joe Mont in Boston.
>To contact the writer of this article, click here:
Joe Mont
.
>To follow the writer on Twitter, go to
.
>To submit a news tip, send an email to:
.
RELATED STORIES:
>>Lessons From 8 Business-Savvy Celebrities
>>How Rebecca Black Can Stay Rich
Follow
TheStreet
on
and become a fan on