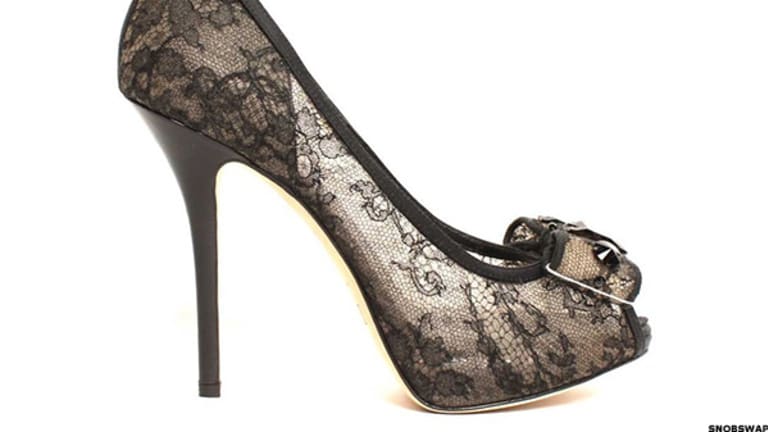 For SnobSwap, Bricks-and-Mortar Boutiques Make Difference in Luxury Online Consignment
The inventory of luxury consignment boutiques has always been fun to look through, but it's also a solution for a high-end online retailer avoiding inventory hassles.
The inventory of luxury consignment boutiques has always been fun to look through, but it's also a solution for a high-end online retailer avoiding inventory hassles.
SAN DIEGO (TheStreet) — Remember when shopping with your girlfriends, sisters or other family members was a fun, daylong event full of laughter, bargain hunting and actually driving or walking from one bricks-and-mortar store to another?
Filene's Basement? Check.
Nordstrom Rack? Check.
Elise Whang remembers. She and her sisters would bond while perusing consignment shops in search of marked-down luxury items. 
"It was really an obsession, consignment shopping at these wonderful boutiques with my sisters. We would consignment-shop hop and make it into a sister day," Whang says. "It was the thrill of the hunt. We would find a Chanel bag and that feeling of saving money and finding this gem became addicting."
Then life got busier, filled with careers, kids and moves to far-flung places and the rituals were replaced gradually with shopping online. Life in the shadow of Amazon and eBay has made shopping in actual stores seem almost quaint, or just time consuming.
Whang, however, never forgot her passion for bargain shopping at luxury consignment boutiques, and the law school grad has channeled that thrill of the hunt into the creation of a very modern version of the ritual: an online consignment marketplace for luxury goods.
Launched in mid-2013, Whang's SnobSwap, co-founded with sister Emily Dang, allows busy fashionistas to take the hunt for bargains online. 
A growing number of websites have launched recently with the same goal, but SnobSwap differentiates itself in a few key ways.
It's one of the only sites partnering with bricks-and-mortar luxury consignment stores and bringing their inventory online. (Many of the other sites rely on peer-to-peer sales.) SnobSwap's vice president of business development scours the country for the best luxury consignment stores to partner with.
Customers can also choose to simply "swap" items with each other, much like you might swap articles of clothing in person with a friend or sister.
Again, Whang's own experience informed the creation of this offering.
"We used to all live in same city, in [Washington,] D.C.," Whang says of herself and her sisters. "And so we would swap with each other a lot. And when we all moved away, we thought 'Wouldn't it be cool to do this online?' So Emily and I started building this site quietly. And before we knew it there was a community using it, transacting online. It was pretty amazing to see this — that we built this."
"The jury is still out on how robust the swapping portion of the site will be," she adds. "It's a neat idea. But swapping online is fairly new."
One thing that's decided: the site's popularity. In a little more than a year SnobSwap has accumulated about 600,000 users between 22 to 55 years old, most professional women making more than $70,000 annually. The average amount spent on the site is between $200 and $250 per transaction, Whang says.
SnobSwap has also just received a large infusion of angel funding — $700,000 — to continue building the business. That's a solid vote of confidence from a group of mostly private investors.
Whang says the site's business model is a good one, for several reasons.
"I think the beauty of our platform is it's a true marketplace," Whang says. "Imagine walking down the street and finding all the best consignment boutiques."
What's more, the site has fairly low overhead when compared with some of its competitors, she says.
"We don't handle the inventory. We don't have the overhead of warehouses. But we have the benefit of working with people who are experts in the field. They've been doing this for decades, for generations," she says. "INA has been one top consignment boutiques in New York City and has been recognized by Vogue magazine. C. Madeleines, we just launched, she has been doing this for decades. These are really the experts in pre-owned designer fashion and vintage. They've dressed celebrities."
As of this month SnobSwap is working with about 50 bricks-and-mortar luxury consignment boutiques, selling store merchandise on the site that includes clothing and accessories by Burberry, Chanel, Christian Dior, Gucci, Jimmy Choo, Hermes, Louis Vuitton, Marc Jacobs, Miu Miu, Prada, Tory Burch and Yves Saint Laurent. Such top brands account for about 65% of the site's sales.
Hundreds more stores have signed up seeking a chance, Whang says. But SnobSwap is selective about partners, and stores that want to sell items on the site must go through a review process.
The question remains, however, whether consignment shopping online delivers the same rush as shopping the old-fashioned way. Whang, a regular shopper on the site herself, says it's pretty satisfying. 
"One of the benefits of testing the site is being able to use it," she says. "I'm wearing Alexander Wang sandals I found on SnobSwap and 7 For All Mankind jeans."