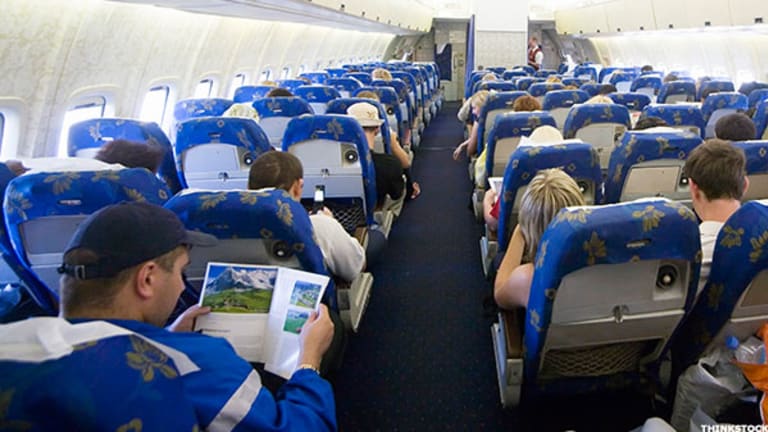 Flying to Europe on the Cheap Is Not Impossible This Summer
Know where to fly into will save you hundreds of dollars in the summer of the Euro's discontent
NEW YORK (MainStreet) — The good news about travel to Europe this summer is that the weak euro means the continent is on sale. But then there is the wallet destroying bad news, which is that you have to fly there and the carriers are showing no mercy. Expect to pay a bundle on airfare - unless you know where exactly to fly and where not to fly.
Knowledge will save you many hundreds of dollars this year. And that money goes far on the ground on the continent. Hotels for instance cost 10% less than in 2014, just because of that weak euro, now worth about $1.10, compared to some $1.45 in 2011.
Airfare is a different matter. Intercontinental fares have in fact been falling, said experts, but that's mainly due to today's very low petroleum prices. And still, the declines have been tiny. The weak euro is thought to have had essentially no impact on fares, which are frustratingly high if you are flying into the prime destinations.
Newark to Paris, for instance, turned up a best rate of $1,553 roundtrip in late June. Newark to Rome ran $1,531 in mid June. Newark to London is $1,562. Ouch.
Too rich for your blood? Don't think you have to pay over $1,500 to get to Europe. You don't. Case in point: Newark to Berlin in late June on Delta is $1,286. That's nowhere near the best buy you can find.
Really good deals abound in travel to Europe, at least for savvy travelers. "You can always find bargain destinations," promised Patrick Surry, chief data scientist at Hopper, a site that crunches travel data to uncover best buys. Surry added: "Avoid London, Paris, Rome. They are just about always expensive." The other worst buys per Hopper's data for summer travel: Slovenia, Croatia and Slovakia.
Yes but...you want to see the Sistine Chapel, maybe the Louvre, perhaps the Thames? Or maybe you are a "Game of Thrones" addict and your heart is set on Croatia. No problem, said Surry, who stressed that in Europe country to country air travel is cheap. "You can get just about anywhere for $200 or less."
Where does Surry suggest flying into? Russia, he said, citing a roundtrip of a jaw dropping $723 to get to Moscow. Note: you will need a visa to fly into Russia and the country's visa issuance procedures baffle some.
So what's a better choice? Surry pointed to Copenhagen, with a $749 fare. He explained that across Scandinavia there is fierce competition among carriers, and the result is that Norway ($799 per Hopper) and Sweden ($788) are also good buys. A roundtrip from Copenhagen to Paris in late June, by the way, is $197 on Air France and takes about two hours each way. Train fares -- and Europe's systems are generally fast -- may be cheaper still. 
The Hopper data is corroborated by other analysts. Priceline, for instance, supplied Mainstreet with its European air predictions and its best buy is Goteborg, Sweden, at $776 roundtrip from Newark, down from $1,238 in 2014. Copenhagen, in the Priceline tally, again scored as a best buy at $855.
Priceline also coyly suggested to those craving London that they fly instead to Birmingham which, said Priceline, can be gotten to for around $1,225 - then, said Priceline, take a 90 minute train ride and you are in the heart of London.
Want Paris? Priceline pointed to Lyon - a delicious culinary destination on its own - as a cheaper entry city, with fares around $1,345, a full two-hundred dollars less than Paris.
As to when to fly, travel booking site Kayak shared its European predictions and, for city after city, the cheapest month is August -average airfares are a full $100 lower in August than July. But that's a complex message because many European cities - notably Paris and Rome - are notorious for emptying out of locals in August.
But the bottomline is plain: discount Europe this summer is yours to savor. Know where to fly, and where not to, and the rest is easy, because bargains are everywhere on the ground in this summer of the euro's discontent.
—Written by Robert McGarvey for MainStreet
This article is commentary by an independent contributor. At the time of publication, the author held TK positions in the stocks mentioned.