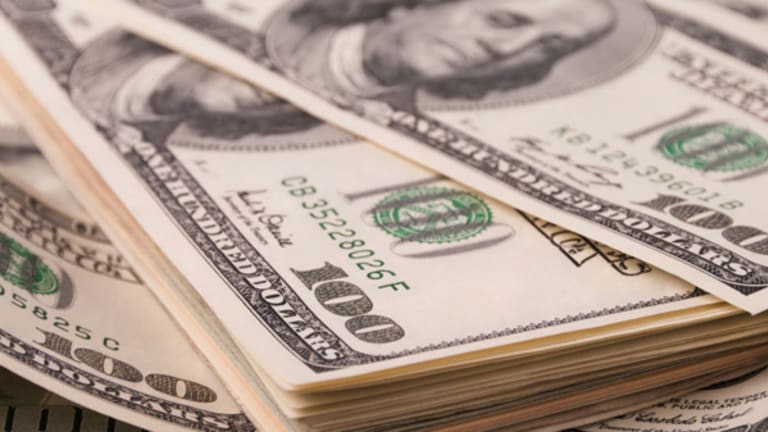 Five Ways To Watch the Fall TV Season Online
Netflix, Hulu, Amazon and Apple all provide great ways to watch fall favorites without TV or cable.
NEW YORK (TheStreet) -- The fall television season has arrived, but actual televisions are playing a lesser role in it this year.
According to Nielsen's
Three Screen Report
, the average American is still watching 35 hours of television a week, but also 20 minutes of online video and four minutes of mobile video. And 59% are watching TV while surfing the Web.
Americans are actually way behind their global neighbors, as 70% of online consumers worldwide watch Web video and 11% watch mobile video, with the overwhelming majority of those in the Asia-Pacific area. Americans are catching up, however, as online video streaming increased 1.3% this summer to 10.2 billion videos in June alone.
For Nielsen and television networks, this means figuring out a ratings system that counts those online views among networks' total viewership. For sites such as YouTube, Hulu, ESPN and MTV Networks, the 3.1% increase in time spent watching online video over the same period last year means viewers are no longer content to sit and wait for their favorite programming.
NETFLIX
Available now, with subscriptions starting at $8.99 a month.
If you've ever missed a season of Fox's
Bones
or the entire run of NBC's
Lost
,
Netflix's
(NFLX) - Get Free Report
instant streaming is a great way to catch up. Deals with NBC, FOX, ABC-
Disney
(DIS) - Get Free Report
,
CBS
(CBS) - Get Free Report
, Comedy Central and other stations have created a huge back catalog of shows, with NBC's
The Office
, for example, including nearly its entire run on the streaming service. It's still somewhat inconsistent, though. While Showtime's
Weeds
is current, its
Dexter
series offers only two seasons before forcing viewers to switch to mailed DVDs. Netflix once streamed episodes of TNT's
Leverage
and Starz's
Party Down
the day after they aired, but
Party Down
has disappeared from the instant offerings entirely. As we said, Netflix is a great place to catch up, especially if you already own Netflix-ready
Sony
undefined
Playstation,
Microsoft
(MSFT) - Get Free Report
Xbox, Nintendo Wii, Roku,
Best Buy's
(BBY) - Get Free Report
Insignia,
Panasonic
( PC), Vizio or
TiVo
(TIVO) - Get Free Report
devices. Once you're current, however, there are better places to get your TV.
HULU/HULU PLUS
Available now for free, with a $9.99 per month subscription service TBA.
A slacker's best friend, Hulu gives busy viewers five extra weeks to watch first-run episodes of such shows as NBC's
30 Rock
, USA's
Psych
, FX's
It's Always Sunny In Philadelphia
and Fox's
House
without the cost of a DVR or the per-episode download fees of Apple or Amazon. Stocked with content from the NFL Network, E!, Bravo, Style, SyFy, A&E and Oxygen, among other networks, Hulu is a content beast. That said, it require some taming. The joint venture between GE's NBC Universal, Disney's ABC and Fox limits its commercials to 15-second spots spaced throughout episodes, but the
Adobe
(ADBE) - Get Free Report
Flash Video playback is glitchy compared with Netflix and iTunes. Sadly, Hulu plans to charge customers for this inconvenience through its HuluPlus subscription system, currently in testing. Sure, you'll get the entire back catalog of such shows as
Family Guy
,
Glee
,
Modern Family
and
Grey's Anatomy
, but you'll be paying to play them back in fits and starts and with commercials.
AMAZON ON DEMAND
Available now for 99 cents to $2.99, and varying prices for season passes.
Built into some Samsung HDTVs and playable on Sony Bravia, Vizio, LG and Panasonic Viera TVs as well as the Xbox 360,
Amazon's
(AMZN) - Get Free Report
Video on Demand is notable for its vastness and versatility. Sure, you can grab an HD episode of AMC's
Mad Men
for $1.99, but a multiepisode full-season TV pass knocks about a dime off the cost. Amazon also offers full seasons of such shows as USA's
Burn Notice
, AMC's
Breaking Bad
and FX's
The League
for less than $15 apiece and seasons of catalogued shows such as
The Cosby Show
and
Saved By the Bell
for less than $10. Amazon Video on Demand and iTunes constitute the upper end of online video, but for viewers looking to build collections as they go or stay current without the cost of cable, it's the way to go.
APPLE iTUNES
Available now for 99 cents to $1.99 per episode.
So Apple's dropped the price of
Apple
(AAPL) - Get Free Report
TV to $99, shrunk its size and gave it a little social network called Ping to play with. So what? Nothing, except that it basically strong-armed Disney and Fox into joining iTunes' $1-a-show rental service. No, you don't get to hold onto your episode of
Glee
or
Modern Family
as you would if you paid the extra buck, but it presents a somewhat less expensive option for those looking to catch up on just one episode. It can be costlier than Netflix, but the portable, high-quality digital programming -- most shows offered in 720p high definition -- is a plus for those watching on devices without Wi-Fi. Plus iTunes is always up to date, carrying a favorite show's content just hours after it airs.
GOOGLETV
Availability and cost TBA.
Details have been sketchy since
Google
(GOOG) - Get Free Report
announced its Internet TV venture earlier this month. What we can see through the static is that Sony,
Logitech
(LOGI) - Get Free Report
and
Intel
(INTC) - Get Free Report
were tapped in May to come up with supporting products, while the
Dish Network
(DISH) - Get Free Report
has been announced as a possible content partner. Sony has been hard at work incorporating Android-based Google TV software into Blu-ray and television products, while Logitech and Intel have teamed up on set-top boxes. Like Microsoft's failed venture Web TV, programming will consist of anything users can find on the Internet, including fare from such network sites as cbs.com or tbs.com -- native shows such as
My Boys
or syndicated stuff including
The Office
-- which is great. However, unless Google can significantly update its YouTube offering to include more YouTube Live-style long-form content to complement "The Bed-Intruder Song" and
Modern Warfare 2
clips, Google TV will be just another platform for Hulu or Netflix.
-- Written by Jason Notte in Boston.
>To contact the writer of this article, click here:
Jason Notte
.
>To follow the writer on Twitter, go to
.
>To submit a news tip, send an email to:
.
As much as the networks are going to hype another fall season, there are several sites that keep the season going all year long through catalogued material and alternative programming. Here are just five of the ways to make the best of the fall viewing season without a TV:
Jason Notte is a reporter for TheStreet.com. His writing has appeared in The New York Times, The Huffington Post, Esquire.com, Time Out New York, the Boston Herald, The Boston Phoenix, Metro newspaper and the Colorado Springs Independent.